Housing and HIV: HRSA and HUD Coordinate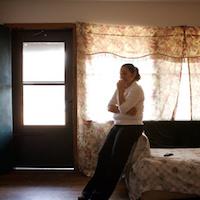 The HRSA HIV/AIDS Bureau (HAB) is highlighting data on housing instability and homelessness among Ryan White HIV/AIDS Program (RWHAP) clients, and the relationship of housing status to viral load suppression. These markers are key components of the public health response to HIV in the United States. HAB continues to partner with HUD's Housing Opportunities for People with AIDS (HOPWA) program to provide technical assistance to community agencies serving these clients.
Unstable Housing Hinders HIV Health Outcomes 
People living with HIV/AIDS (PLWH) are at a much higher risk of being unstably housed or homeless than the general population. In 2016, 8.8% of RWHAP clients had temporary housing and 5.2% had unstable housing situations. Moreover, RWHAP data show that housing status is strongly associated with HIV viral load suppression rates: the more stable your living situation, the better you do in care.
The chart below shows viral load suppression rates for the past seven years by housing status. While percentages are steadily increasing among all clients, the gap for unstably housed and homeless clients persists. Among temporarily housed clients, viral suppression increased from 63.7% in 2010 to 78.9% in 2016. Among unstably housed clients, viral suppression increased from 54.8% in 2010 to 72.0% in 2016. (See more RWHAP data.)
Viral Suppression, Clients Served by RWHAP, by Housing Status, 2010–2016—U.S. and 3 Territories
Infographic: Housing and Health Care Outcomes Among RWHAP Clients
HRSA and HUD Coordinate
HRSA's RWHAP has coordinated with federal housing programs for decades, particularly with the U.S. Department of Housing and Urban Development (HUD) HOPWA (Housing Opportunities for People with AIDS) program. Among the more recent initiatives is HUD technical assistance project for communities affected by funding formula methodology changes to HOPWA. Learn more about technical assistance and training for RWHAP recipients seeking to better serve PLWH experiencing unstable housing at the links below.