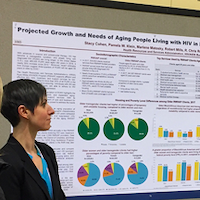 Re-blog from HIV.gov - Colleagues from HRSA's HIV/AIDS Bureau (HAB) recently conducted an analysis of the Ryan White HIV/AIDS Program's client population that is over 50 years old. We caught up with Stacy Cohen, one of the authors of the analysis, "Projected Growth and Needs of Aging People with HIV in HRSA's Ryan White HIV/AIDS Program," to learn about highlights of their findings. Stacy is Chief of the Evaluation, Analysis, and Dissemination Branch in HAB's Division of Policy and Data. She presented the analysis at the 2019 Conference on Retroviruses and Opportunistic Infections.
How many Ryan White HIV/AIDS Program (RWHAP) clients are over 50 years old?
In 2017, 241,857 RWHAP clients were aged 50 years and older, which equates to 45.2% of all RWHAP clients.
Is the proportion of RWHAP clients over 50 years old growing?
Yes. The proportion of clients served by the Ryan White HIV/AIDS Program who are over 50 years old is growing rapidly. Again, clients aged 50 years and older represented 45.2% of total RWHAP clients in 2017, compared to 31.7% in 2010. We project that by 2030, nearly two-thirds of all RWHAP clients will be in that age range.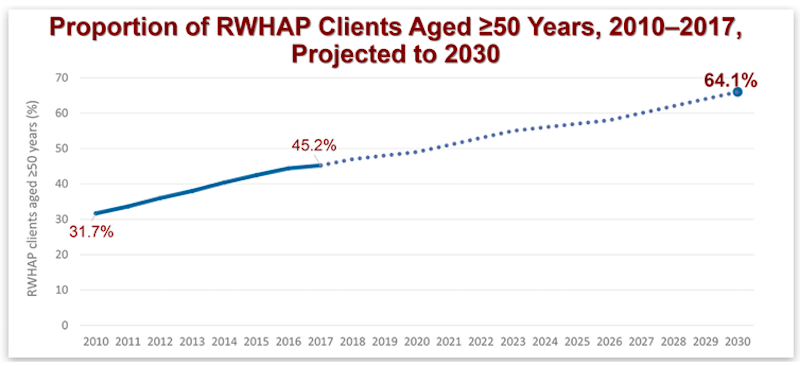 When you looked at services used by the older Ryan White HIV/AIDS Program clients, did you see any differences when compared to younger clients?
Our analysis indicates that aging people with HIV may have unique service needs such as food insecurity, long-term medication effects, social and behavioral health needs, and age-related comorbidities. Food-related service utilization (i.e., food bank/home delivered meals and medical nutritional therapy) was higher among older RWHAP clients than younger clients. In addition, higher poverty and housing instability among older transgender clients and housing instability among older black men, may indicate additional care and support needs.
Even so, there were promising findings in your analysis about viral suppression among older clients. What did you find?
That's correct. In 2017, viral suppression among older RWHAP clients was 90.9% compared to 85.9% among all RWHAP clients. In addition, we found that viral suppression had increased across all subpopulations of older clients from 2010 through 2017. However, it's important to keep in mind that some subpopulations of older RWHAP clients continue to have disparate rates of viral suppression. Per CDC data, older clients are more likely than their younger counterparts to get an HIV diagnosis late in the course of disease, presenting to care with lower CD4 counts and more immunosuppression.
Where can we find more details from your analysis?
You can read the study abstract and view the full poster. The analysis also examined the older RWHAP client population by several socio-demographic characteristics.
What is HRSA doing in response to this emerging population?
These data help us better understand the needs of this population and inform planning at HRSA's HIV/AIDS Bureau, as well as by our grant recipients across the country. Over the past year, the HIV/AIDS Bureau has gathered input from experts in the field to assess how the RWHAP can provide the best care for aging people with HIV. One element that has emerged from these discussions is that the comprehensive, "whole person" approach to care that is the foundation of the Ryan White HIV/AIDS Program is the key to caring for older people with HIV. The traditional HIV care team may need to expand to include staff with expertise in age-related healthcare and HIV specialists may benefit from additional training in this area. More information on this topic can be found in the Aging with HIV (HRSA CAREAction, April 2018), including examples of how RWHAP grant recipients address issues related to HIV and aging. Training is also available through the HRSA RWHAP's AIDS Education and Training Centers' National HIV Curriculum (HIV and Older Adults section).