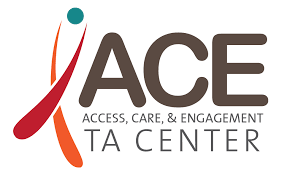 Enrollment assisters have helped millions of Americans get health insurance, including people with HIV. Assisters -- including Navigators, certified application counselors, and other in-person assisters -- play an essential role in helping people with HIV find a health plan that covers their health needs, including critical medications and care for HIV. This page includes resources for enrollment assisters that are new to supporting people with HIV, and information for HIV programs and staff who are interested in training, certification and/or funding through the federal certified application counselor or Navigator programs.
Are you an enrollment assister that is new to supporting people with HIV?
The ACE TA Center has created resources to help you.
Are you interested in becoming a Certified Application Counselor or Navigator?
Staff can become a Certified Application Counselor (CAC) or Non-Navigator Assister by taking a free training provided by Centers for Medicare & Medicaid Services (CMS). This training is a great way for staff to better understand the enrollment process for various types of health coverage, as well as answers to common questions clients may have about enrolling in and using their coverage.
The training is hosted by the Marketplace Learning Management System (MLMS): the online web-based training platform for assisters that provides application and enrollment assistance to consumers in states that use HealthCare.gov.
Organizations operating in states that use HealthCare.gov can apply to become a certified application counselor designated organization (CDO). CDOs oversee Certified Application Counselors and are responsible for the certification and recertification of individual CACs. In order for your organization to be designated as a CDO, the organization must submit an online application and enter into an agreement with CMS.
For more information about how to become a Certified Application Counselor, CDO and/or Navigator, go to CMS.gov: In-Person Assistance in the Health Insurance Marketplaces.
Learn more about the ACE TA Center and explore other ACE TA Center enrollment tools and resources for people with HIV.