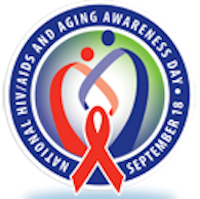 The population of people with HIV in the United States is, on average, growing older. This is a sign of success that has been underway since the 1990s as people with HIV are increasingly engaged in care and benefiting from effective treatments.
These trends are reflected in HRSA's Ryan White HIV/AIDS Program (RWHAP) client level data. According to the RWHAP Annual Client-Level Data Report, 2021 (HRSA, 2022):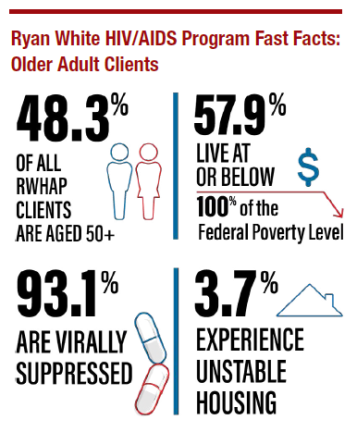 Nearly half of RWHAP clients are aged 50 and older. 
Viral suppression rates among clients receiving RWHAP medical care were 93.1% for RWHAP clients ages 50 and over. The rate is higher than the RWHAP overall average of 89.7%.
By 2030, 64% of RWHAP clients are projected to be 50+ (Projected Growth and Needs of Aging People Living with HIV in HRSA's Ryan White HIV/AIDS Program, CROI 2019 poster presented by HRSA staff and summarized in the HIV.gov blog HRSA Analyzes Growing Ryan White Client Population Over 50 Years Old).
Addressing Care Needs of Older Persons with HIV
HRSA's HIV/AIDS Bureau (HAB) has devoted increased attention in recent years to specific HIV care needs of older individuals, developing guidances and care initiatives in response.
HRSA convened two webinars in 2020 to review the HIV care and treatment needs of older persons with HIV. Two reference guides were subsequently developed, outlining ideas for optimizing HIV care for people aging with HIV. 

Incorporating New Elements of Care provides a summary of demographics on the increasing proportion of people with HIV in the U.S. who are over 50; common health challenges; gaps in medical management and tools to assess older patients; and social challenges often faced by older persons like social isolation.
The second, Putting Together the Best Health Care Team, reviews the roles of the care team (e.g., nurses, case managers, pharmacists); staff training to provide, including how to conduct various patient assessments; and what to cover in undertaking an organizational assessment of a clinic's capacity to deliver care to its older patients. Both resource guides provide links to tools for the care team, including the AETC's Care of People Aging with HIV Toolkit and the HIV in Older Adults Key Populations sub-section in the National HIV Curriculum.

In 2021, HRSA HAB released input from a Technical Expert Panel, Addressing the Health Care and Social Support Needs of People Aging with HIV, summarizing considerations and ideas for improving HIV care for older individuals.
In follow-up, HRSA HAB funded a new SPNS initiative in 2022 called Emerging Strategies to Improve Health Outcomes for People Aging with HIV to identify effective interventions, using an implementation science framework. Ten demonstration sites will explore these interventions, under the direction of evaluation and capacity building providers.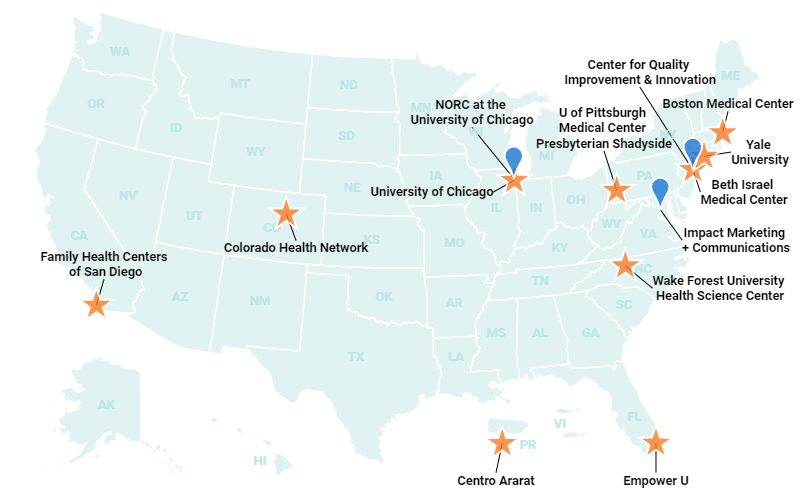 Read the 2021 HIV.gov blog, I Am a Long-term Survivor of HIV.
From the Field: Ryan White Conference Presentations
The 2022 National Ryan White Conference on HIV Care & Treatment featured a three-session Aging and HIV Institute covering common medical conditions among older people with HIV and Ryan White clinical and supportive services. Additional sessions featured insights from New York, Louisiana, Pennsylvania, and other Ryan White locations.  Access these sessions in our Conference Presentations database (filtered for Aging).
Also in our Conference Presentations are sessions from past Ryan White Clinical Conferences, like the 2021 Ryan White Clinical Conference session on Managing Aging and HIV.
Health Coverage and Medicare
As the HIV population ages, Medicare, the federal health insurance for older Americans, is taking on a larger role. HRSA's ACE TA Center has developed a number of tools to help RWHAP programs navigate Medicare coverage. See the Medicare Coverage a collection.