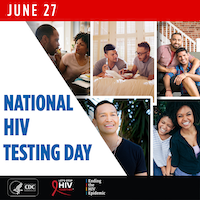 HIV testing has made great strides over the decades. Most people with HIV in the U.S. know their serostatus and are in care.
Progress is likely to continue as there are more options for getting tested, including at-home self-tests. That is the message for the 2022 National HIV Testing Day: HIV Testing is Self-care.
Trends in HIV Diagnoses
As the following CDC chart on new HIV infections demonstrates, recent years have seen a significant decline in new HIV infections.
More recent, and significant, declines in reported HIV diagnoses (2019-2020) are likely due to the impact of COVID-19.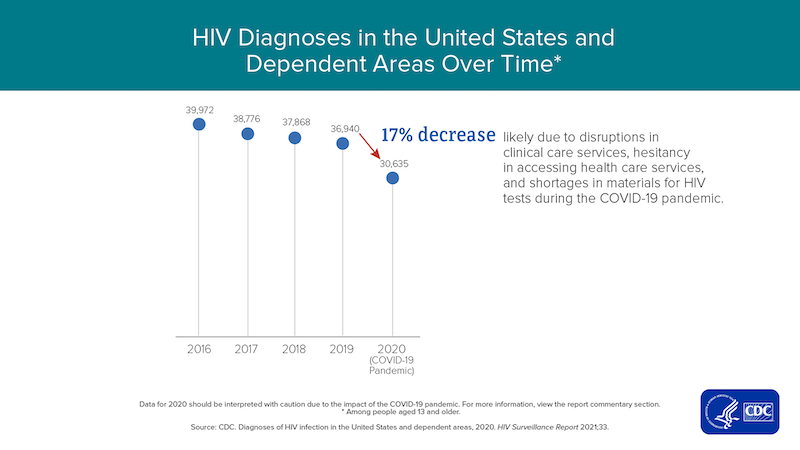 Self HIV Testing: Guidance
The first home HIV test was approved in 1996 (and in 2012 for the first and only FDA approved home test), but uptake seems to have never been, shall we say, robust. COVID-19 lockdowns have provided new movement toward expansion of HIV home testing, with subsequent guidance for agencies and consumers, supplementing the focus on HIV testing as outlined in the Ending the HIV Epidemic: A Plan for America strategy to diagnose all people with HIV as early as possible. Guidance includes:
CDC issued a Dear Colleague HIV Self Testing Guidance letter in April 2020 supporting expanded home testing with a heads-up to jurisdictions on future guidance on surveillance reporting on these tests.
In June, FDA updated its information on the OraQuick in-home HIV test in June, as HIV.gov explains in this blog.
HRSA Heath Centers can now purchase and provide the FDA-approved HIV home test to their patients. See the May 27, 2020 BPHC Bulletin: HIV Self-Testing.
RWHAP: HIV Testing and Care Engagement
A wide range of HIV testing and care engagement interventions have been developed over the decades by HRSA's Ryan White HIV/AIDS Program (RWHAP). Below is a summary of select efforts. See more in our HIV Testing and Diagnosis and rapid ART topic pages.
Best Practices
RWHAP-funded agencies have developed various interventions designed to quickly transition individuals from diagnosis to care. A number of test-and-treat projects are presented in the Best Practices Compilation of interventions that have been shown to improve HIV outcomes in a "real world" setting and can be replicated by other programs.  See also General Diagnosis, Linkage, and Retention Interventions in HIV Care Innovations: Replication Resources. See also as well as Test and Treat 
Clinic-Focused HIV Testing
Many of the RWHAP's clinic-based HIV testing efforts have been developed under the program's AIDS Education and Training Centers (AETC) Program, the clinician-training arm of the RWHAP. Highlights include:
Part of Collection