Technical Assistance Provider Innovation Network (TAP-in)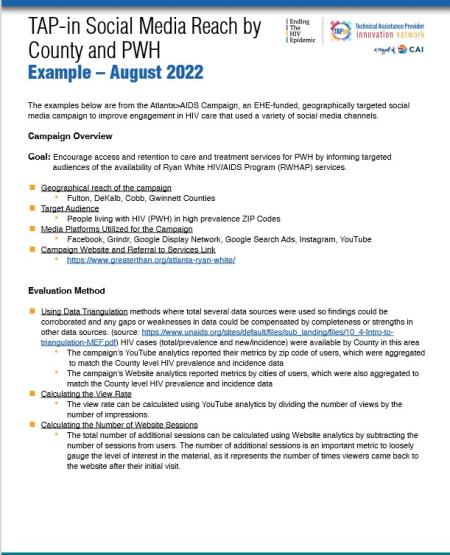 The examples listed are from the Atlanta>AIDS Campaign, an EHE-funded, geographically targeted social media campaign to improve engagement in HIV care that used a variety of social media channels.
Campaign Overview
Goal: Encourage access and retention to care and treatment services for PWH by informing targeted
audiences of the availability of Ryan White HIV/AIDS Program (RWHAP) services.
Geographical reach of the campaign

Fulton, DeKalb, Cobb, Gwinnett Counties

Target Audience

People living with HIV (PWH) in high prevalence ZIP Codes

Media Platforms Utilized for the Campaign

Facebook, Grindr, Google Display Network, Google Search Ads, Instagram, YouTube
Evaluation Method
Using Data Triangulation methods where total several data sources were used so findings could be corroborated and any gaps or weaknesses in data could be compensated by completeness or strengths in other data sources.  HIV cases (total/prevalence and new/incidence) were available by County in this area.
 

The campaign's YouTube analytics reported their metrics by zip code of users, which were aggregated to match the County level HIV prevalence and incidence data.
The campaign's Website analytics reported metrics by cities of users, which were also aggregated to match the County level HIV prevalence and incidence data.
 

Calculating the View Rate

The view rate can be calculated using YouTube analytics by dividing the number of views by the number of impressions.
Calculating the Number of Website Sessions
The total number of additional sessions can be calculated using Website analytics by subtracting the number of sessions from users. The number of additional sessions is an important metric to loosely gauge the level of interest in the material, as it represents the number of times viewers came back to the website after their initial visit.
Analytics Definitions
YouTube Analytics
Impressions: number of time video add displayed to users
Views: 30+ seconds of video add playing
View rate: percentage of views from people who saw the post/video
Clicks: number of times users clicked on add to get more information (e.g., campaign website)
Website Analytics
Users: Unique individuals/IP addresses visiting website
New Users: New unique users/IP addresses visiting website
Number of sessions: number of times people visit the website
Additional sessions: more than one visit to the website
How to Interpret Triangulated Data
There are many comparisons that can be made between and within counties or geographic areas with social media reach data.
For example, between counties or geographic areas, comparisons can inform where reach is lower to prioritize follow-up campaign foci. In the example, the YouTube "View Rates" indicate that Counties A and D have lower rates (31%) compared to Counties B and C (42% and 50%, respectively).
This might indicate a need to tailor future campaign activities to demographic characteristics of people with HIV in those counties. Comparisons might also be made in terms of Website Analytics (i.e., "Users") proportional to the prevalent HIV cases in the area.
In the example, County A website users is a bit higher than total HIV cases (4,244 vs. 3,457), County B has more than 3x as many users and people with HIV (52,265 vs. 16,114), County C has about 1/3 the users as people with HIV (3,231 vs. 9,901), and County D has about twice the number of website users as people with HIV (7,315 vs. 3,557).
These indicators suggest areas for targeting media campaigns that might increase website visibility and usage.
Within counties or areas, comparisons can also be made between different social media channels, such as YouTube vs. Website. In the example below, County B has the second highest YouTube view rate (41%) but the lowest website users (about 1/3 of diagnosed people with HIV), while County D has the lowest YouTube view rate (31%) but second highest proportion of website users to people with HIV. This information might inform the different social media teams or vendors about more localized tailoring or targeting for their activities.