SPNS Sexually Transmitted Infections Initiative
Project Goals and Resources
Sexually transmitted infections (STIs) in the United States are steadily on the rise. According to the CDC's surveillance, 2.4 million cases of chlamydia, gonorrhea, and syphilis were reported in 2020. STIs can spread among people who are asymptomatic, cause serious, long-term health problems if left untreated, and increase the likelihood of HIV acquisition and transmission. However, Health Resources and Services Administration's HIV/AIDS Bureau and Bureau of Primary Health Care grant recipients are uniquely positioned to intervene, by using tools and resources from a new awareness campaign encouraging STI care interventions and helping providers and clients alike feel enabled.
About the Campaign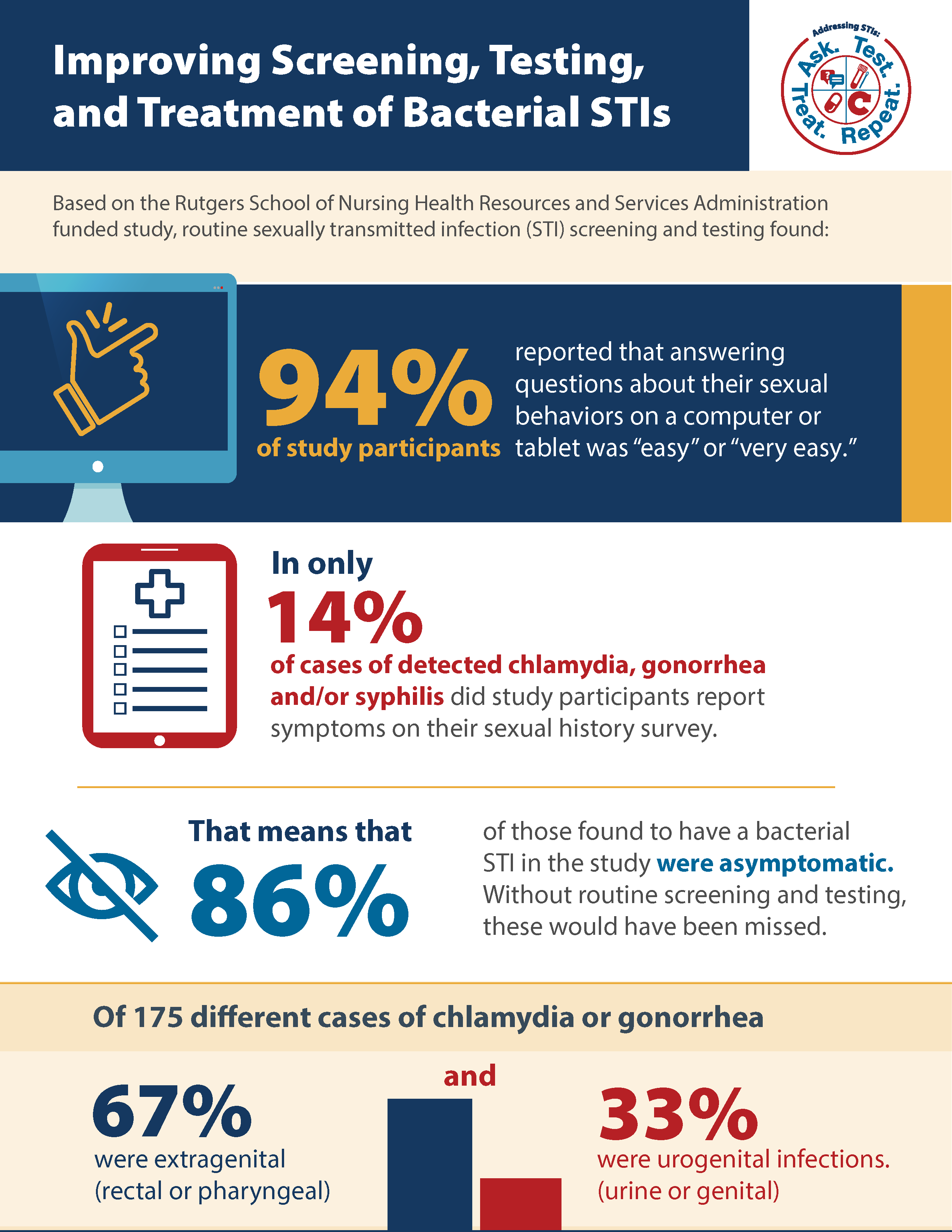 Addressing STIs: Ask. Test. Treat. Repeat. is based on four evidence-based interventions tested during Rutgers School of Nursing's multi-year evaluative study by nine clinic teams across three jurisdictions. The interventions focused on a self-administered sexual history, self-collected chlamydia/gonorrhea nucleic acid amplification test (NAAT) specimens, LGBTQ+ welcoming clinic space indicators and provider training. Together these enabled providers to improve routine screening, testing, and treatment of common bacterial STIs among people with HIV or people vulnerable to HIV acquisition.
Check out the tools and resources below to learn how to implement them in your clinic.
Starter Toolkit
These tools are to help agencies improve routine STI screening and treatment among people with HIV and people who are vulnerable to HIV acquisition. Browse for specific components below, or download the entire toolkit (32MB ZIP).