Session Length: 60 minutes
Materials Needed
Computer and compatible LCD projector to play the PowerPoint presentation
Internet connection to access the module video
Copies of the handout referenced in this module (should be printed out and distributed to each person).
POWERPOINT PRESENTATION
SLIDE 1: Background of the SPNS Innovations in Oral Health Care Initiative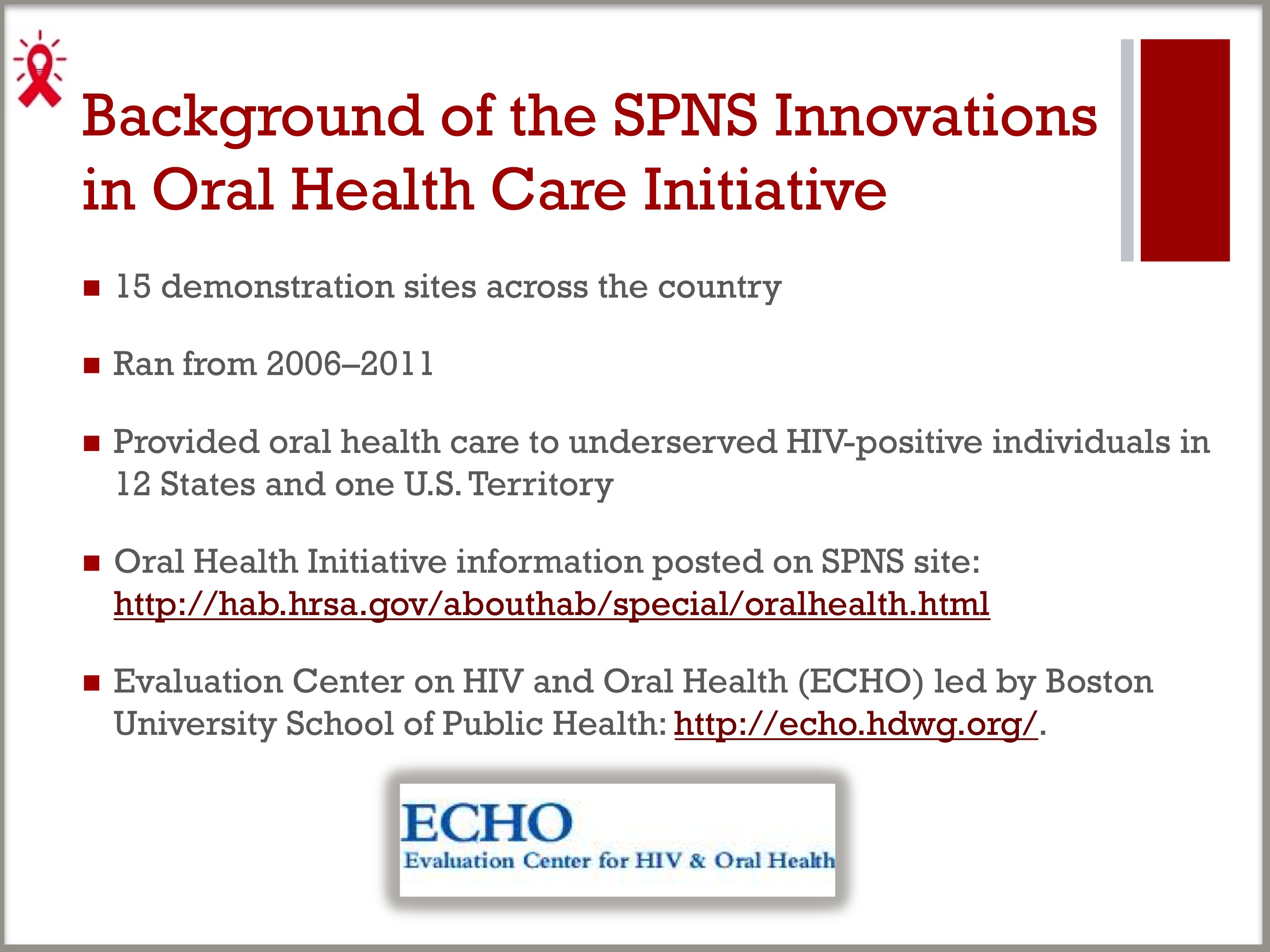 Sponsored demonstration projects at 15 sites across the country
Provided oral health care to underserved HIV-positive individuals in 12 States and one U.S. Territory
Ran from 2006–2011
Tools for Creating Innovative Oral Health Care Programs https://targethiv.org/ihip/oral-health-care
The Health and Disability Working Group at the Boston University School of Public Health was chosen to lead the multisite evaluation, which occurred under the project Evaluation Center on HIV and Oral Health (ECHO). https://ciswh.org/project/echo/.
SLIDE 2: Objective of the SPNS Oral Health Initiative and Medical Care Outcomes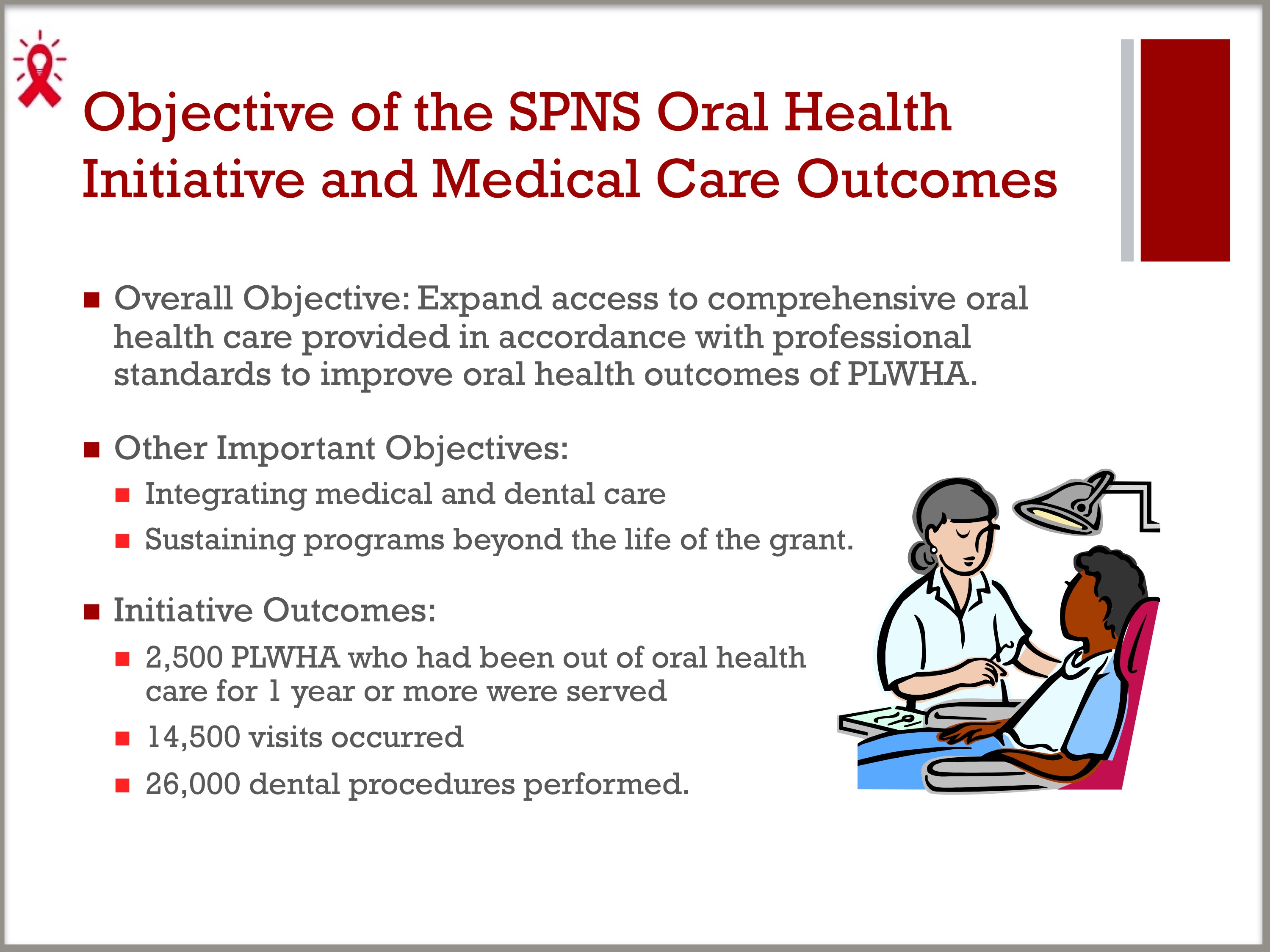 The overall goal of the initiative was to expand access to comprehensive oral health care provided in accordance with professional standards to improve oral health outcomes of PLWHA.
Other important objectives of the SPNS Oral Health Initiative included integrating medical and dental care, and sustaining programs beyond the life of the grant.
Initiative outcomes

– 2,500 PLWHA who had been out of oral health care for 1 year or more were served

– 14,500 visits occurred

– 26,000 dental procedures were performed.
SLIDE 3: Patient Testimonial to the Benefits of SPNS Oral Health Care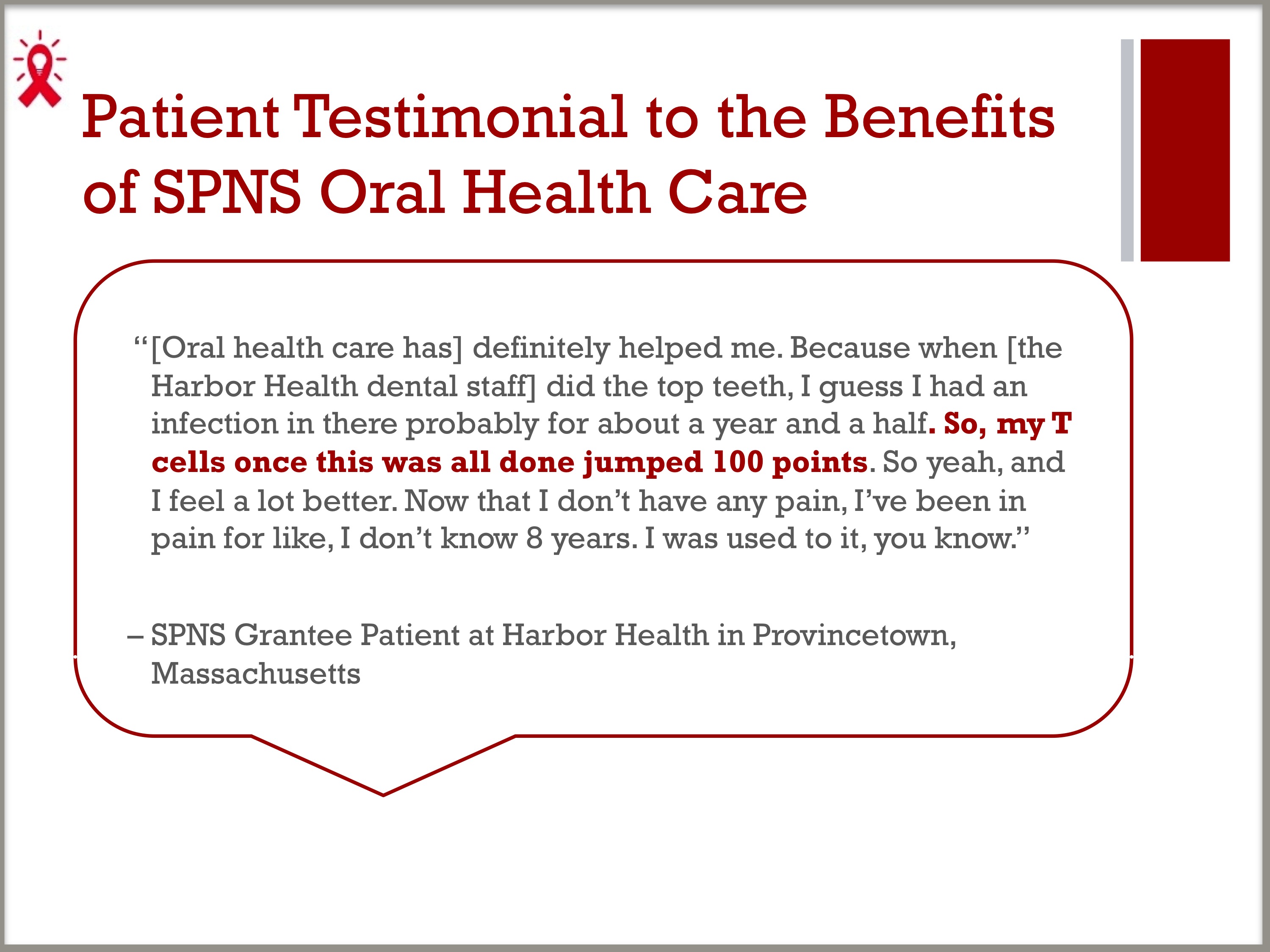 "[Oral health care has] definitely helped me. Because when [the Harbor Health dental staff] did the top teeth, I guess I had an infection in there probably for about a year and a half. So, my T cells once this was all done jumped 100 points. So yeah, and I feel a lot better. Now that I don't have any pain, I've been in pain for like, I don't know 8 years. I was used to it, you know."

— SPNS Grantee Patient at Harbor Health in Provincetown, Massachusetts
Slide 4: Changing Lives Through Good Oral Health Video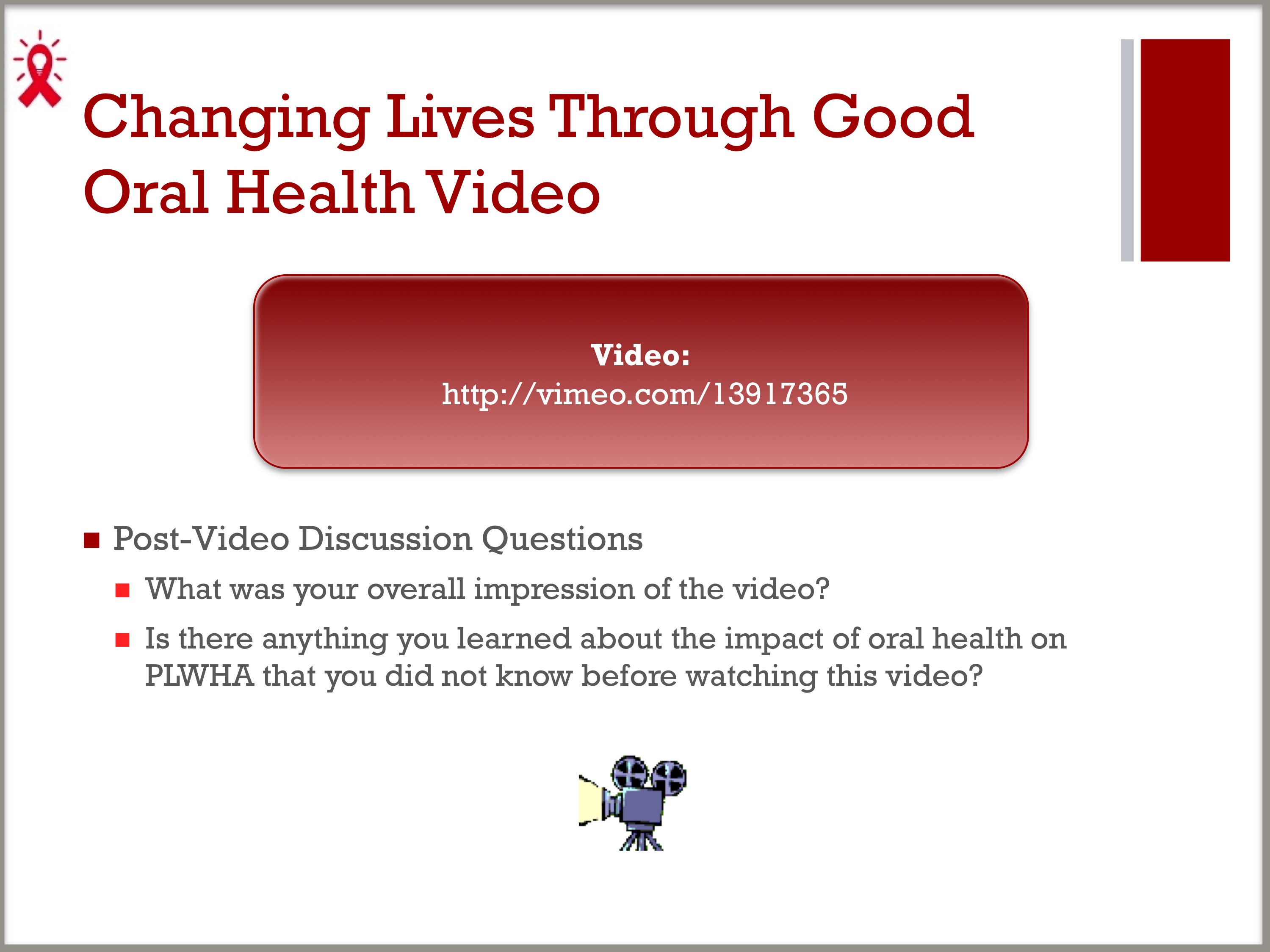 Video: Watch the video, "Changing Lives Through Good Oral Health".

After the video, the Trainer should lead the group in discussion of reactions to the video.

– What was your overall impression of the video?

Is there anything you learned about the impact of oral health on PLWHA that you did not know before watching this video?
Slide 5: Organizational Models Studied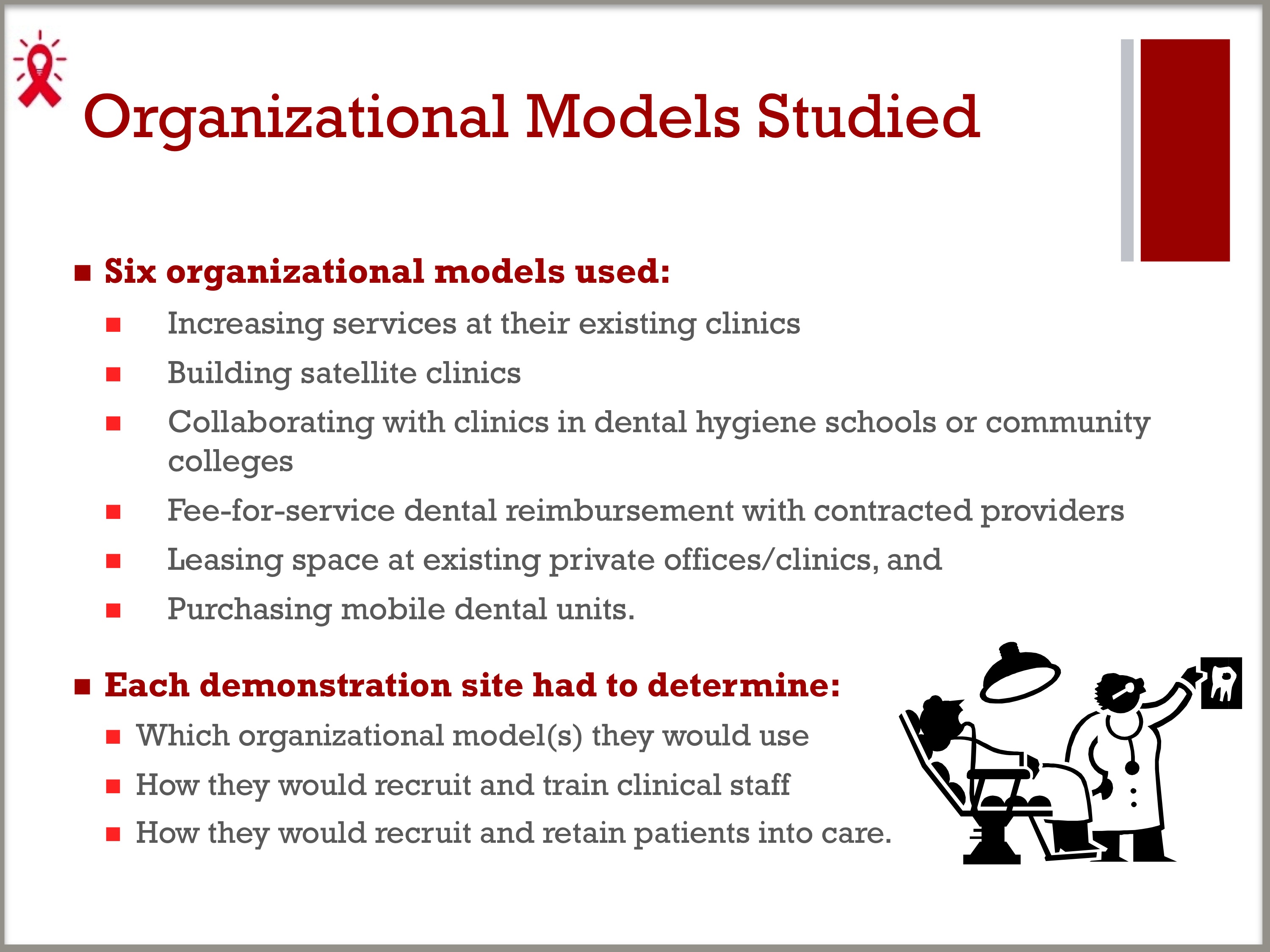 Each demonstration site had to determine which organizational model(s) they would use, how they would recruit and train clinical staff, and how they would recruit and retain patients into care.
Six organizational models were used across the sites (many utilized various combinations):

1. Increasing services at their existing clinics

2. Building satellite clinics

3. Collaborating with clinics in dental hygiene schools or community colleges

4. Fee-for-service dental reimbursement with contracted providers

5. Leasing space at existing private offices/clinics, and

6. Purchasing mobile dental units.
HANDOUT
The Trainer should distribute the table of organizational model pros and cons shown below as a handout so that participants can take notes on the models during the following discussion of slides. Please read the pros and cons within the table.
OVERVIEW OF THE SIX SPNS ORGANIZATIONAL MODELS STUDIED
Model
Grantee
Pros
Cons/Caveats
Increasing
services at their
existing clinics

Does not necessarily enable clinic to expand oral health care access to
new geographic areas or populations

Building satellite
clinics

AIDS Care Group
AIDS Resource Center
Wisconsin
Special Health Resources for
Texas
Community Health Center, Inc
Tenderloin Health Center

Reduces travel time for some patients, often reducing a huge
barrier to care
Enables greater patient enrollment
Improves likelihood of program
sustainability

Can be costly
Can take a lot of time to establish,
including navigation of regulations
and completion of construction

Collaborating
with clinics in
dental hygiene
schools or
community
colleges

High-quality oral health care for PLWHA in a mixed clinic setting
Improved training in care of PLWHA
and reduced perception of HIV
stigma on part of students
Enhanced clinical space and
equipment
Faculty supervision and training

Requires careful coordination and flexibility
Ensure that expectations for
participating organizations in
partnership are clearly and formally
spelled out and agreed upon prior to
beginning collaboration

Fee-for-service
dental
reimbursement
with contracted
providers

AIDS Resource Center Wisconsin

Reduced travel time for patients
More cost-effective than establishing
a formal satellite clinic

Important to ensure that dentists recruited are culturally and clinically
competent to serve PLWHA
Funding options for fee-for-service
varies by State and may be more or
less attractive to providers as a result

Leasing space at
existing private
offices/clinics

Center for Comprehensive Care

Increased access to care for patients
Less resource-intensive than building
a satellite clinic
Provision of care in private clinics that
are non-HIV-affiliated may reduce risk
of stigma for patients

Leased office locations may not qualify as Medicaid-certified
providers, limiting ability to bill for
dental services in some States
Important to ensure that patient
caseload is manageable so that
patients can be seen at regular
intervals for follow-up care to improve
retention and clinical outcomes

Purchasing
mobile dental
units

Sandhills Medical Center
University of Miami
Louisiana State University
Montefiore Medical Center

Enables provision of care to patients isolated by geography or with
challenges traveling to dental services
Ability to serve a high volume of
patients

Expensive to purchase**
Expensive and time-intensive to
maintain both the dental equipment
and the unit itself***
Cannot be used anywhere—need
open, flat area; proper parking
permits; access to electricity to
operate van and equipment; etc.
Requires research into unique
State regulations, infection control
procedures, town and county parking
ordinances, medical record access
and storage, and scheduling and
staffing
Requires referral of clients to other
nonmobile clinics for many dental
services, including most x-rays
Patient confidentiality may be a
concern when using electronic
medical records through wireless
system
Difficult to navigate roads with
sensitive dental equipment on
board because measures used to
hold equipment stable were often
insufficient
*While HIV Alliance was the only grantee to use relationship with dental program as their program model, several other grantees established formal or informal relationships with dental professional schools.
**Mobile dental units used by grantees ranged from $144,000 for a one-chair unit to $330,000 for two-chair unit.
***All grantees who employed a mobile dental unit experienced frequent mechanical, electrical, and  vacuum  system  problems.
SLIDES 6–8: Overview of Pros, Cons, and Important Considerations for the Six Organizational Models
The following slides review the pros, cons, and important considerations of each of the six organizational models studied by grantees during the SPNS Oral Health Initiative.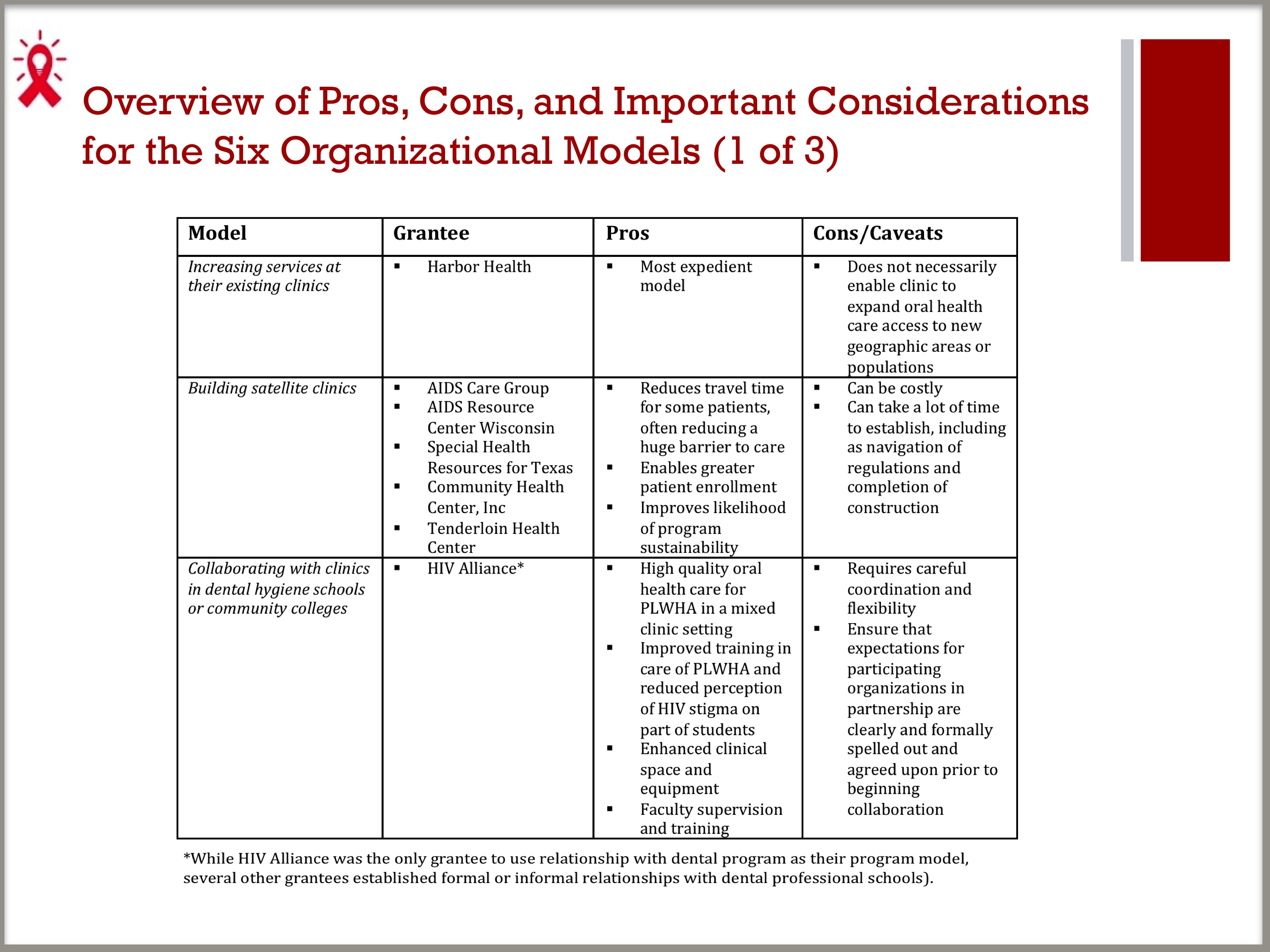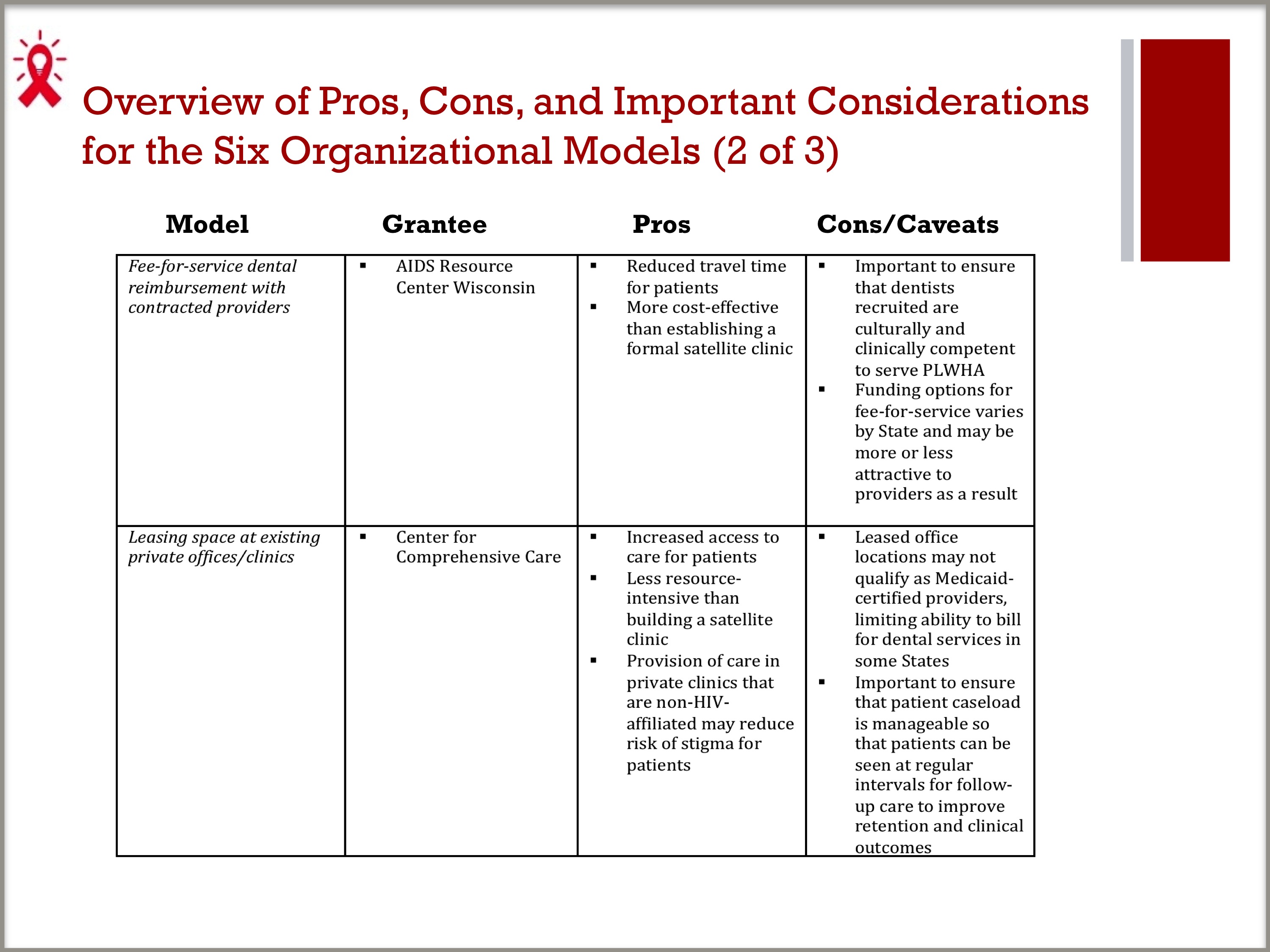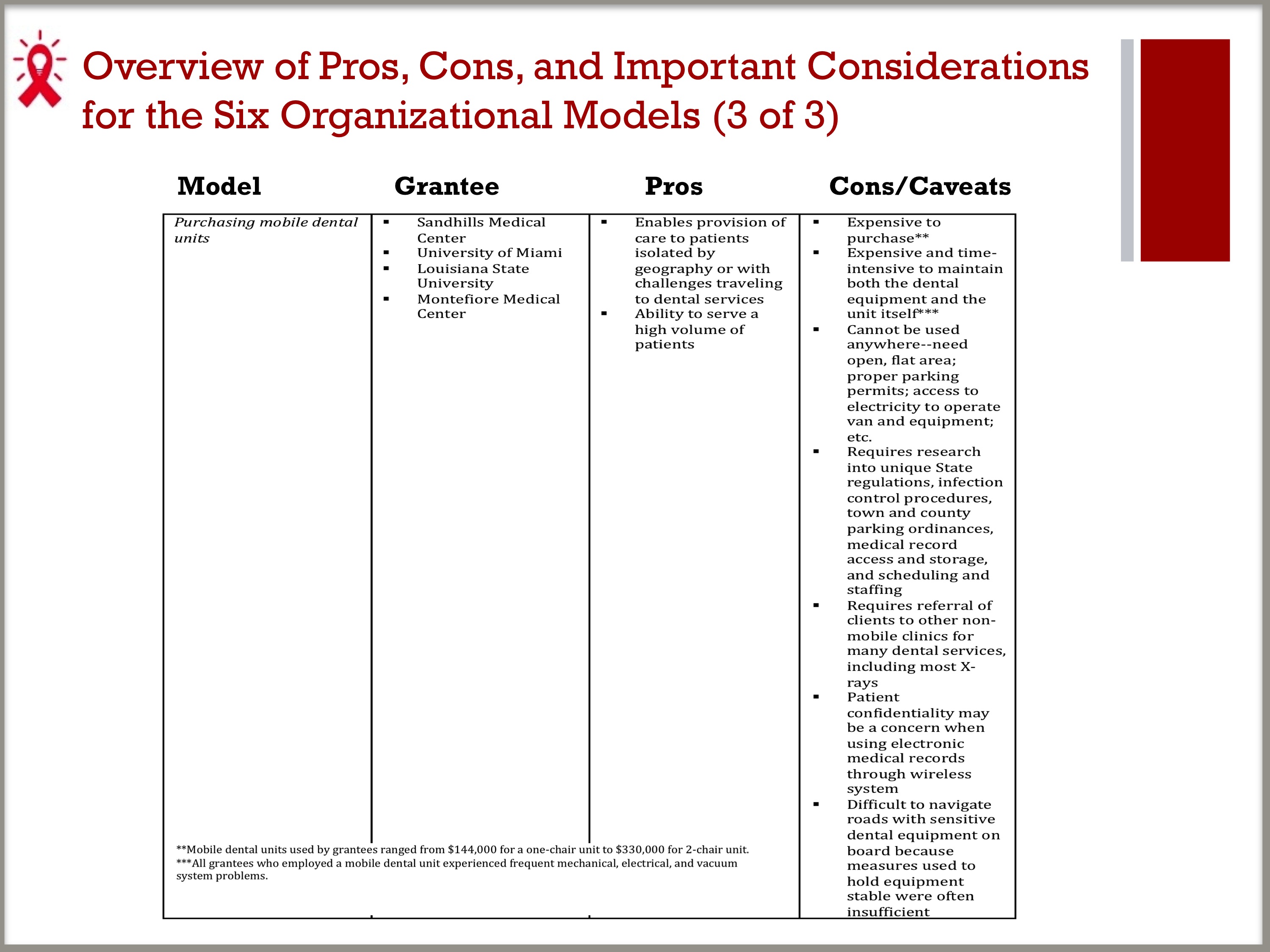 Summary
Review of models from the SPNS Innovations in Oral Health Care Initiative. Chapter in Implementing Oral Health Care into HIV Primary Care Settings, presenting insights