Care Coordination Intervention: Case Study, Overview, and Replication Tips
HRSA HIV/AIDS Bureau (HAB)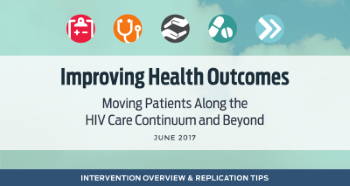 This evidence-informed, innovative intervention promotes HIV medication access, coverage, and pickup for individuals transitioning from correctional facilities.  
This guide is aimed at health care providers, social support providers, and technical assistance trainers across all health settings. This intervention was initially implemented in a Ryan White HIV/AIDS Program-funded site, so those grantees who may be seeing similar populations, and who are facing similar challenges, may also benefit greatly.
Contents:
Intervention steps at-a-glance to provide an overview of featured activities,
Resource checklists outlining necessary capacity for replication,
Staffing table with personnel overviews, and
Narrative sections to walk readers through processes for replication.
This document is part of the Improving Health Outcomes: Moving Patients Along the HIV Care Continuum and Beyond series that includes a fuller manual, additional case studies, pocket guides, and TA webinars. This case study focuses on the Prescription of ART & Medication Access continuum of care step.