Ryan White and HIV/AIDS Aging Awareness Day: September 18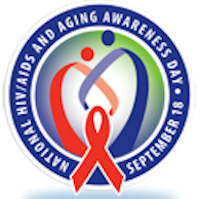 Nearly half of Americans living with diagnosed HIV are 50 and older. Most contracted HIV at a younger age and are living longer because they are engaged in HIV/AIDS care and benefiting from effective treatments. However, a significant proportion contracted HIV after age 50: in 2015, 17% of new HIV infections were among persons over 50. 
Ryan White and Older Americans
The RWHAP client population is aging. RWHAP clients aged 50 and older accounted for 44.4% of all clients in 2016, compared to 36.0% in 2012. In addition, 13.7% were aged 45-49 (2016 RWHAP client level data report, Table 1a).
Intersection of Geriatric and HIV Care
HIV care and geriatrics have a lot in common. Watch Practical Aspects of Caring for People Aging With HIV from the 17th Ryan White HIV/AIDS Program Clinical Care Conference, held August 2017. According to presenter Eugenia Siegler, MD, HIV increases the risk of frailty, even after successful ARV treatment, and older people with HIV often have significant impairments. Understanding the fundamentals of geriatric care, including assessments and screening of function, frailty, and cognitive impairment, can be of great benefit for HIV clinicians, especially as the HIV population in the United Staes ages.
In her talk, Siegler highlights specific tools clinicians can use in caring for their older patients, including screening tools for frailty and cognitive impairment. 
Part of Collection