Technical Assistance Provider Innovation Network (TAP-in)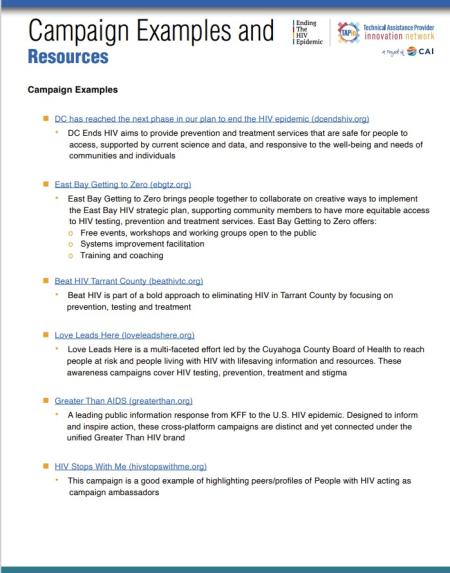 These campaign examples showcase different media campaigns.
DC has reached the next phase in our plan to end the HIV epidemic

DC Ends HIV aims to provide prevention and treatment services that are safe for people to access, supported by current science and data, and responsive to the well-being and needs of communities and individuals

East Bay Getting to Zero

East Bay Getting to Zero brings people together to collaborate on creative ways to implement the East Bay HIV strategic plan, supporting community members to have more equitable access to HIV testing, prevention and treatment services.
East Bay Getting to Zero offers:

Free events, workshops and working groups open to the public
Systems improvement facilitation
Training and coaching

Beat HIV Tarrant County 

Beat HIV is part of a bold approach to eliminating HIV in Tarrant County by focusing on prevention, testing and treatment.

Love Leads Here

Love Leads Here is a multi-faceted effort led by the Cuyahoga County Board of Health to reach people at risk and people living with HIV with lifesaving information and resources. These awareness campaigns cover HIV testing, prevention, treatment and stigma.

Greater Than AIDS

A leading public information response from KFF to the U.S. HIV epidemic. Designed to inform and inspire action, these cross-platform campaigns are distinct and yet connected under the unified Greater Than HIV brand.

HIV Stops With Me

This campaign is a good example of highlighting peers/profiles of People with HIV acting as campaign ambassadors.

TAP-in Webinar – Use of Social Media and Mobile Technology as Essential Tools for EHE
This TAP-in webinar highlights the products and best practices from HRSA's Social Media/Mobile Technology Initiative that focused on young people with HIV who were not virally suppressed. It provides an in-depth look at 3 of the 10 funded projects and shares knowledge of both the challenges of and successful approaches to using social media.

Ryan White HIV/AIDS Program SPNS Initiative: Use of Social Media to Improve Engagement,Retention, and Health Outcomes along the HIV Care Continuum, 2015-2019

The Special Projects of National Significance (SPNS) Program initiative "Use of Social Media to Improve Engagement, Retention, and Health Outcomes along the HIV Care Continuum" implemented and evaluated innovative social media methods to identify, link, and retain HIV positive, underserved, underinsured, hard-to-reach youth and young adults (aged 13-34) in HIV primary care and supportive services. More information about the funded projects and related publications can be found using the above links.

Rigorously Using Evaluation Strategies to Improve Reach and Focus of New Media Outreach

This presentation from the NYC Department of Health and Mental Hygiene highlights approaches to evaluating media campaigns that utilize a range of social media and dating apps.