This SPNS initiative supported expansion of Hepatitis C (HCV) prevention, testing, care, and treatment capacity; improvement in the coordination of linkage to and retention in HCV care and treatment for people with both HIV and HCV; and improvement in coordination with SAMHSA-funded substance use disorder (SUD) treatment providers to deliver behavioral health and SUD treatment support to achieve treatment completion and prevent HCV infection and re-infection.
In addition, the initiative supported enhancement of state, local and tribal health department surveillance systems. The goal was to increase their capacity to monitor acute and chronic infections of HIV and HCV in areas of high populations or low-income, uninsured, and underserved racial and ethnic minorities.
This SPNS initiative was supported through the U.S. Department of Health and Human Services (HHS) Minority HIV/AIDS Fund.
Initiative Products
ConnQuer HepC - Connecticut Quantification, Evaluation, and Response: HIV/HCV Elimination in Persons of Color
ConnQuER HepC App - Educational and Care Companion Resource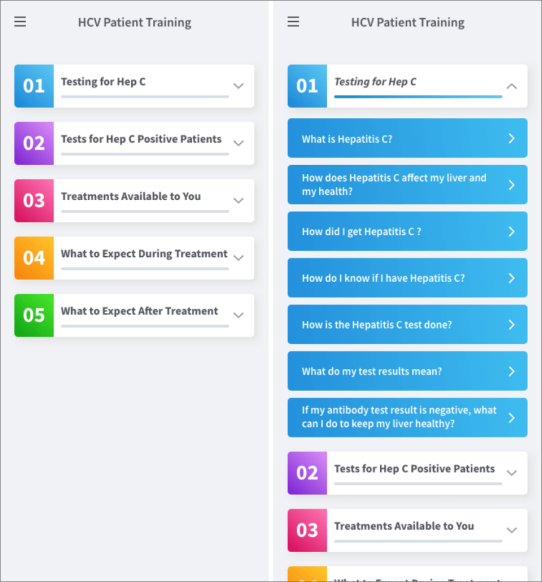 The ConnQuER HepC mobile app is designed to educate patients, their families, and non-clinical staff about hepatitis C and to foster more efficient conversations between patients and health care providers. 
The app is organized as a series of frequently asked questions (FAQs) with answers. After each FAQ, users are presented with a quiz question to test their understanding.


Educational Videos: Methadone Referrals Demystified: A Patient's Journey into Methadone Treatment
This four-part video series features diverse patients and providers describing their experiences with substance dependence and methadone treatment. Each video is 9-13 minutes long and covers the process from referral to entry info care, stigma, and treatment. To view, you must create an account on the Connecticut AETC website.
TACKLE Program - Targeted Access to Community Knowledge, Linkage to treatment and Education for HIV/HCV in people of color (TACKLE HIV/HCV in people of color) 
TACKLE HIV/HCV Mobile App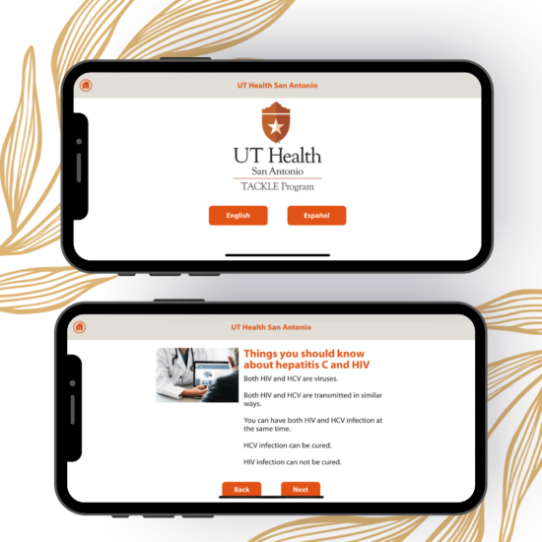 TACKLE HIV/HCV mobile app is a tool available in both English and Spanish that health educators/providers can use with patients or that patients can use on their own to gain information about HIV and HCV.


HELP App - HIV/HCV Education and Learning for Providers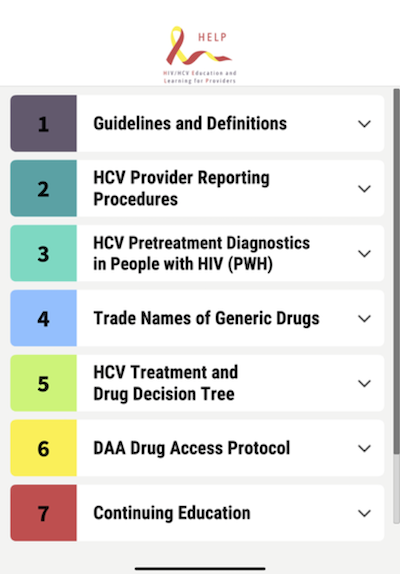 The HELP app was developed within a federal Health Resources and Services Administration (HRSA) funded Ryan White HIV/AIDS Program Special Projects of National Significance (SPNS) to Cure Hepatitis C in People of Color Living with HIV of which Dr. Wari Allison was the program director/principal investigator. Dr. Allison is the VP for Health Policy at the University of North Texas Health Science Center at Fort Worth (HSC) and the Director of the Center for Health Policy at HSC. The purpose of this SPNS demonstration project was to reduce hepatitis C virus (HCV) morbidity and mortality among low-income, underinsured, or uninsured racial and ethnic minorities living with HIV in the United States and to improve coordination of linkage to and retention in HCV care and treatment for people living with both HIV and HCV.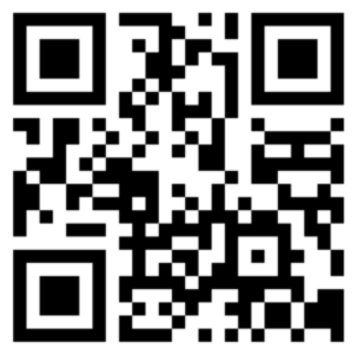 Publications and Presentations
Allison WE, Choi AN, Kawasaki K, Melhado TV, (2021). Evaluating the Effectiveness of the AIDS Education and Training Center (AETC) National Human Immunodeficiency Virus/Hepatitis C Virus (HCV) Curriculum. Journal of Medical Education and Curricular Development, Volume 8.
Allison W, Johnson JP, Rochat A, et al. (2019) P384 Extension for Community Healthcare Outcomes (ECHO) implemented for Hepatitis C (HCV)/HIV co-infected patients in Texas, USA. Sexually Transmitted Infections 2019;95:A190. 
Allison WE, Melhado T, Kawasaki K, Desai A, Bobadilla R. (2019) 1290. Community Screening and Education for HIV and Hepatitis C (HCV) infection in South Texas with Rapid Point of Care Testing and a Mobile Phone Application (app), Open Forum Infectious Diseases, Volume 6, Issue Supplement_2, October 2019, Page S465.