Center for Quality Improvement and Innovation (CQII)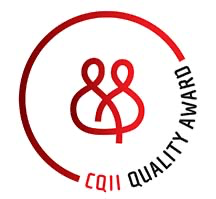 The Quality of Care Awards started out 15 years ago, in 2007, as a way to recognize organizations and individuals with exemplary work in providing the quality of Ryan White-funded HIV care services. The 2022 Quality of Care Award winners, for Leadership in Quality Improvement, are Dallas County and Santa Rosa Community Health Centers.
Read these summaries and watch A Celebration of our 2022 CQII Quality Award Winners. For more details, see CQII Quality Award Program.
Dallas County: Improving Appointment-Keeping, Retention in Care
Dallas County's Health & Human Services HIV Administrative Agency brought together the region's RWHAP sub-recipients to address this problem: 20% of patients were missing their HIV-related medical appointments.  Each agency developed their own plans toward the regional "Return to Care" (R2Care) Region-wide Quality Improvement Project.
Quality Interventions to Improve Care
Interventions to improve appointment-keeping and retention in care were adopted by one or more agencies and included:
Follow-up by case managers with appointment reminders
Completing client paperwork in advance to ease client burden
Reducing the client of burden of the eligibility process with a virtual 6-month attestation using the EMR.
Improvements in permanent housing for clients exiting their transitional housing program through promoting financial independence in these clients with vocational training, assistance applying for disability, and addressing the substance use and mental health challenges.
Use of tablets to improve retention in care of transgender women.
Provision of tablets to target subpopulations affected by language barriers.
Improved data collection, revision of the phone system, and monthly care coordination and daily huddles to identify and re-engage clients out of care, including targeted staff debriefs for clients missing over 40% of sessions.
An "Undetectables Program" to improve viral suppression rates by adding mental health services, offering incentives, and focused trainings for case managers.
Read more about their work in CQII Quality Award Program, 2022 CQII Awards.
---
Santa Rosa: Enhancement of Data Collection, Case Management, Access to ADAP/Health Coverage
Quality Improvement Enhancements to Improve Operations, Care Access
Team VIDA at Santa Rosa Community Health Centers developed a QI project that successfully increased the number of clients receiving non-medical case management from 58% to 93%, well surpassing the statewide goal of 85%. 
Improvements in the data collection process, with standardization for input into the central data system ARIES, review of data reports to identify uninsured clients in need of follow-up, and ongoing review of performance measurement outcomes.
As an outcome of a process mapping activity with the RWHAP Part B CQM Program, an ADAP Access Coordinator position was established to enhance client linkage to ADAP and health insurance coverage, with the process built into the clinic workflow to make the connection to coverage an hour long versus several day process. 
Training on QI for all staff, covering terms and methodology along with cross-training to enhance clinic workflow. 
Read more about their work in CQII Quality Award Program, 2022 CQII Awards.