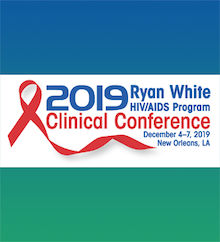 These times call for virtual learning. Thus, we bring to your attention the videos and slides from the 2019 Ryan White Clinical Conference, held December 4-6. The below sessions focus on HIV ANTIRETROVIRAL THERAPY. 
HRSA's HIV/AIDS Bureau Updates
Dr. Laura Cheever provided a review of 2018 Ryan White HIV/AIDS Program (RWHAP) data (87,1% achieved viral suppression, continuing a long upward trend), a recap of various data reports available from HRSA, progress in closing of disparities across RWHAP client populations, and the status of the Ending the HIV Epidemic Initiative.
Fundamentals of Antiretroviral Therapy
This session, primarily geared to those new to the HIV field, reviewed the basics about HIV infection and the benefits of Rapid ART in terms of reduced risk events, lifetime cost savings, and improved health outcomes.
Initiating Antiretroviral Therapy: What to Start and How to Monitor
This presentation reviews the explosion of treatment options since the epidemic's early years, a review of treatment guidelines (what to start with, what to not use), considerations when prescribing an initial regimen (e.g., baseline CD4, mental health, co-morbidities), potential adverse events, the benefits of rapid ART, clinic monitoring, and more. 
Investigational Approaches to Antiretroviral Therapy
Learn about the efficacy of 2-drug therapy options, long-acting ART, treating those with multi-drug resistant HIV. This session wraps up with what's on the horizon: Islatravir, Capsid inhibitor, CD4 antibody, CCR5 antibody, Broadly neutralizing Ab, Other novel agents (e.g., monoclonal antibodies), and Novel delivery systems.