Session Length: 45 minutes
Materials Needed
Computer and compatible LCD  projector to play the PowerPoint presentation
Copies of the Module 7 handout distributed in advance of training.
POWERPOINT PRESENTATION
Dental Case Management: Filling in the Gaps for Better HIV Care
SLIDE 1: Dental Case Management in the SPNS Oral Health Initiative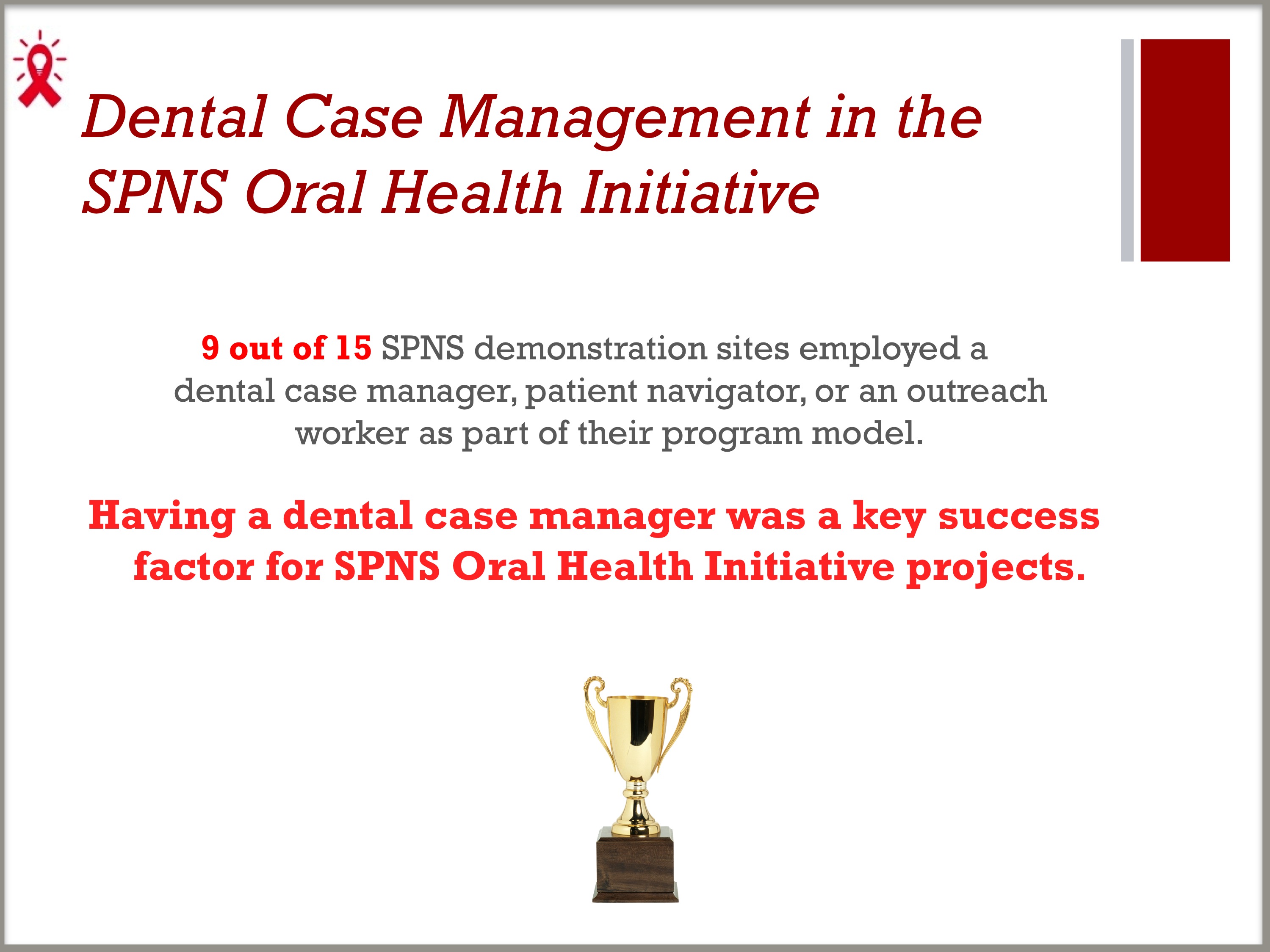 As  part of the SPNS Initiative, 9 out of 15  demonstration sites employed  a dental case manager, patient navigator, or outreach worker as part of their program model.
Having a dental case manager was a key success factor for SPNS Oral Health Initiative projects.
SLIDE 2: The Value of a Dental Case Manager—Testimonials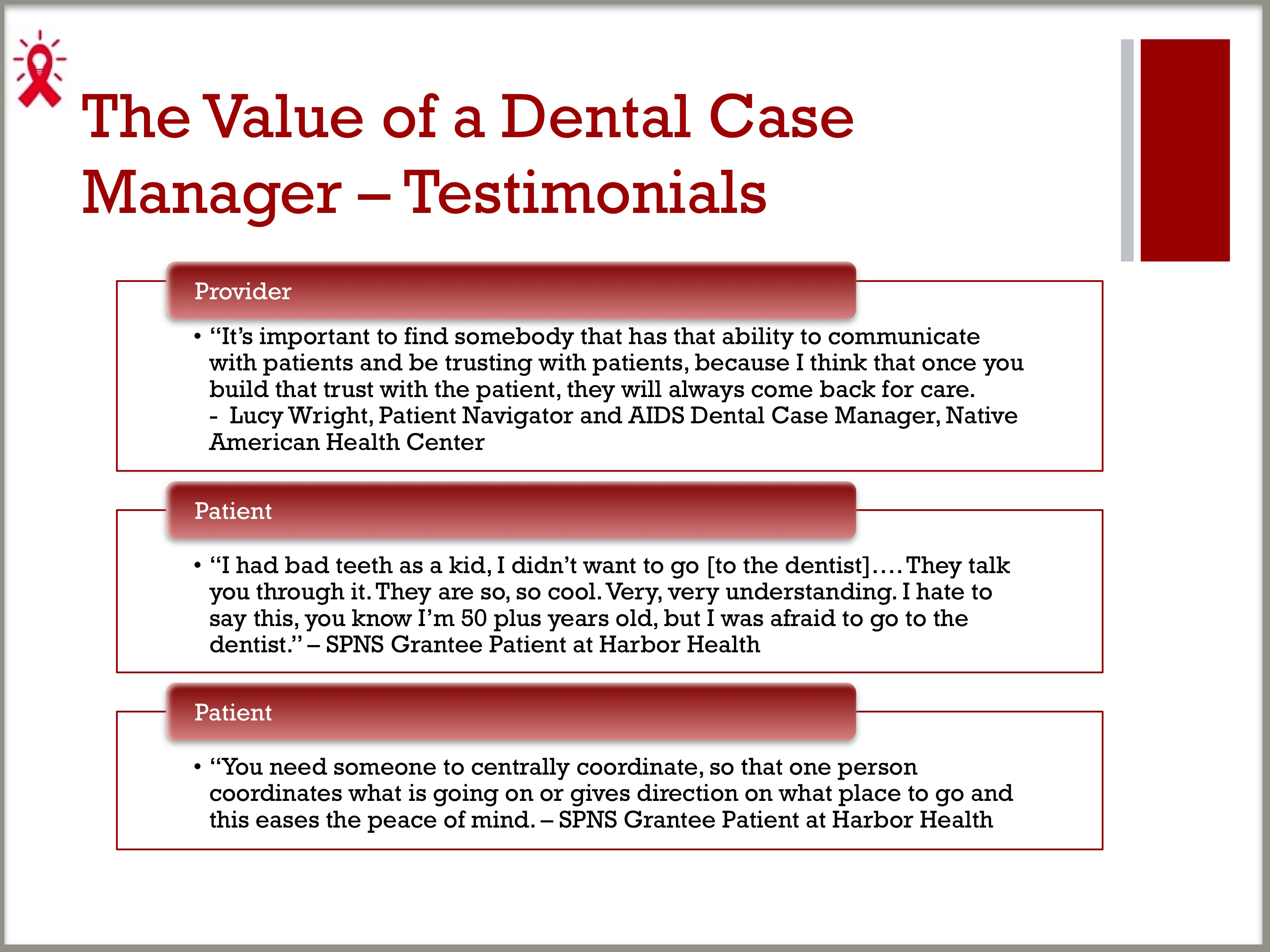 Provider testimonial:

"It's important to find somebody that has that ability to communicate with patients and be trusting with patients, because I think that once you build that trust with the patient, they will always come back for care."

— Lucy Wright, Patient Navigator and AIDS Dental Case Manager, Native American Health Center

Patient testimonials about benefits of dental case manager:

– "I had bad teeth as a kid, I didn't want to go [to the dentist]…. They talk you through it. They are so, so cool. Very, very understanding. I hate to say this, you know I'm 50 plus years old, but I was afraid to go to the dentist."

— SPNS Grantee Patient at Harbor Health

– "You need someone to centrally coordinate, so that one person coordinates what is going on or gives direction on what place to go and this eases the peace of mind."

— SPNS Grantee Patient at Harbor Health
SLIDE 3: What is Dental Case Management?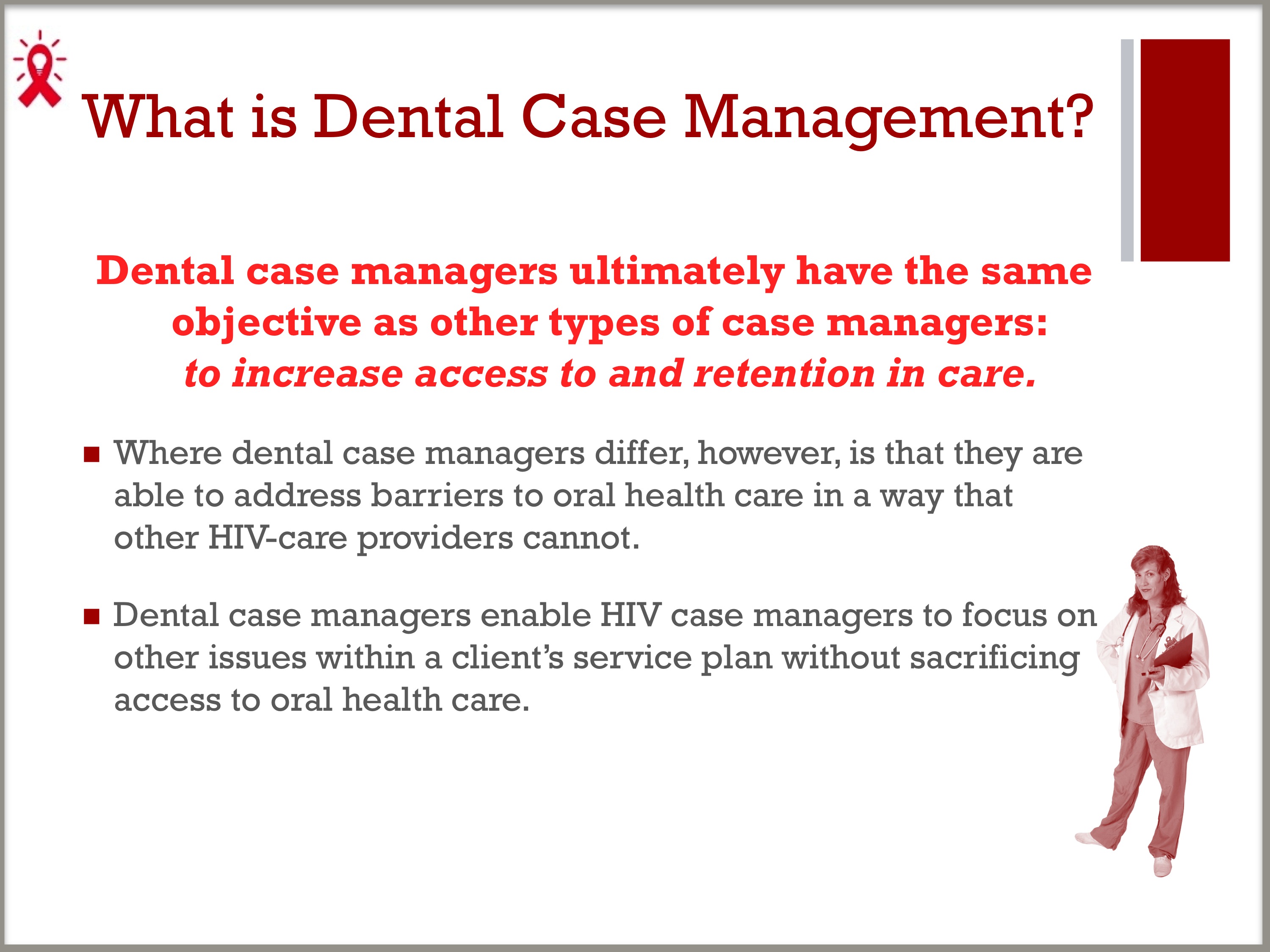 It's common to find HIV case managers working in medical settings (medical case management) or social service organizations (psychosocial case management), but dental case management in the HIV setting is relatively new.
Dental case managers ultimately have the same objective as other types of case managers: to increase access to  and  retention  in  care.
Where dental case managers differ, however, is that they are able to address barriers to oral health care in a way that other HIV-care providers cannot.

– Most HIV case managers have a large patient caseload and a series of service areas to address, many of which may be more pressing than oral health care. Oral health often gets pushed to the bottom of the list, if it is on the list to begin with.

– Dental case managers enable HIV case managers to focus on other issues within a client's service plan without sacrificing access to oral health care.
SLIDE 4: The Essential Functions of a Dental Case Manager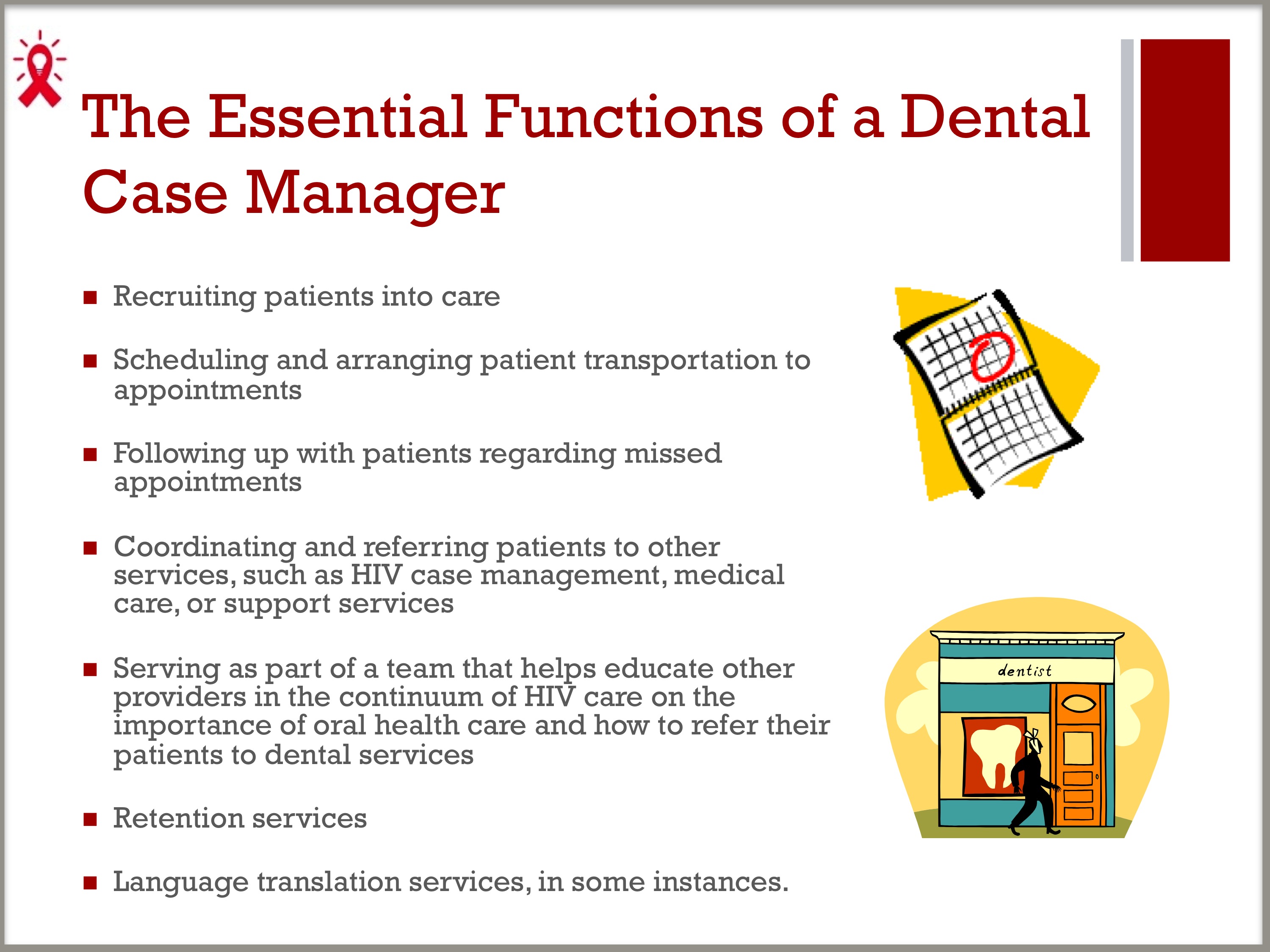 Recruiting patients into care
Scheduling and arranging patient transportation to appointments
Following up with patients regarding missed appointments
Coordinating and referring patients to other services, such as HIV case management, medical care, or support services
Serving as part of a team that helps educate other providers in the continuum of HIV care on the importance of oral health care and how to refer their patients to dental services
Retention services
Language translation services, in some instances.
SLIDE 5: Integrating Dental Case Management into Your Practice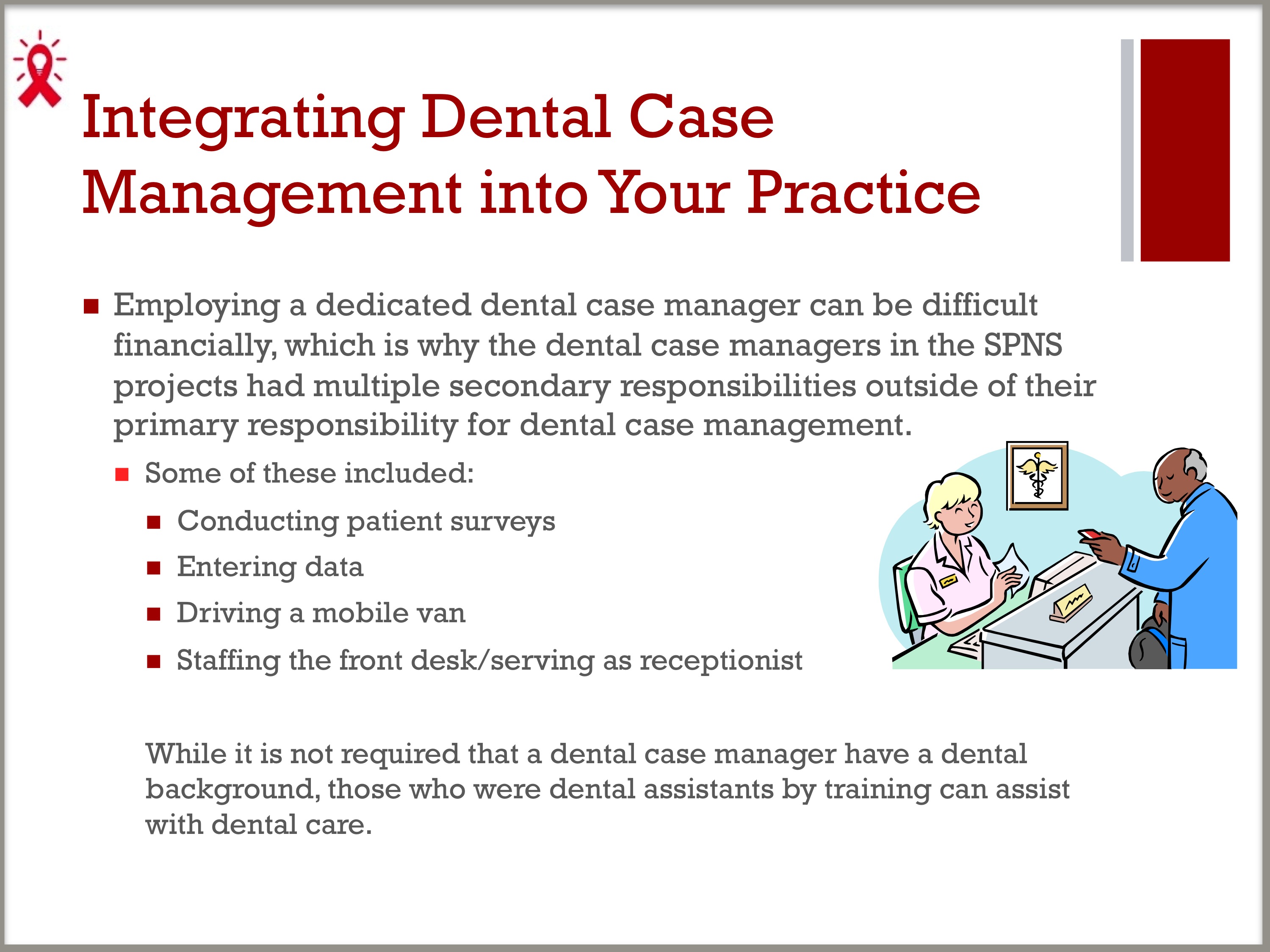 Employing a dedicated dental case manager can be difficult financially, which is why the dental case managers in the SPNS projects had multiple secondary responsibilities outside of their primary responsibility for dental case management.
Some of these included:

– Conducting patient surveys.

– Entering data.

– Driving a mobile van.

– Staffing the front desk/serving as receptionist.

– While it is not required that a dental case manager have a dental background, those who were dental assistants by training can assist with dental care.
SLIDE 6: Other Solutions for Integrating Dental Case Management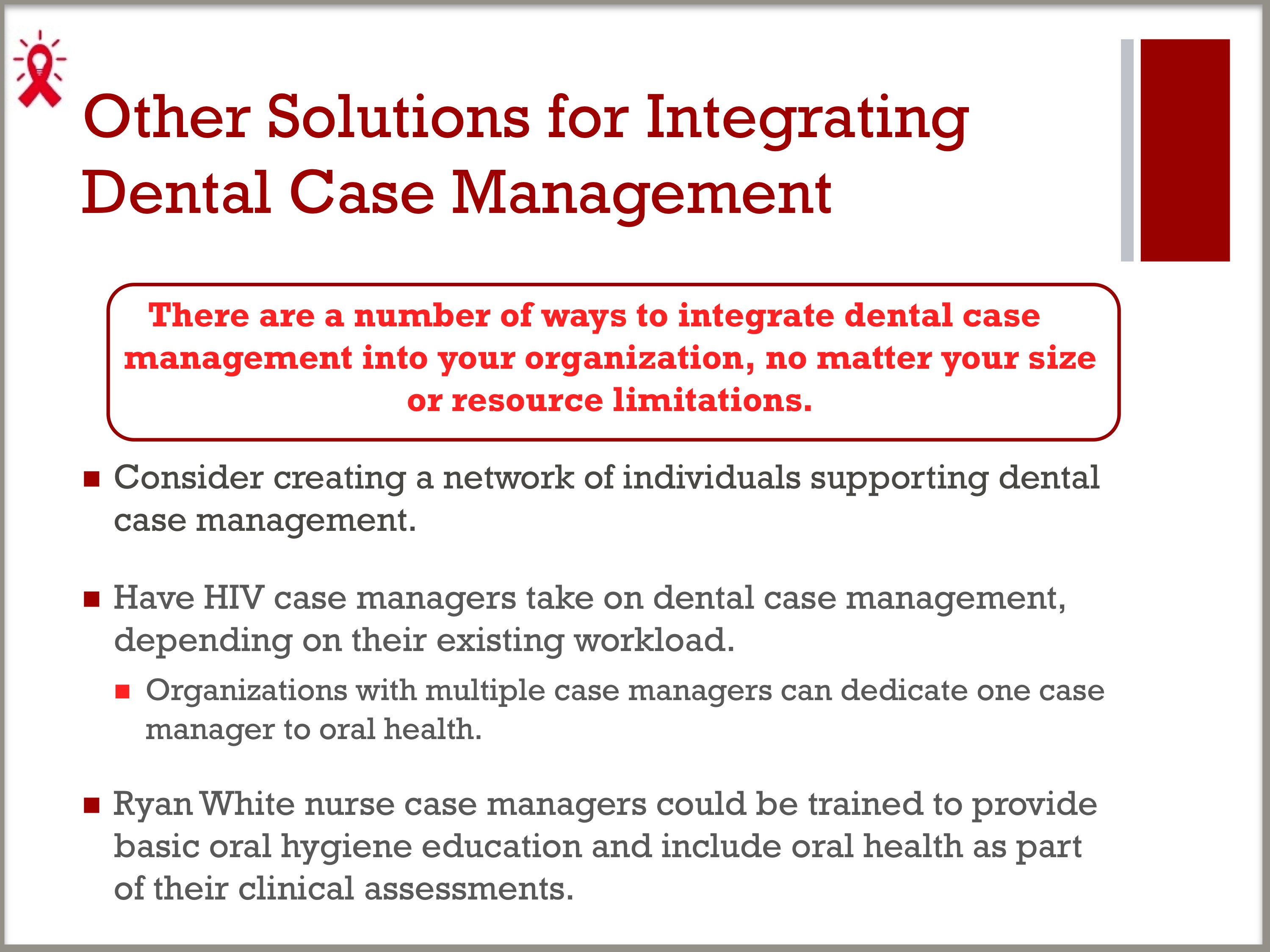 Distribute the various dental case management functions among other staff, such as receptionists, schedulers, translators, dental hygienists, and so forth. Thus, there would not be one dental case manager, but a network of individuals supporting dental case management.
Organizations that provide both medical and dental care could have their HIV case managers take on dental case management, depending on their existing workload.
Organizations with multiple case managers can dedicate one case manager to oral health.
Ryan White nurse case managers could be trained to provide basic oral hygiene education and include oral health as part of their clinical assessments.
The bottom line is that there are a number of ways to integrate dental case management into your organization, no matter your size or resource limitations. The most important thing is to make dental case management an integral part of clinic operations.
HANDOUT
Sample Dental Case Manager Job Description
Adapted from example from Lane HIV Alliance, Eugene, OR
Please use this job description as a reference only. Revisions may be needed to reflect the needs of your organization.
POSITION TITLE: Dental Case Manager
REPORTS TO: Executive Director
POSITION AND BENEFITS
Current FTE: Up to .5 FTE (20 hours/week)
Paid holidays, vacation time, and discretionary leave prorated to FTE
Health insurance (medical, dental, vision) available to employees working.75 FTE and above.
This position is salaried & exempt, i.e. not subject to state and federal wage and overtime requirements.
THE POSITION
The dental case manager provides dental case management for people with HIV including assisting them in receiving services from the Lane HIV Alliance's dental program. The dental case manager assists clients in filling out the necessary paper work, organization of paperwork, making appointments, getting to appointments and any follow up necessary in a timely manner.
RESPONSIBLITIES
Maintain an individual client load as Dental Case Manager
Familiarity with the Ryan White HIV/AIDS Program
Experience coordinating medical and/or dental care
Experience with Word, Excel and Access
Detail-oriented
Self-motivated/self-manager
Ability to work with diverse populations
Experience working with clients with drug and alcohol, mental health issues
Record keeping and organizational skills
Team player who is self-motivated, high-energy, enthusiastic
Valid Oregon Driver's license, driving record sufficient to be covered by agency auto insurance policy, ability to transport self to job-related events, meetings and locations
TB test (provided at agency)
Flexible hours required, including some evenings and weekends
Ability to pass agency criminal background check
Source: Evaluation Center on HIV and Oral Health. "Increasing Access to Oral Health Care for People Living with HIV/AIDS: The role of dental case managers, patient navigators and outreach workers." Available at: ECHO Dental Case Managers
Summary
Review of oral health and HIV care programs that utilize a dental case manager, patient navigator, or outreach worker as part of their program model. Chapter in Implementing Oral Health Care into HIV Primary Care Settings, presenting insights from the SPNS Innovations in Oral Health Care Initiative.