On this Page: Overview |  Methods & Approach | Resources & Dissemination
Overview
The Rapid ART Dissemination Assistance Provider (DAP) is a three-year initiative (September 2020 – August 2023) with the goal of identifying, disseminating, and promoting replication of best practices in implementation of Rapid Start services as standard of care for people living with HIV and served by the Ryan White HIV/AIDS Program (RWHAP).
To achieve this goal we:
Identified effective Rapid ART models in a variety of settings in the United States​.
Developed and disseminate a compendium of these models​.
Supported replication of effective Rapid ART models by developing materials and resources, and delivering training and technical assistance.
Funding Source
This project is supported by the Health Resources and Services Administration (HRSA) of the U.S. Department of Health and Human Services (HHS) as part of a financial assistance award totaling $3,000,000.00 with 100 percentage funded by HRSA/HHS and​ $0 amount and 0 percentage funded by non-government source(s). The contents are those of the author(s) and do not necessarily represent the official views of, nor an endorsement, by HRSA/HHS, or the U.S. Government.​
Funded Organizations
The DAP project is administered by Cicatelli Associates Inc. (CAI) in partnership with Mission Analytics Group (Mission), the University of California at Los Angeles' Department of Family Medicine (UCLA DFM), and the National Association of County and City Health Officials (NACCHO).
Methods and Approach
Environmental Scan
To identify facilitators of Rapid Start implementation, best practices and effective Rapid Start programs, we completed a comprehensive environmental scan and identified 128 Ryan White-funded programs who provided Rapid Start services. After review, we found 105 programs promoted linkage to treatment within seven days, matching our criteria for Rapid Start consideration. Forty programs were excluded that either had not completed the implementation phase or were no longer operating, leaving 65 service delivery sites. An additional emphasis on evidence of positive outcomes, particularly related to those sustaining rapid linkage to care, viral suppression, and retention in care, excluded 2 additional programs, leaving 63 sites. 
128 Rapid Start services and models were implemented across 32 states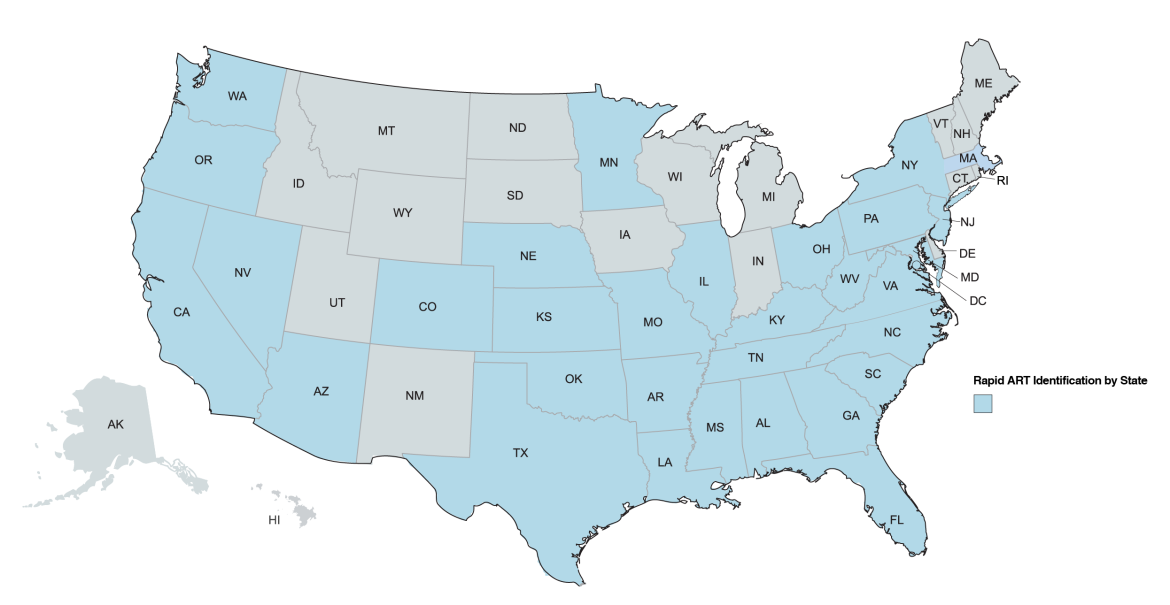 The 63 Rapid Start sites were invited to participate in an outreach call with the purpose of learning more about their Rapid Start services and evidence of impact. Ultimately, 45 sites participated in a discussion with a member of the DAP Team, completed virtually via Zoom. Through the calls, we built on information gathered through the environmental scan to fill in any gaps describing how they provided Rapid Start services and to gather documentation of positive outcomes. Most often, multiple members of the jurisdiction or healthcare team elected to jointly participate in the calls including linkage coordinators, administrators, nurse-practitioners, and physicians. 
In-Depth Interviews
After completing outreach calls 18 Rapid Start service delivery providers were selected, based on key diversity characteristics such as region, facility type, care setting, program features, for in-depth virtual field visits. Field visits were conducted using Zoom and included interviews with multiple levels of staff involved in providing Rapid Start services.
During each field visit, we interviewed staff and clients using standardized interview protocols. There were 8 interview protocols in total, including: 1) Leadership and Program Management; 2) Social Worker, Insurance Benefit Coordinator, Case Manager, and Patient Navigation Staff; 3) Clinical Staff; 4) Pharmacy Staff; 5) Data Analysis and CQI Staff; 6) Jurisdiction Staff, 7) HIV Testing Partners; and 8) Clients. Depending on the site's Rapid Start processes and workflow, protocol #4 (Pharmacy Staff), #6 (Jurisdiction Staff), and #7 (HIV Testing Partners) were included/excluded in the virtual field visit. Each interview was recorded for note-taking purposes and used for transcription and relevant policies, protocols, job aids, client education materials identified and collected.
Interviews were completed between August 2021 – December 2021. In total we interviewed 159 staff members, including but not limited to: 44 clinicians (NPs, MDs, and pharmacists), 54 patient navigators, 12 HIV testing site staff, 11 external jurisdiction staff, 30 data analyst staff, as well as 12 clients who had received Rapid Start services.
Analysis
Coding and analysis of interview transcripts using MAXQDA, a qualitative analysis software was completed.  Analysis of interviews was framed using the Consolidated Framework for Implementation Research (CFIR) and codebook developed using the CFIR domains (i.e., Intervention Characteristics, Inner Setting, Outer Setting, and Process) to identify the facilitators of Rapid Start provision and implementation.
Resource Development and Dissemination
Implementation Tools and Resources
Drawing on our findings, the DAP team developed the suite of materials on TargetHIV, including the Compendium of Rapid Start Best Practices, Rapid Start Site Profiles, Jurisdiction Rapid Start Playbook, and Cost Estimation Tools.
DAP Presentations and Publications
DAP has presented on our initiative at these conferences and will be publishing our findings in peer reviewed journals.