The project goal is to promote widespread adoption and replication of rapid ART models throughout Ryan White HIV/AIDS Program (RWHAP) provider settings.
​Project Objectives​
Identify effective Rapid ART models in a variety of settings in the United States​
Develop and disseminate a compendium of these models​
Support replication of effective Rapid ART models by developing materials and resources, and delivering training and technical assistance
Broad DAP Project Timeline
Year 1-2: Comprehensive Environmental Scan and Identification of Promising and Impactful Rapid ART Programs​
Year 2: Compendium and Replication Materials Development
Year 2-3: Dissemination Activities
Year 3: Replication Activities
Rapid ART DAP Site Selection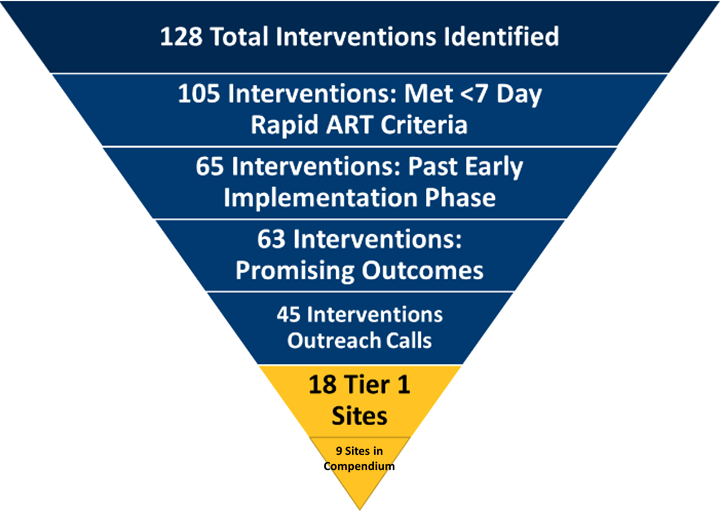 The DAP Team identified 128 rapid ART intervention sites in total. After a review of identified interventions, we found 105 interventions that promoted linkage to treatment within seven days, matching our criteria for rapid ART consideration. The DAP Team then excluded 40 programs that either had not completed the implementation phase or were no longer operating, leaving us with 65 intervention sites. The DAP Team placed an additional emphasis on evidence of positive outcomes, particularly related to those maintaining rapid linkage to care, viral suppression, and retention in care, which excluded 2 additional programs, leaving 63 intervention sites. 
The DAP Team invited the 63 rapid ART intervention sites identified to participate in an outreach call. Ultimately, 45 programs participated in a discussion with a member of the DAP Team, completed virtually via Zoom. Through the calls, we built on information gathered through the environmental scan to fill in any gaps describing the rapid ART program and to gather documentation of positive outcomes. Most often, multiple members of the healthcare team elected to jointly participate in the calls including linkage specialists, administrators, nurse-practitioners, and physicians. 
After completing outreach calls with 45 of these intervention sites, we added information into our database and analyzed these sites further to identify 18 possible programs that could be invited for the multi-level field visit assessment. Ultimately, we are aiming for 9 of the best, most promising programs to be included in the compendium. 
The DAP Team
CAI, as lead, in partnership with Mission Analytics Group (Mission), the University of California at Los Angeles' Department of Family Medicine (UCLA DFM), and the National Association of County and City Health Officials (NACCHO), in response to this opportunity to form the DAP team. This strategic partnership will facilitate the achievement of DAP goals to increase and enhance access to and to rapid ART for people with new HIV infections and people with HIV who have fallen out of care and to improve their health outcomes.