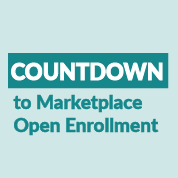 Over the last few weeks, the Centers for Medicare and Medicaid Services (CMS) has announced several major changes and considerations impacting Open Enrollment 2022.
To help you stay on top of the latest updates, we've compiled this list of four "things to know" about helping consumers navigate this year's Marketplace Open Enrollment. 
1. Open Enrollment is extended through January 15
Beginning this year, consumers will have an extra 30 days to review and choose health plans during Open Enrollment (OE), which now runs from November 1, 2021 through January 15, 2022, on HealthCare.gov.
In states that do not use HealthCare.gov, the OE window for 2022 Marketplace coverage may vary. Check out 2022 Marketplace Open Enrollment to learn more.
2. Expiration of Unemployment Compensation benefits
As part of the American Rescue Plan, people who received or who were approved to receive unemployment compensation in 2021 have been eligible for enhanced financial subsidies for Marketplace health coverage, including Advanced Premium Tax Credits (APTCs). These enhanced subsidies were one-time savings and are set to expire at the end of this year. Starting with Open Enrollment for 2022, consumers who received these benefits in 2021 may notice changes to their financial assistance amounts when they re-enroll into 2022 coverage.
Check out Understanding Premium Tax Credits and Cost-Sharing Reductions eLearning Module to learn more about financial assistance opportunities, including Premium Tax Credits and Cost-Sharing Reductions, and how the RWHAP may be able to help clients pay for health coverage. 
3. Champions of Coverage
CMS has reinstated its national Champions of Coverage program. This is a great opportunity for RWHAP-funded organizations to engage the RWHAP community on the topic of health coverage, and we encourage interested organizations to apply! The program will provide support to these organizations including education, training, and enrollment marketing resources to support enrollment efforts in underinsured communities. The program is free and there are no licensure requirements - just a willingness to spread the word about the importance of health coverage!
4. Expanded Navigator duties
Navigators working in states that use the HealthCare.gov Marketplace will soon be required to provide consumers with additional education on certain post-enrollment topics. These include the basics of health coverage and how to use it, the Marketplace appeals process, and the tax reconciliation process. These activities are not mandatory until the 2023 Open Enrollment period, however, Navigators are encouraged to offer these educational opportunities this year.
This year 1,500 Navigators at 60 organizations across the country are available to support consumers that use HealthCare.gov. Find a Navigator organization.