The health care insurance coverage landscape has seen rapid changes in recent years. Ryan White HIV/AIDS Program (RWHAP) care providers work with public and private payers to secure inclusion in their networks and reimbursement for services not covered by grants. RWHAP staff also serve as counselors/navigators to help clients make wise choices on health insurance coverage.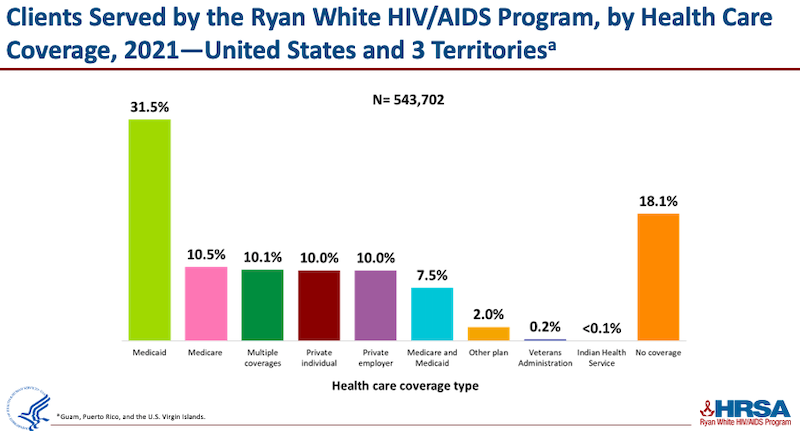 Subtopics
Best Practices and Emerging Models
Best and promising practices for engaging, enrolling, and retaining people with HIV in health coverage.
Resources
HRSA HIV/AIDS Bureau (HAB)

State-specific resources to assist providers in navigating health coverage requirements that may impact the prescription of hepatitis C treatment.

Overview of Medicare eligibility and coverage for RWHAP clients and other people with HIV.

Overview of the eligibility criteria for both the Medicare and Medicaid programs, health coverage options including integrated care plans for dually eligible clients, enrollment considerations and best practices, financial help for Medicare costs, and sources of external enrollment support.

Explanation of how to conduct Account Tune-Ups for eligible clients in the months leading up to Open Enrollment.

Interactive course to build the health insurance literacy skills of RWHAP staff so they can better help clients with health coverage decisions.

Pre-enrollment appointment checklist that can be used by HIV case managers and enrollment staff to help individual clients choose the health care plan that best fits their health and financial needs.

HRSA HIV/AIDS Bureau (HAB)

Overview of RWHAP payment for clients' health care coverage costs (insurance assistance).

Review of eligibility and enrollment rules for Medicaid, what the program covers, and how the RWHAP complements Medicaid coverage.  

Glosè referans rapid sa a ofri esplikasyon ki fasil pou konprann nan langaj tout moun kapab konprann konsènan ekspresyon ak fraz ki gen pou wè ak enskripsyon nan swen sante pou founisè swen VIH yo.

Questions commonly asked during ACE TA Center webinars on Medicare.

Timeline and key steps your program can take in the months leading up to Open Enrollment 2020.

Explanation of Medicare (and its Parts) for consumers as they contemplate enrollment.

Perspectives of Ryan White HIV/AIDS Program recipients and subrecipients on helping clients engage and enroll in health coverage and build their health literacy. 
Webinars and Training
Overview of Medicaid unwinding, including how RWHAP case managers and program staff can help people with HIV navigate the unwinding process, re-enroll in Medicaid or transition to other coverage, and avoid gaps in coverage and care.

Review of the basics of Medicare-Medicaid dual eligibility for RWHAP clients.

Discussion of the role Medicaid plays in care and treatment for people with HIV.

Interactive module on financial help is available for consumers who get health coverage through the Health Insurance Marketplace.

Best practices for providing Medicare enrollment support, common enrollment challenges, and penalties associated with Medicare enrollment.

Review of Medicare eligibility and the enrollment pathways for people with HIV.

Learn about recent and upcoming changes to federal and state health care policies and their implications for RWHAP recipients, subrecipients, and clients.

Introduction for new RWHAP program staff (or staff with new roles) on the ACE TA Center and an overview of health coverage and its importance for RWHAP clients and people living with HIV.

Review of the connection between health coverage, taxes, and maintaining Marketplace financial assistance.

Annual staff orientation webinar to introduce staff to the ACE TA Center.

Tips on preparing for Open Enrollment 2021.