Cognitive Processing Therapy (CPT) is an evidence-based, cognitive behavioral treatment for posttraumatic stress disorder (PTSD) delivered by a behavioral health therapist trained in CPT. In collaboration with HIV experts and community members, E2i adapted CPT for the Ryan White HIV/AIDS Program (RWHAP) and produced a toolkit that provides the resources needed to implement CPT within RWHAP settings and other HIV care organizations.
Goals
To reduce symptoms of PTSD and related disorders (e.g., depression)
To help people with HIV stay engaged in HIV care
Priority Population
People with HIV who have a diagnosis of PTSD 
Core Elements
1. Assessment and Symptom Monitoring
All clients are screened for PTSD. Positive screens receive further assessment for PTSD
During treatment, clients are monitored weekly for changes in symptoms of PTSD
2. CPT Sessions 
CPT sessions are delivered by a behavioral health therapist who follows the protocol and worksheets in the CPT Manual
Sessions can be delivered one-on-one or in a closed group
3. Socratic Dialogue
Socratic dialogue is a technique that values clients coming to know something for themselves, rather than the therapist telling them what to do. This technique is helpful when addressing clients' thoughts regarding their personal experiences with trauma
4. Identifying and Challenging "Stuck Points"
"Stuck points" are unrealistic or unhelpful thoughts related to trauma that prevent recovery from PTSD. Clients learn to identify, evaluate, and challenge stuck points
Duration
Clients may receive between 6 and 24 weekly or biweekly sessions. Most clients receive about 12 sessions. Individual sessions are 50-60 minutes (individual sessions); group sessions are 90 minutes
CPT treatment length is determined by monitoring the client's PTSD symptoms in response to intervention
Setting
CPT can be delivered in any organization that serves people with HIV and employs a behavioral health therapist
Toolkit Components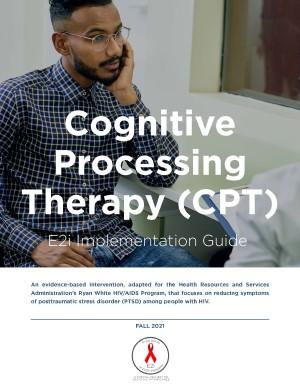 This Guide includes:
How to plan and implement the intervention
Lessons learned during implementation in RWHAP settings
Outcomes from the E2i initiative
CPT E2i Implementation Guide (PDF)
A Spanish version of the Implementation Guide is coming soon!
Watch an instructional dramatization of how to deliver CPT to clients.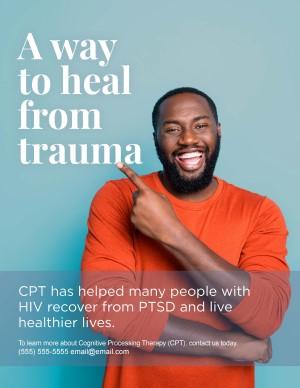 Download posters and a brochure that explain CPT and its benefits for clients. You can add your organization's contact information to these materials and distribute them in your clinic.