Tailored Motivational Interviewing (TMI) is an evidence-based intervention that provides brief motivational interviewing sessions to encourage engagement in HIV care and treatment. In collaboration with HIV experts, MI experts, and community members, E2i adapted TMI for the Ryan White HIV/AIDS Program (RWHAP) and produced a toolkit that provides the resources needed to implement TMI within RWHAP settings and other HIV care organizations.
Goals
To improve engagement and retention in HIV care
To address adherence to antiretroviral treatment and other health behaviors for which self-management is relevant, such as substance use and sexual activity
Priority Population
People with HIV who are newly linked to HIV care, re-entering HIV care, or struggling with adherence to medication
Young Black men who have sex with men (MSM) may especially benefit from TMI
Core Elements
1. Motivational Interviewing for people with HIV
2. Addressing key behaviors for people with HIV
TMI can encourage clients to:

Engage in HIV care
Adhere to antiretroviral treatment
Reduce or stop unhealthy substance use
Reduce sexual risk behaviors
Duration
TMI can range from a single brief encounter to multiple sessions based on client need and organizational context.
Sessions last from 15 to 60 minutes, depending on where the session takes place.
Settings
HIV primary care organizations
Any other HIV service delivery setting (e.g., community-based organizations, AIDS service organizations) with well-established linkage and referral systems to HIV primary care 
Toolkit Components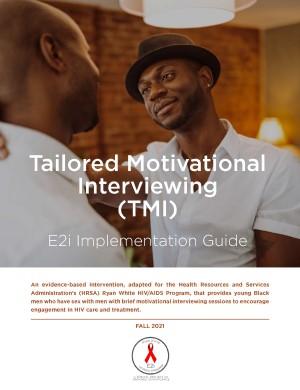 This Guide includes:
How to plan and implement the intervention
Lessons learned during implementation in RWHAP settings
Outcomes from the E2i initiative
TMI E2i Implementation Guide (PDF)
A Spanish version of the Implementation Guide is coming soon!
Watch an instructional dramatization of how to deliver TMI to clients.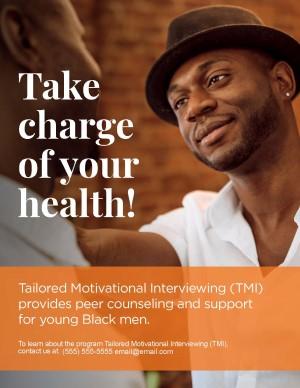 Download posters and a brochure that explain TMI and its benefits for clients. You can add your organization's contact information to these materials and distribute them in your clinic.