Text Messaging Intervention to Improve Antiretroviral Adherence among HIV-Positive Youth (TXTXT) is an evidence-informed intervention that provides personalized text messages to remind and encourage young people with HIV to take their HIV medication as prescribed. TXTXT clients also receive medication adherence education and counseling, as well as referrals to supportive services when needed. In collaboration with HIV experts and community members, E2i adapted TXTXT for the Ryan White HIV/AIDS Program (RWHAP) and produced a toolkit that provides the resources needed to implement TXTXT with young Black men who have sex with men (MSM) within RWHAP settings and other HIV care organizations.
Developers
Lisa M. Kuhns, PhD and Robert Garofalo, MD, MPH, Ann & Robert H. Lurie Children's Hospital
Goal
To promote adherence to ART and improve viral suppression among young Black MSM with HIV
Priority Population
Black MSM with HIV who are newly diagnosed with HIV or are struggling to take their ART as prescribed
Core Elements
1. Daily two-way personalized text message medication reminders
TXTXT clients design and receive daily text messages that remind and encourage them to take their HIV medication. Clients text back in response to the messages and receive follow-up messages as appropriate. 
2. ART adherence education and counseling
3. Biopsychosocial assessment
At the initial and follow-up visits, clients complete an assessment on HIV health indicators and behavioral health. Clients receive referrals to counseling and supportive services based on the assessment results. 
Duration
Six months is recommended 
Settings
Any organization that serves people with HIV
Toolkit Components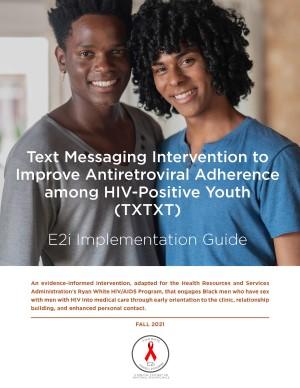 This Guide includes:
How to plan and implement the intervention
Lessons learned during implementation in RWHAP settings
Outcomes from the E2i initiative
TXTXT E2i Implementation Guide (PDF)
A Spanish version of the Implementation Guide is coming soon!
Watch an instructional dramatization of how to deliver TXTXT to clients.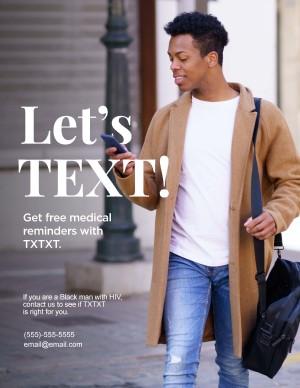 Download posters and a brochure that explain TXTXT and its benefits for clients. You can add your organization's contact information to these materials and distribute them in your clinic.