Innovative Approaches to Engaging Hard-to-Reach Populations Living with HIV/AIDS into Care: Tools from the Integrating HIV Innovative Practices Program
HRSA HIV/AIDS Bureau (HAB)
Training Manual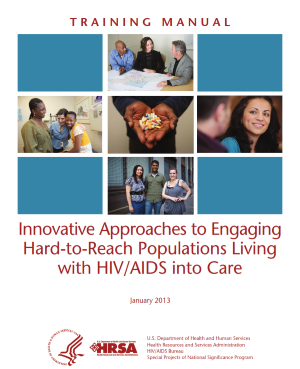 This IHIP training manual helps health care providers adapt SPNS models addressing how to engage hard-to-reach people living with HIV/AIDS (PLWHA) into care within their current operations. The manual includes an overview of underserved populations most impacted by HIV and the barriers they face in accessing HIV prevention, testing, treatment, and care, as well and a list of resources and other useful information to further assist with the replication process.
Curriculum
This IHIP curriculum provides clinicians, including medical doctors, nursing personnel, care coordinators, case managers, health service navigators, and front desk managers, with the information they need to educate staff and other stakeholders with guidance on how to replicate models of care developed to engage and retain hard-to-reach populations into HIV medical care. It also can serve as a quality improvement initiative geared to helping agencies build their capacity to reach and serve people living with HIV/AIDS (PLWHA) from marginalized and underserved populations that are not engaged in care, are unstable in or sporadic to care, and/or have fallen out of care.
Webinar: Outreach
This Webcast introduces providers to several successful strategies for reaching the most vulnerable populations. Speakers are Howell Strauss, DMD, AIDS Care Group, and Lisa Hightow-Weidman, MD, MPH, Department of Infectious Diseases University of North Carolina at Chapel Hill. 
Webinar
Speakers provide insights relevant to a wide range of audiences, from clinicians to social workers, including the use of data systems to improve in reach.
Webinar: Empowering the Patient
Topics covered include motivational interviewing, enhanced case management, and engagement and retention of Latinos in HIV care.