IAS 2019 Abstract: SPNS, Transgender Women, and Viral Suppression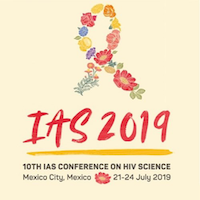 Viral suppression among transgender women living with HIV increased over a two-year period as a result of a mix of individual and organizational interventions, according to an oral abstract of a HRSA-funded study presented July 22 at the 10th IAS Conference on HIV Science.
The oral abstract, Organizational and individual-level strategies associated with viral suppression in a sample of transgender women receiving care for HIV infection in the U.S (MOAD0402), was presented by former HRSA staffer Jessica Xavier and JoAnne Keatley, former head of the Center of Excellence for Transgender Health. The study data are from a HRSA Special Projects of National Significance (SPNS) demonstration project, Enhancing Engagement and Retention in Quality HIV Care for Transgender Women of Color, 2012-2017. 
"Sites enrolled 858 TW [transgender women] into nine interventions, with 79% participating in intervention activities. TW participated in a median of 280 minutes (IQR=45-630 minutes) of activities. Viral suppression increased from 23% at baseline to 35% at 24 months."
Individual-level interventions associated with improvements in viral suppression included various mental health, substance abuse, counseling and other services. The abstract presents data specifics on the efficacy of these and other interventions, along with organization-level strategies used at sites (e.g., transgender empowering environments and activities; transgender women in visible staff/mentoring roles).
Read the oral abstract MOAD0402, from IAS 2019
Browse for More
Topic Areas:

HIV Care Continuum

,

Linking to Care

,

Retaining in Care

,

Antiretroviral Treatment

,

Achieving Viral Suppression

,

Key Populations

,

Cultural Competency

,

Transgender People

,

Case Management

,

Mental Health

,

Nutrition

,

Substance Use & Addiction

,

People with HIV & Community Involvement

,

Ryan White HIV/AIDS Program & Parts

,

Part F - SPNS Models of Care