Collaborative Care Management (CoCM) is an evidence-based intervention that integrates behavioral health care with primary care in order to treat depression and other common psychiatric disorders. A team consisting of a primary care provider, a behavioral health care manager, and a psychiatric consultant work closely together to improve the behavioral health of a shared caseload of clients. In collaboration with HIV experts, CoCM experts, and community members, E2i adapted CoCM for the Ryan White HIV/AIDS Program (RWHAP) and produced a toolkit that provides the resources needed to implement CoCM within RWHAP settings and other HIV care organizations. 
Goals
To improve behavioral health outcomes and HIV health outcomes of people with HIV
Priority Population
People with HIV who have depression or other psychiatric disorders 
Core Elements
1. Client-Centered Team Care
CoCM is a team-based approach to care that includes the primary care provider, a behavioral health care manager, and a psychiatric consultant. The client is at the center of the care team and is encouraged to contribute their own values and personal goals to the treatment plan.
2. Population-Based Care  
CoCM care teams use a client registry to closely track client progress and clinical outcomes over time. 
3. Measurement-Based Care and Treatment to Target 
CoCM care teams routinely measure client symptoms with validated rating scales to inform treatment decisions and adjustments.
4. Evidence-Based Care
CoCM care teams use evidence-based medications and/or behavioral interventions to treat psychiatric disorders. 
5. Accountable Care
Accountable care means holding the care team (and the entire organization) responsible for conducting ongoing quality improvement based on the organization's behavioral health integration goals and client outcome metrics. 
Duration
CoCM continues until a client's symptoms of depression (or other psychiatric disorder) are improved and the patient is able to resume their normal daily activities.
Setting
Any organization that provides primary care for people with HIV can implement CoCM
Toolkit Components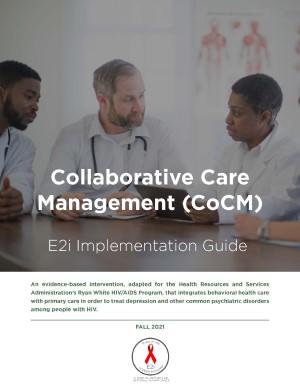 This Guide includes:
How to plan and implement the intervention
Lessons learned during implementation in RWHAP settings
Outcomes from the E2i initiative
CoCM E2i Implementation Guide (PDF)
A Spanish version of the Implementation Guide is coming soon!
Watch an instructional dramatization of how to deliver CoCM to clients.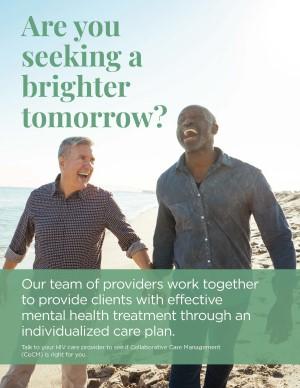 Download posters and a brochure that explain CoCM and its benefits for clients. You can add your organization's contact information to these materials and distribute them in your clinic.