In 2020, Asians comprised 1.5% of Ryan White HIV/AIDS Program (RWHAP) clients; Native Hawaiians/Pacific Islanders represented .2% of those receiving RWHAP services. In the U.S., about 2% of HIV diagnoses in 2019 were Asian, Native Hawaiin and other Pacific Islanders (CDC, 2022)
Viral Suppression: Asian and Native Hawaiian/Pacific Islander RWHAP Clients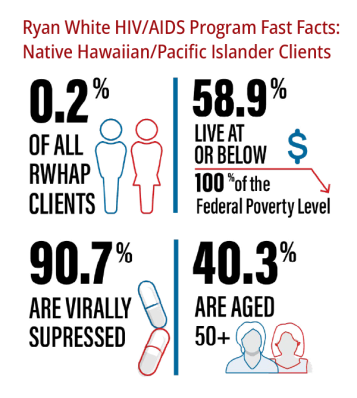 According to the 2022 RWHAP Annual Client-Level Data Report, the percentage of RWHAP clients who achieved viral suppression has increased steadily, from 69.5% in 2010 to 89.4% in 2020. Improvements over this same time span have also been documented among RWHAP Asian clients (78.8% to 95.0%) and Native Hawaiian/Pacific Islander clients (70.5% to 90.7%). 
TA and Training Resources
HRSA's HIV/AIDS Bureau and its partners have developed a number of resources to address HIV/AIDS among API populations. 
Part of Collection