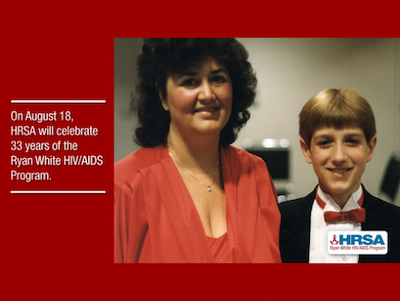 From HIV.gov - HRSA Celebrates the 33rd Anniversary of the Ryan White HIV/AIDS Program - August 25, 2023
By Laura Cheever, MD, ScM, Physician and Associate Administrator, HRSA HIV/AIDS Bureau
On August 18, we celebrated the 33rd anniversary of the Health Resources and Services Administration's (HRSA) Ryan White HIV/AIDS Program (RWHAP). On that day in 1990, Congress passed the groundbreaking Ryan White Comprehensive AIDS Resources Emergency (CARE) Act. The Program was named after the Indiana teen and AIDS advocate Ryan White, who lost his life to AIDS in April 1990.
This legislation created the Ryan White HIV/AIDS Program (RWHAP), the largest Federal program focused exclusively on providing HIV primary medical care, medication, and essential support services to approximately half of people with diagnosed HIV in the U.S. each year. In 2021, more than 576,000 people received services through the program. As a result, in 2021, 89.7 percent of our program clients receiving HIV medical care were virally suppressed, exceeding the national average of 64.6 percent. Taking HIV medication as prescribed and reaching viral suppression means that a person can live a long, healthy life and cannot transmit HIV to their partner.
For more than three decades, the program has achieved major milestones, such as:
1990s
In 1991, HRSA distributed its first grants.
HRSA launched the AZT Drug Reimbursement Program in 1996. This program enabled low-income people with HIV to access HIV treatment and it laid the foundation for the AIDS Drug Assistance Program (ADAP).
2000s
In 2007, HRSA renamed the Ryan White CARE Act to the Ryan White HIV/AIDS Treatment Modernization Act—a change that reflects addressing HIV/AIDS not as a one-time emergency but as an ongoing crisis. HRSA began providing grants to Transitional Grant Areas (TGAs) that had between 1,000 and 1,999 AIDS cases in their municipality in the past five years.
In 2009, grant recipients and service providers started submitting the Ryan White HIV/AIDS Program Services Report (RSR), which detailed the clients served during a calendar year. This helped HRSA better understand the trends, services provided, clinical processes and outcomes, and address the disparities among priority populations.
2010s
Released in 2014, the HIV care continuum was a tool to understand HIV care and treatment in the U.S. It highlighted that people with HIV who receive care in RWHAP-funded clinics were better engaged, retained, and virally suppressed than national averages.
2020-Now
In 2020, with the launch of the Ending the HIV Epidemic in the U.S. (EHE) initiative, HRSA awarded funding to HIV/AIDS Bureau (HAB) EHE recipients to link people with HIV, who are out of care, to critical HIV care and treatment services and to provide workforce training, technical assistance, and systems coordination to health care providers.
In 2022, RWHAP launched and enhanced initiatives and programs to reduce HIV health disparities, including several Part F Special Projects of National Significance (SPNS) Program initiatives focused on people aging with HIV, telehealth, and supporting people with HIV experiencing unstable housing.
The Ryan White HIV/AIDS Program continues to play a vital role in the public health response to HIV and to ending the HIV epidemic in the U.S. Looking ahead, HRSA will continue to work with program recipients, stakeholder organizations, federal partners, and members of the HIV community to meet people with HIV where they are, reduce HIV health disparities, and help people with HIV get the care, treatment, and support services they need to live a long, healthy life.
Learn More