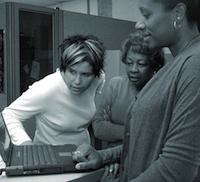 CAREWare users are problem-solvers of a group kind. And they act pretty fast.
In mid-January, there was a mini-flurry of concerns on the CAREWare listserv that client records were "disappearing" from the CAREWare database. Agencies experiencing missing records readily found them by typing in the client's Unique Record Number (URN) but were concerned as URNs were not always at hand. 
The Solution
The case of the missing CAREWare record was raised, reviewed by the CAREWare Help Desk within the hour, and resolved within about a week by the release of a new "build." The original inquiry to the CAREWare listserv is recounted below, followed by the Help Desk's response. Our apologies if this seems a bit self-congratulatory, but it actually happened.
January 23, 2017, email message to the CAREWare listserv
Hello CAREWare users, A quick follow-up about the Find Client issue from last week: while we still cannot reproduce the problem reliably, we believe that we have fixed the problem and will release a new build in a couple of days.
I would like to remind everyone of a few notes:
The problem causes two fields used by the Find Client process to get temporarily deleted, and this means clients are not appearing in searches that use first and/or last name.
No other data are lost, and we have learned that the data in those fields are repopulated after a maximum of 12 hours, or after a user edits a client's first or last name.
Meantime, the Find Client process still works if you search by URN or Client ID. If you don't know those values, you can run a Custom Report to create a reference sheet.
If you have further questions, please contact the Help Desk. Thanks for your patience, Bill Devlin, Chief Financial Officer | jProg
Digging Deeper into That "Find Client" Bug
January 31, 2017, response from the CAREWare Help Desk:
Even though we cannot reliably reproduce this problem, which sets a client's Soundex values to null and prevents that client from appearing in search results, we are fairly confident that we have fixed it.
A user found and reported another workaround in build 921 (thank you!): searching by just a wildcard, which produces a list of all clients in CAREWare, provided that the number of clients does not exceed the limit (which can be set to a higher limit if desired).
We also investigated a little-known option to turn off the Soundex feature, hoping that this would be another workaround to the Find Client bug.  What we found was that searching using wildcards ("*") does not work with this option in 921, but we have fixed it for future builds.
We also modified CAREWare so that if wildcards are used in any search, Soundex is no longer used.
These changes are available in a new build, which is not required for the RSR.