Technical Assistance Provider Innovation Network (TAP-in)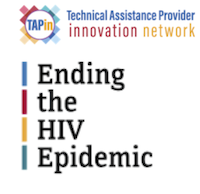 Rapid ART--the administration of antiretroviral therapy (ART) as quickly as possible and ideally on the same day as an HIV diagnosis/clinic visit--became the HIV standard of care in 2019. That same year, HRSA issued a program letter on rapid eligibility/recertifications for agencies funded by its Ryan White HIV/AIDS Programs (RWHAP) and has followed up with a how-to guide, Rapid ART: An Essential Strategy for Ending the HIV Epidemic, to further support agencies with their implementation efforts.
The guide is just one of HRSA's efforts to support rapid ART uptake. See our Rapid ART topic page and this blog's sidebar.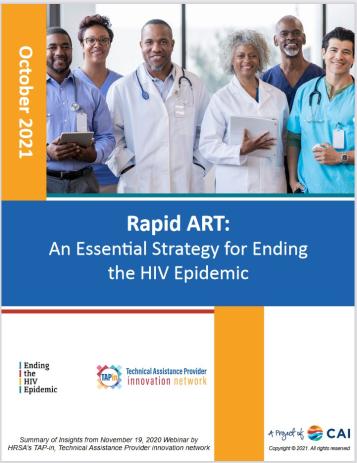 What's in the Rapid ART Guide?
The guide, which builds upon a 2020 webinar by the same name, was produced by the HRSA-funded Technical Assistance Provider innovation network (TAP-in), the technical assistance provider for Ending the HIV Epidemic (EHE) jurisdictions. The guide includes these sections:
Establish Testing and Linkage Networks
Identify a Rapid Champion/Form a Dedicated Rapid Team
Develop a Workflow and Protocol
Secure Buy-In and Deliver Provider Training
Secure Access To Medications
Support Patients at First Appointments and Over Time
Use Data to Support Patients and Track Outcomes
Use Quality Improvement to Make Adjustments
Also included is a Challenges chapter (e.g., securing funds to pay for rapid ART for uninsured/under-insured patients) and Appendices  (e.g., protocols). 
Defining Rapid ART
Video Outtake: Rapid ART: An Essential Strategy to End the HIV Epidemic (11/20 TAP-in Webinar)