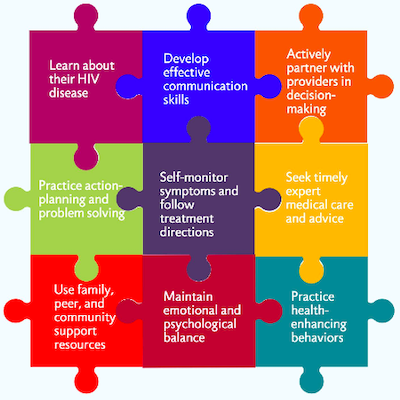 Reflect for a moment on your latest medical appointment. There is a reasonably high chance that your head was spinning just a bit over what the medical staff said, the paperwork you were handed, and perhaps even the bills you got. Thus is the complexity of understanding health care.
For individuals who get HIV care, the intricacies can be particularly daunting. HIV care is complex. Antiretroviral therapy requires strict adherence. Testing and monitoring is ongoing. Service needs may extend well beyond HIV--from people experiencing co-morbidities to those dealing with aging. 
Add to that the fact that many patients receive health coverage through a mix of public and private payers with varied rules and requirements. COVID-19 has also new tasks for consumers to learn and utilize telehealth as well as at-home self-testing. (FYI: The theme for 2022 National HIV Testing Day, June 27, is HIV Testing is Self-care.)
Self-Care: Empowering Consumers
While there is no single solution to address these complexities, patient self-care certainly ranks high on the list. And what is self-care? A presentation from the 2006 Ryan White Conference describes patient self-management as: "The ability of patients, in a complementary partnership with their health care providers, to manage the symptoms, treatment, lifestyle behavior changes, and the many physical and psycho-social challenges that are a part of living with chronic diseases."
Helping people with HIV self-manage their care is inherent in many interventions, like community health workers and patient navigators, where clients are provided with support in understanding and accessing services.
There are also various resources produced under HRSA's Ryan White HIV/AIDS Program (RWHAP) that have a more specific goal to build patient self-care skills. They focus on helping clients better understand HIV treatment, communicate with their providers, understand their health insurance coverage. Notably, many of these resources also are designed to address the dual goal of building the skills of the staff who deliver services to people with HIV. That's a practical approach as efforts to enhance patient self-care skills will only go so far if staff don't share the same skill set.
Health Care Literacy

Clinic/patient interactions are often challenged by time constraints and variable levels of understanding of medical concerns. HRSA has funded various tools to build health literacy. One example is Well Versed: Connecting Black MSM to HIV Care (no longer available), which presents videos and other information for Black MSM, and their providers, on dealing with interactions at various stages: before, during, and after the visit. 
Other HRSA tools focus on building clinician and other staff competency so that they better communicate with their patients. They include:
Health Insurance Coverage Literacy
Understanding what's going on during the medical appointment is one thing. Grasping the details of health insurance coverage is quite another. Health Coverage Resources for Consumers covers the basics, like picking a plan, staying covered throughout the year, and dealing with taxes. Also included is information on Medicare, which is increasingly important as a growing proportion of people with HIV are aging and transitioning to Medicare for their health care payment needs. 
Tools to Support Self-Care
Resources to support patient self-care encompass more than building of communications skills. Various tools have been created to help individuals manage their own care.
Front-line RWHAP agencies have also developed self-care resources, like a New York City program that focuses on building patient self-management skills on the part of providers as well as patients. The process for development of the protocol is summarized in Creating and Implementing a Protocol for RWHAP Providers to Assess and Build HIV Patients' Self-Management Skills, a session from the 2020 Ryan White Conference on HIV Care & Treatment. Another example is Helping Patients Take Care of Themselves in 20 Minutes or Less, a session by a Ohio RWHAP agency from 10 years earlier, the 2010 Ryan White Conference, features the Chronic Care Model's "self-management support" and the 5 A's of self-management support.