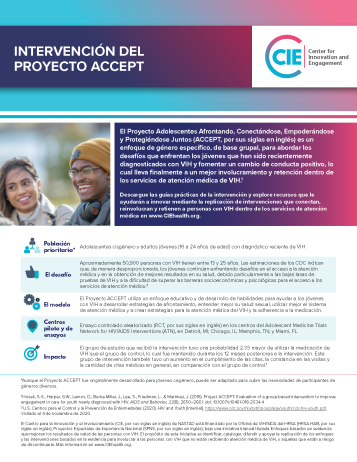 Summary
Project Adolescents Coping, Connecting, Empowering, and Protecting Together (ACCEPT) was developed for cisgender youth ages 16 to 24 with HIV. Using a peer-facilitated, information- and skills-building framework, the intervention leverages both individual and group sessions to address issues that influence youth engagement in HIV care, including stigma, disclosure, healthy relationships, substance use, and future life planning.
Implementation Resources
Tips for Implementing the  Intervention
Intervention Outcomes
The intervention group had a 2.33 greater likelihood of HIV medication usage than the control group, which was sustained 12 months post-intervention.
The intervention group had increased appointment adherence, visit constancy, and overall medical visits compared to the control group.
Clients were more likely to have a declining viral load over time.
Intervention Components
Define Intervention Population and Data Measures
Secure Stakeholder Buy-In
Assess Staff Resources and Gaps
Engage Youth-Centered Community Service Partners
Assess Local Laws and Regulations
Recruit Peer Facilitators, Counselors, and Social Workers
Train Staff on Project ACCEPT Procedures and Facilitate Knowledge Exchange
Recruit Youth with HIV
Increase Youth Skills to Engage in HIV Medical Care and Social Support
Cost Analysis
The Project ACCEPT intervention cost analysis is not currently available. However, you can use the CIE Cost Calculator to create an estimate of the cost of implementing the intervention at your organization.
Challenges and Solutions
| Challenge | Solution |
| --- | --- |
| Client reluctance to engage with health care providers | Engage providers who have experience with youth and who competently communicate in a manner that reduces stigma and promotes empathy and compassion. Use peers as client-provider liaisons. |
| Funding | Discuss the following with your organization's leadership: ways to repurpose existing funding to support specific intervention components; or ways to collaborate with external partners to secure resources to implement Project ACCEPT. |
| Non-inclusive training curricula and facilitator guides | Tailor your training curricula and counseling sessions for gender-diverse youth and ensure that you offer inclusive services. |
Supplementary Resources
Publications
Resources
Videos