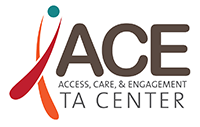 The ACE TA Center salutes everyone in the Ryan White HIV/AIDS Program (RWHAP) community for all the planning, training, account tune-ups, and more! Now it's time to roll up our sleeves and get down to the business of helping clients get and stay covered.
There's no better time than now to help clients review their options and find a health plan that meets their health and financial needs.
A Few Reminders
Active plan renewals make a difference
Clients who enrolled into a Marketplace plan last year are strongly encouraged to actively renew their plans during this 2021 Open Enrollment period. If a client does not log into their Marketplace account and actively choose a plan by the last day of Open Enrollment, they will be automatically re-enrolled in their current plan.
If a client's plan is not offered again this year, they will be auto-enrolled into a different plan with a similar premium amount. If they miss the enrollment deadline they may be stuck with that plan. They will not be able to make any plan changes until the next Open Enrollment Period, or unless they qualify for a Special Enrollment Period.
Financial Help is Available
Financial support is available for many people who get health coverage through the Marketplace. Premium tax credits (PTCs) and cost sharing reductions (CSRs) can help lower 2021 health insurance plan costs for eligible clients.
In many jurisdictions, the RWHAP can cover remaining premium and out-of-pocket insurance expenses for eligible clients.
The ACE TA Center is Here to Help
We have a number of resources to help guide you and your clients through Open Enrollment. Our FAQ: Premium Tax Credits (PTCs) and Cost-Sharing Reductions (CSRs) is designed to answer the most common questions about eligibility and applying for financial help. And make sure to check out our Twitter Toolkit for Marketplace Open Enrollment to share key enrollment and plan renewal messages with clients.
Deadline Reminders
Open Enrollment for 2021 plans began on November 1 and ends on December 15 for most states, including those that use HealthCare.gov.


Some states with their own state-based health insurance exchange have extended their 2021 Open Enrollment Period dates for 2021 coverage, as noted below:
California: January 15, 2021
Colorado: January 15, 2021
Connecticut: December 15, 2020
D.C.: January 31, 2021
Idaho: December 15, 2020
Maryland:  December 15, 2020
Massachusetts: January 23, 2021
Minnesota: December 22, 2020
New Jersey: December 15, 2020
New York: January 31, 2021
Nevada: January 15, 2021
Pennsylvania: January 15, 2021
Rhode Island: December 15, 2020
Vermont: December 15, 2020
Washington:  December 15, 2020
Have a specific question about Open Enrollment? Let us know.