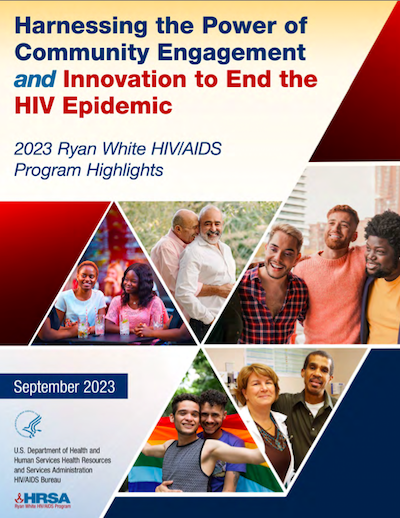 Way back in September, the document often referred to as the biennial Ryan White report was released by HRSA's HIV/AIDS Bureau (HAB). Contained in the document, Harnessing the Power of Community Engagement and Innovation to End the HIV Epidemic: 2023 Ryan White HIV/AIDS Program Highlights, are seven "success stories" about the work of Ryan White HIV/AIDS Program (RWHAP) recipients, across each of the program's Parts.
The context for their stories is presented in the report's early sections on the framework for RWHAP activities as established by HRSA HAB in terms of data, best practices, and various initiatives.
Success stories include:
Detroit (Part A) - Community engagement. and deducting disparities.
Washington State (Part B) - Building a more diverse workforce.
Alaska Native Tribal Health Consortium (Part C) - Enhanced HIV care for Alaska Native communities.
New Orleans CrescentCare (Part D) - Comprehensive HIV care.
New England AETC (Part F Clinical Training) - Communities of Practice.
Columbia University (Part F: Dental Programs) - Dental care for people with HIV.
Centro Ararat (Part F: SPNS) - HIV services for transgender women with HIV.