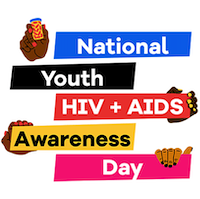 Approximately 21% of new HIV cases in the United States occurred among people ages 13-24 (CDC, 2020). Cases were overwhelmingly among gay/bisexual men, particularly African Americans. From 2010-2017, HIV infections among U.S. youth have declined across most subpopulations of young people. However, 3 in 7 reportedly do not know they have HIV infection. 
Read HRSA Observes National Youth HIV/AIDS Awareness Day in HIV.gov
Young RWHAP Clients and Viral Suppression
In 2019, 3.9% of Ryan White HIV/AIDS Program (RWHAP) clients were 13-24 years of age. The proportion of RWHAP clients in this age group who achieved viral suppression has increased steadily since 2010 and reached 79.4% in 2019, which is below the national RWHAP average of 88.1% (2019 RWHAP Annual Client-Level Data Report, HRSA 2020).
Among other RWHAP youth clients, viral suppression was lowest among transgender youth (73.8%) and youth with unstable housing (69.3%).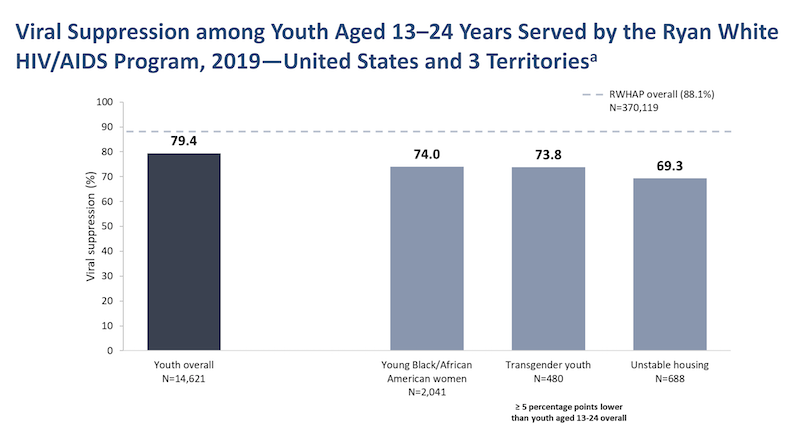 TA and Training Projects
Our Adolescents & Youth topic page presents various technical resources on HIV care. Below are highlights.
Best Practices
HIV Care Innovations: Replication Resources presents best practices in HIV care. Examples under the Youth category include Project ACCEPT, Project STYLE, and Tailored Motivational Interviewing--evidence-informed interventions released in early 2021 by HRSA's Center for Innovation and Engagement (CIE).
Ryan White 2020 Conference Sessions
There were 16 youth-focused sessions and 10 posters at the 2020 virtual conference. Videos and slides from are available online and feature interventions focused on sexual health, mental health, housing, and the role of peers in engaging youth in HIV care.  
Social Media
Various innovative social and digital media methods to engage underserved youth with HIV into primary care and supportive services were developed under this SPNS initiative. Learn about the social media, internet, and mobile-based technologies developed by the 10 demonstration sites.
Clinical Quality Management
HIV Disparity Interventions and didactic presentations are two collections of quality management approaches to improving HIV outcomes among various populations, including youth. These tools were developed by the HRSA Center for Quality Improvement and Innovation (CQII).
Clinical Care
The National HIV Curriculum presents a section on delivering HIV care to adolescents and young adults.
Engaging Black MSM in HIV Care and Prevention
HRSA has supported numerous initiatives over the decades to enhance care delivery for hard-hit populations, including young African American gay/bisexual men. One such effort is His Health: Engaging Black MSM in HIV Care and Prevention, which offers a compendium of care models, training modules on PrEP and other topics, and resources for enhanced linkage, retention, and engagement strategies. 
Part of Collection