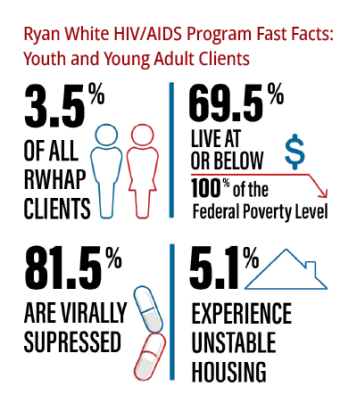 In 2020, youth and young adults aged 13–24 years represented 3.5 percent of Ryan White HIV/AIDS Program (RWHAP) clients. Twenty-one percent of new HIV cases in the U.S. are among young people ages 13-24 (CDC, 2020). Cases are overwhelmingly among gay/bisexual men, particularly African Americans
A significant proportion of youth who are HIV infected do not know it and are thus are not receiving care. In 2020, 81.5% of youth receiving RWHAP medical care achieved viral suppression--a steady improvement over the past decade but below the RWHAP national average of 89.4%.
See Youth and Young Adult Clients: HRSA's Ryan White HIV/AIDS Program, 2020, Population Fact Sheet, July 2020.