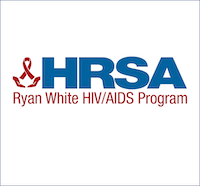 From HRSA's HIV/AIDS Bureau - 10/1/2021 - Dear Ryan White HIV/AIDS Program Colleagues:

We are pleased to announce the release of HAB Policy Notice (PN) 21-01, Waiver of the Ryan White HIV/AIDS Program Core Medical Services Expenditure Requirement.  Effective October 1, 2021, this policy notice replaces HRSA HAB PN 13-07 "Uniform Standard for Waiver of Core Medical Services Requirement for Grantees Under Parts, A, B, and C", and simplifies the process for Ryan White HIV/AIDS Program (RWHAP) Parts A, B, and C recipients to request a waiver of the requirement that a minimum of 75 percent of RWHAP funds be spent on core medical services.   
Central to PN 21-01 is a one-page "HRSA RWHAP Core Medical Services Waiver Request Attestation Form", which RWHAP recipients will complete and submit to HRSA attesting to having met the underlying statutory and policy requirements to apply for a waiver of the core medical services expenditure requirement. Recipients will still be required to produce evidence that supports the attestation, upon request. When compared to the process outlined in PN 13-07, PN 21-01 significantly reduces the administrative burden on RWHAP recipients by reducing the documentation that must be submitted to HRSA HAB when requesting waivers. Additionally, PN 21-01 revises the deadlines to submit waiver requests to better align with programmatic processes and provide sufficient time for HRSA HAB to review and process waiver requests. In order to best effectuate the improvements in this policy, for this year only, Part A recipients are permitted to submit a HRSA RWHAP Core Medical Services Waiver Request Attestation Form and any necessary revised budgets up to four months from the due date of the currently open application period. 
PN 21-01 is the culmination of extensive work from HRSA HAB staff as well as input from RWHAP recipients and HAB stakeholders.  During the next few weeks, HRSA HAB will provide additional technical assistance on this new policy. 
We appreciate your dedication and partnership as we remain committed to working together to facilitate the provision of care and support services to people with HIV.
Laura Cheever, Associate Administrator for the HIV/AIDS Bureau, HRSA
and Heather Hauck, Deputy Associate Administrator