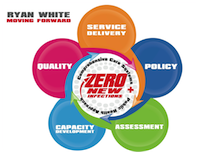 Any reasonably well functioning agency will have some type of new employee orientation. Ryan White agencies should put a premium on orientation given the amount of turnover in the HIV workforce. Add to that the passage of time and potential loss of institutional knowledge as, getting somewhat near 40 years of the epidemic, the phrase "retired" is the new status of countless founders, veterans and long-time survivors who put the nation's HIV infrastructure in place.
Basics on the Ryan White HIV/AIDS Program
HRSA's HIV/AIDS Bureau website outlines the Ryan White HIV/AIDS Program in total. Among the featured items is Living History, a website covering just about every facet of the Ryan White HIV/AIDS Program: its Parts, Populations, the Legislation, a Timeline.
The Ryan White Infrastructure
The Ryan White HIV/AIDS Program represents a comprehensive system of HIV care that operates to serve varied populations and needs under a framework to deliver HIV care in a well-managed and high quality manner. That framework is outlined in the Ryan White legislation. There are, however, additional tools for specific programs, like the Parts manuals (one each for Part A, Part B and ADAP). Every Ryan White agency can also turn to training resources covering the Ryan White core medical and support services, whose key components include the following. See key topic pages for resources and associated TA/training in each area. See also the complete list of TA/training initiatives of the HRSA HIV/AIDS Bureau, which address these and other priority areas.
Sign up for various HRSA HAB Listservs
Browse for More
Topic Areas
Clinical Quality Management
,
Data & Reporting
,
Fiscal Management
,
Health Coverage
,
Medical Homes
,
HIV Care Continuum
,
Key Populations
,
Medical & Support Services
,
People with HIV & Community Involvement
,
Planning
,
Ryan White HIV/AIDS Program & Parts
,
Part B - AIDS Drug Assistance Program (ADAP)
,
Part F - Global HIV/AIDS Programs