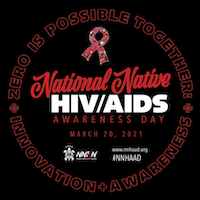 Nearly three-fourths of HRSA Ryan White HIV/AIDS Program (RWHAP) clients are from racial/ethnic minority populations. American Indians/Alaska Natives (AI/AN) comprise 0.5% of persons receiving HIV care from the RWHAP. The majority are low income, men who have sex with men, and over 50 years of age.
National Native HIV/AIDS Awareness Day is March 20. The 2021 theme is Zero is Possible Together: Innovation + Awareness.
From 2010-2019, viral suppression rates among AI/AN RWHAP clients receiving medical care improved significantly, from 70.4% to 88.8%. This improvement tracks that for all RWHAP clients over the same time period: 69.5% to 88.1% (2019 Ryan White HIV/AIDS Program Annual Client-Level Data Report, HRSA 2020).
RWHAP Policy
See HRSA's HIV/AIDS Bureau Policy Notice 07-01 Use of Funds for American Indians and Alaska Natives and Indian Health Service Programs on access to RWHAP services for AI/AN populations.
TA and Training Resources
Various resources have been developed to address HIV/AIDS among Native American and Alaska Native populations. Below are highlights:
Clinician's Guide: Working with Native Americans Living with HIV. This document is for medical providers, and it summarizes cultural challenges and solutions for delivering HIV/AIDS care to Native Americans. The guide was developed in 2002 and has since been updated
The Indian Health Service HIV/AIDS webpage includes training and additional resources for delivering HIV prevention and care services to AI/AN populations.
BESAFE: A Cultural Competency Model for American Indians, Alaska Natives, and Native Hawaiians. This cultural competency guide, one in a series of such resources, is for health-care professionals providing services to these populations. The guide is based on the BE SAFE framework (Barriers to Care, Ethics, Sensitivity of the Provider, Assessment, Facts, and Encounters)
Part of Collection