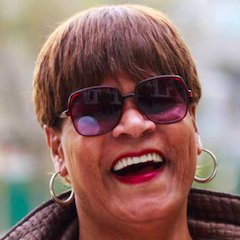 Over half a million individuals get HIV care from HRSA's Ryan White HIV/AIDS Program (RWHAP). In 2019, of the 567,552 clients with a reported gender, 2.3% (12,550) were transgender.
Compared to RWHAP clients identifying as male and female, RWHAP transgender clients are younger, have less stable housing, and have incomes at or below the federal poverty level (Overview of Clients Served by RWHAP, 2020, PPTX)(HRSA HIV/AIDS Bureau, 2022).
Viral Suppression and RWHAP Transgender People
The proportion of RWHAP clients achieving viral suppression has risen steadily over the past decade--69.5% to 89.4% over the 2010-2020 time frame. RWHAP transgender clients have realized the same improvements (61.5% to 84.5%), although transgender client viral suppression rates lag behind those of RWHAP clients identifying as male and female (2020 RWHAP Annual Client-Level Data Report, HRSA 2021).
As depicted on this graph, viral suppression rates are lower among among certain RWHAP transgender client groups (Transgender Clients Served by the Ryan White HIV/AIDS Program, 2020 (PPTX) (HRSA, March 2022).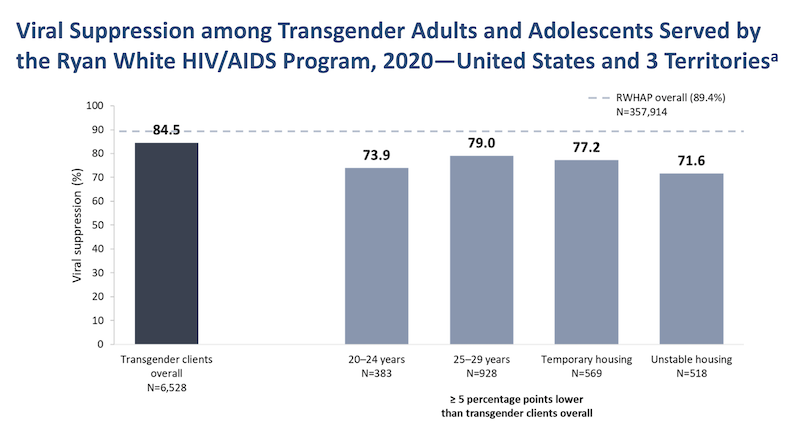 HRSA Transgender Resources
HRSA's HIV/AIDS Bureau (HAB) has multiple initiatives and resources to support transgender individuals living with HIV. See our Transgender People topic page. Following are highlights.
Ryan White 2020 Conference Sessions
At the 2020 virtual conference, multiple sessions focused on transgender people and HIV. Videos and slides of sessions are available online and feature topics like assessing HIV outcomes (New York City), collecting data to determine disparities (Texas), and other subjects. 
Among the presentations is Evidence-Informed Interventions with Transgender Women: Improve Access, Engagement, Health. This session reviewed one of the evidence-informed interventions being evaluated by the HRSA-funded project, E2i: Using Evidence-Informed Interventions to Improve Health Outcomes among People Living with HIV.
Access the Transgender People playlist on the TargetHIV YouTube channel
SPNS Innovations in Care for Transgender Women of Color
The SPNS initiative, Enhancing Engagement and Retention in Quality HIV Care for Transgender Women of Color Initiative (2012-2017) produced a series of Intervention Manuals with innovative interventions to improve timely entry, engagement and retention in quality HIV care.
Clinical Quality Management
The end+disparities ECHO Collaborative is a HRSA-supported national improvement initiative. Its goal is to measurably increase viral suppression rates for four disproportionately affected RWHAP subpopulations: transgender people; African American women, Latinas, MSM of color, and youth. See the end+disparities ECHO Collaborative Didactic Presentations on transgender people. 
Clinical Resources
The National HIV Curriculum includes a training module covering HIV among sexual and gender minorities. Health care professionals may receive continuing education credits for completion of the segment. Topics include epidemiology, HIV risks, barriers to care, and successful care approaches. See also the HHS Guidelines for the Use of Antiretroviral Agents in Adults and Adolescents with HIV, which added a new section, Transgender People with HIV, in December 2019.
See more clinical tools in AETC NCRC topic page. Sexual and Gender Minorities, including the presentation, Best Practices in HIV Care: Providing Gender-Affirming Care for Transgender and Nonbinary People, from the 2019 Ryan White Clinical Conference.
Part of Collection
Browse for More
Topic Areas
Clinical Quality Management
,
Key Populations
,
Cultural Competency
,
Transgender People
,
Stigma/Legal
,
Ryan White HIV/AIDS Program & Parts
,
Part A - Hard Hit Urban Areas
,
Part A - Planning Councils
,
Part B - States/Territories
,
Part C - Community-Based Early Intervention
,
Part D - Women, Infants, Children, Youth
,
Part F - Dental Programs
,
Part F - HIV/AIDS Clinical Training
,
Part F - SPNS Models of Care