Hepatitis and HIV Care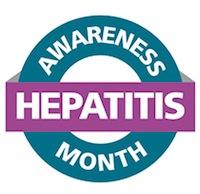 The Health Resources and Services Administration's (HRSA) Ryan White HIV/AIDS Program (RWHAP) has had a long-standing commitment to people living with HIV (PLWH) who are coinfected with hepatitis C (see highlights below). Despite advances in HIV treatment that have allowed for near-normal life expectancies for PLWH, those who are coinfected with HIV and hepatitis C virus (HCV) still have a high risk of liver-related illness and death.  Approximately 25% of PLWH are coinfected with HCV. Viral hepatitis progresses faster and causes more liver-related health problems among people with HIV than among those who do not have HIV. 
Recent scientific advances and improvements in health care make it possible to win the fight against viral hepatitis and save lives. A simple blood test can detect viral hepatitis infection years before symptoms develop, and the new FDA-approved treatment options for hepatitis C are game-changers in the field of hepatitis C care and treatment. For the first time, persons infected with HCV can be cured with all-oral, once-daily treatment regimens that last 12-24 weeks and have minimal side effects.
Ryan White and Hepatitis Care
HRSA and RWHAP entities have been working on hepatitis initiatives for many years. Some of the earlier work is described in this 2013 HIV.gov blog. More recent activities are summarized below.
Clinician Resources
This HRSA hepatitis page summarizes the collection of clinician-focused resources on care and treatment of hepatitis, compiled by the HRSA-funded AETC National Coordinating Resource Center (NCRC) on its viral hepatitis confection topic page.
Care Delivery
HRSA's focus on HCV/HIV coinfection care includes development of innovations in care delivery and performance and data monitoring by RWHAP agencies to measure their efforts to deliver and improve services to coinfected individuals. Examples include:
Delivering Hepatitis C Treatment in an HIV Care Setting. Training materials and a curriculum featuring innovative practices on HCV treatment within HIV primary care programs were developed

under

HRSA's

Integrating HIV Innovative Practices (IHIP) and are based on lessons learned from an earlier SPNS research and demonstration project Hepatitis C Treatment Expansion Initiative (2010-2014).
Jurisdictional Approach to Curing Hepatitis C among HIV/HCV Coinfected People of Color. This HRSA HCV initiative was initiated in late 2016 to improve HCV services among HIV/HCV -coinfected people of color and is funded under the FY 2016 Secretary's Minority AIDS Initiative Fund.
Performance Measurement. The HRSA HIV/AIDS Bureau has created a framework of resources to support Ryan White programs in monitoring the delivery of HIV care, inclusive of hepatitis. HAB's Performance Measures are comprised of multiple sets, with an adolescent/adult set of measures that includes specific measures addressing hepatitis B screening and vaccination and hepatitis C screening.
Data Monitoring. HRSA's Ryan White Services Report, the RSR client-level data system, is used by grant recipients and subrecipients to collect performance measure data on hepatitis B screening and vaccination as well as hepatitis C screening.
See more resources (webinars, curricula) on our Hepatitis Topic Page
Browse for More
Topic Areas:

Clinical Quality Management

,

Health Care Reform

,

HIV Care Continuum

,

Key Populations

,

Medical & Support Services

,

Hepatitis

,

People Living with HIV & Community Involvement

,

Ryan White HIV/AIDS Program & Parts

,

Part A - Hard Hit Urban Areas

,

Part A - Planning Councils

,

Part B - States/Territories

,

Part C - Community-Based Early Intervention

,

Part D - Women, Infants, Children, Youth

,

Part F - Dental Programs

,

Part F - HIV/AIDS Clinical Training

,

Part F - SPNS Models of Care