Hepatitis and HIV Care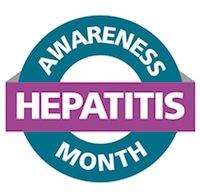 Dear Colleague:
May is Hepatitis Awareness Month in the United States, and May 19, 2019, is Hepatitis Testing Day.  The Health Resources and Services Administration's (HRSA) HIV/AIDS Bureau (HAB) has a long-standing commitment to people with HIV who are coinfected with hepatitis C.  HRSA's Ryan White HIV/AIDS Program (RWHAP) commemorates Hepatitis Awareness Month and Hepatitis Testing Day to highlight the importance of testing and treating those coinfected with HIV and viral hepatitis.
Although advances in HIV care and treatment result in longer life expectancy for people with HIV, those who are coinfected with HIV and hepatitis C still have a high risk of liver-related illness and death.  Viral hepatitis progresses faster and causes more liver-related health problems among people with HIV than among those who do not have HIV. Approximately 25% of people with HIV are coinfected with hepatitis C.  
From 2010-16, new HCV infections more than tripled, in part due to the opioid epidemic. 
Recent advances in treatment make it possible to win the fight against hepatitis C.  The recently FDA-approved treatment options for hepatitis C, collectively called Direct-Acting Antivirals (DAAs), are a game-changer in the field of hepatitis C care and treatment. 
Previously, the most effective available therapies, which were interferon-based regimens requiring 48 weeks of treatment, were poorly tolerated, and of particular concern for people with HIV/hepatitis C coinfection.  The treatment commonly caused severe drug-to-drug interactions and resulted in a cure for fewer than one in three people who completed treatment. For the first time, persons infected with hepatitis C can be cured, with all-oral, once-daily treatment regimens that last eight-24 weeks; efficacy rates for the these medications are similarly high (above 90%) for both hepatitis C monoinfected and HIV/hepatitis C coinfected people.  In addition, there are minimal side effects or contraindications of these medications. [HHS guidelines recommend that all people with HIV be tested for HCV, with those testing positive be considered for HCV treatment.]
Clinician Resources
HRSA HAB has several resources to assist you as a provider to increase the screening and treatment of your patients with HIV.
Clinician Consultation Center is a clinician-to-clinician hotline that providers can call to receive advice on HCV monoinfection and coinfection management.  
Laura W. Cheever, MD, ScM
Associate Administrator
HRSA HIV/AIDS Bureau
---
HCV/HIV Care Delivery
HRSA's focus on HCV/HIV coinfection care includes development of innovations in care delivery and performance and data monitoring by RWHAP agencies to measure their efforts to deliver and improve services to coinfected individuals. Examples of current activities are outlined below. 
HRSA's AETC National Coordinating Resource Center's (NCRC) viral hepatitis confection topic page presents clinician-focused resources on care and treatment of hepatitis.
Browse for More
Topic Areas:

Clinical Quality Management

,

Health Coverage

,

HIV Care Continuum

,

Key Populations

,

Medical & Support Services

,

Hepatitis

,

People with HIV & Community Involvement

,

Ryan White HIV/AIDS Program & Parts

,

Part A - Hard Hit Urban Areas

,

Part A - Planning Councils

,

Part B - States/Territories

,

Part C - Community-Based Early Intervention

,

Part D - Women, Infants, Children, Youth

,

Part F - Dental Programs

,

Part F - HIV/AIDS Clinical Training

,

Part F - SPNS Models of Care