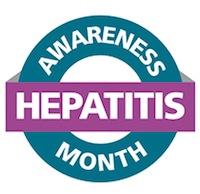 HIV care and treatment advances have resulted in longer life expectancy for people with HIV. In contrast, persons coinfected with HIV and untreated hepatitis C have a high risk of liver-related illness and death. Viral hepatitis progresses faster and causes more liver-related health problems among people with HIV than among those who do not have HIV. Fortunately, new, effective treatments are now available for hepatitis C.
May is Hepatitis Awareness Month and May 19 is Hepatitis Testing Day.
On average, 25% of people with HIV are coinfected with hepatitis C. Hepatitis incidence has been on the rise in recent years. From 2013-17, cases of acute hepatitis C infections have steadily increased, due to injection use related to the opioid epidemic; surveillance reporting has also improved.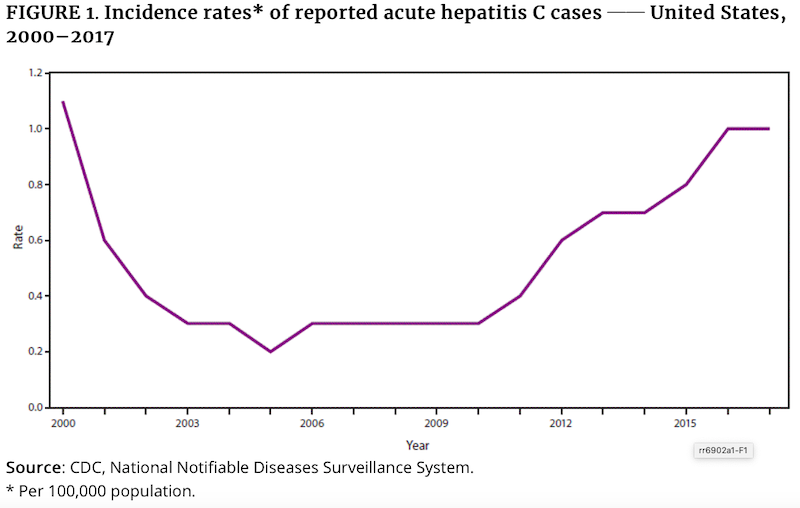 Hepatitis C Treatment
Game-changing treatment options for hepatitis C are now available. These Direct-Acting Antivirals (DAAs) are more effective than earlier interferon-based regimens. For the first time, persons infected with hepatitis C can be cured, with all-oral, once-daily treatment regimens that last 8-24 weeks. Efficacy rates for these medications are high (above 90%) for both hepatitis C monoinfected and HIV/hepatitis C coinfected people. Side effects or contraindications of these medications are minimal.
Moreover, studies have shown that hepatitis C treatment is effective for individuals with substance abuse disorders. See the AETC on Myths about Treating Substance Users with Hepatitis C Virus.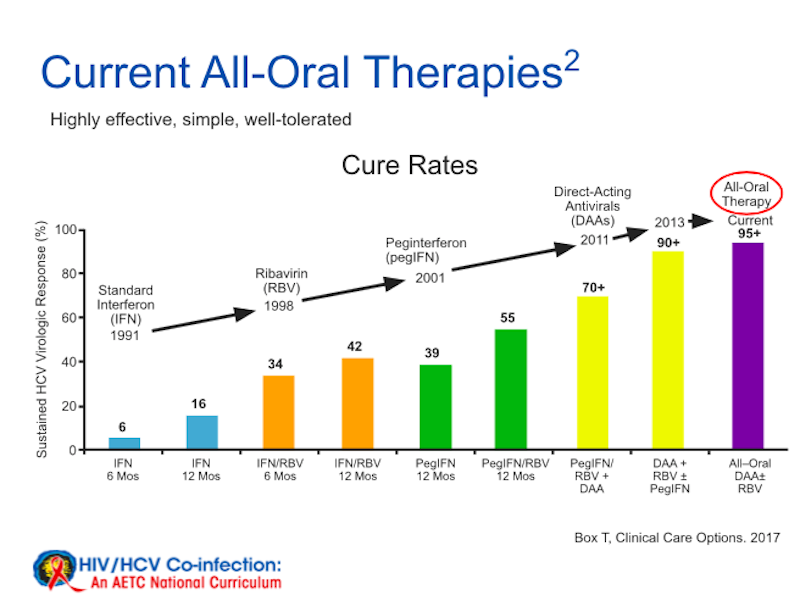 HHS guidelines recommend that all people with HIV are tested for HCV, with those testing positive be considered for HCV treatment. CDC Recommendations for Hepatitis C Screening Among Adults — United States, 2020 recommend expanded screening for all individuals over 18 years of age and testing for various groups, including people with HIV.
Clinician Resources
HRSA's HIV/AIDS Bureau has developed provider resources on hepatitis screening and treatment of patients with HIV. These and other tools are summarized on the AETC National Coordinating Resource Center's (NCRC) viral hepatitis confection topic page, including the HIV/HCV Coinfection: An AETC National Curriculum (and its HIV/HCV Co-infection Resources page).
HCV/HIV Care Delivery
HRSA's focus on HCV/HIV coinfection care includes development of innovations in care delivery and performance and data monitoring by Ryan White HIV/AIDS Program (RWHAP) agencies to measure their efforts to deliver and improve services to coinfected individuals. Examples, featured in our Hepatitis topic page, include:
Hepatitis C Prescriber Toolkit, a directory of state-specific resources (prescribing restrictions, ADAP coverage, Medicare coverage) and contact information for all state programs.
Browse for More
Topic Areas
Clinical Quality Management
,
Health Coverage
,
HIV Care Continuum
,
Key Populations
,
Medical & Support Services
,
Hepatitis
,
People with HIV & Community Involvement
,
Ryan White HIV/AIDS Program & Parts
,
Part A - Hard Hit Urban Areas
,
Part A - Planning Councils
,
Part B - States/Territories
,
Part C - Community-Based Early Intervention
,
Part D - Women, Infants, Children, Youth
,
Part F - Dental Programs
,
Part F - HIV/AIDS Clinical Training
,
Part F - SPNS Models of Care