Women accounted for 19% of new HIV diagnoses in the United States (CDC, 2020). In 2019, 26.0% of Ryan White HIV/AIDS Program (RWHAP) clients were female, with minority women comprising 84% of RWHAP female clients, specifically: 61.3% African American, 19.4% Latina, and 16.4% white (HRSA, 2020).
This heavy burden is driven by an environment of poverty, inadequate housing, lack of access to health care, and addiction. The majority of female RWHAP clients are low income, according to the 2019 Ryan White HIV/AIDS Program (RWHAP) Annual Client-Level Data Report.
HIV Health Outcomes among Women
Data on health outcomes of RWHAP clients come from the HRSA RWHAP Annual Client-Level Data Report, 2019 (RSR). In summary:
From 2010 through 2019, viral suppression increased from 66.2% to 87.9% among female RWHAP clients receiving HIV medical care, similar to increases seen among all RWHAP clients and male RWHAP clients. 
The rate of viral suppression among transgender women has steadily increased from 2015 to 2019 (77.0% to 82.9%), but remains the lowest across gender groupings.
The percentage of Black/African American women who were virally suppressed (86.7%) was slightly lower compared to the national RWHAP average (88.1%) and all RWHAP female clients (87.9%). 
Viral suppression among Latinas receiving RHWAP care was 90.1% in 2019, slightly above the overall RWHAP percentage.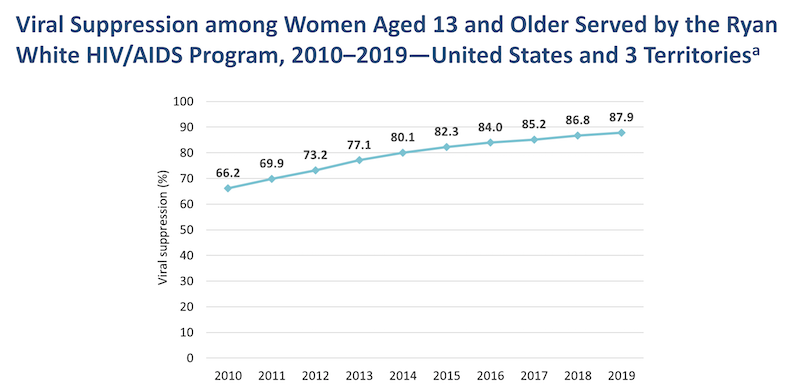 Resources on Women and HIV
TargetHIV features HRSA-funded TA and training manuals and initiative focusing on women with HIV. Below are highlights of resources developed and/or updated over the past year (2020).
Patient Education: Women of Color with HIV
Educational Videos for Women of Color with HIV are a series of animated videos provide HIV-specific patient education tailored for women of color with HIV. The videos correspond to the DEII Enhanced Patient Navigation for Women of Color with HIV intervention. 
Quality Improvement HIV Disparity Interventions
Women Like Me Support Group is an intervention for HIV-positive pre- and post-natal mothers, that presents discussion on varied topics, with a mental health coordinator and medical director. This intervention is one of many HIV Disparity Interventions tested and implemented by agencies that took part in the end+disparities ECHO Collaborative under the HRSA-funded Center for Quality Improvement and Innovation (CQII).
HIV Clinical Care
The National HIV Curriculum (NHC), developed by HRSA's RWHAP Part F AETC Program and the University of Washington, is continuously updated and offers continuing education credits and a robust online learning experience. Their HIV in Women topic covers contraception, conception, and other key issues. The HIV in Sexual and Gender Minority Populations chapter reviews epidemiology and care issues for cis- and transgender women.
YouTube Videos on HIV Care for Women
Access our YouTube Playlist, Women, featuring videos on quality improvement, care for pre- and post-partum women, and the below session from the 2020 Ryan White National Conference on engaging women of color in HIV care.
RWHAP Part D: A Focus on Women
While all aspects of RWHAP deliver care to women with HIV, Part D is focused on HIV services for women, infants, children, and youth. See the RWHAP Part D WICY Fact Sheet (August 2019) and the list of RWHAP Part D recipients.
Part of Collection
Browse for More
Topic Areas
Key Populations
,
Black/African American
,
Cultural Competency
,
Hispanic/Latino
,
Adolescents & Youth
,
Women
,
Stigma/Legal
,
Ryan White HIV/AIDS Program & Parts
,
Part A - Hard Hit Urban Areas
,
Part A - Planning Councils
,
Part B - States/Territories
,
Part C - Community-Based Early Intervention
,
Part D - Women, Infants, Children, Youth
,
Part F - Dental Programs
,
Part F - HIV/AIDS Clinical Training
,
Part F - SPNS Models of Care