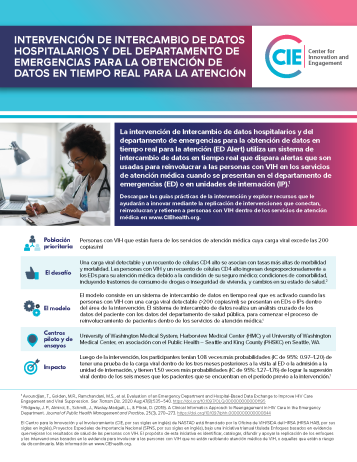 Summary
The Emergency Department and Hospital-Based Data Exchange for Real-Time Data to Care (ED Alert) intervention is designed to re-engage people with HIV to care by utilizing a real-time data exchange system that connects clients with health department linkage specialists when presenting to the emergency department.
Implementation Resources
Intervention Outcomes
Clients were 1.08 times more likely to have a viral load test within three months after an ED visit or IP admission.
Clients were 1.50 times more likely to achieve viral suppression within six months.
Intervention Components
Characterize your Health Data
Stakeholder Buy-In
Assess and Address Gaps in Staffing and Workflow
Setup the Data Exchange
Develop EMR Alert
If Needed, Recruit a Relinkage Team
Train ED and Relinkage Staff
Re-engage and Retain PWH
Cost Analysis
The ED Alert intervention cost analysis is not currently available. However, your can use the CIE Cost Calculator to create an estimate of the cost for implementing the intervention at your organization.
Challenges and Solutions
| Challenge | Solution |
| --- | --- |
| Lack of Buy-In | It is not possible to effectively implement this intervention without obtaining buy-in at the leadership and managerial levels across all key stakeholders required for data exchange and relinkage activities. Replicators must identify a champion within the organization who believes in the intervention and can promote it to leadership while maintaining momentum and staff morale. Highlighting the benefits of the intervention is important to achieving buy-in. |
| Lack of Administrative Support | In cases where a dedicated administrative coordinator or data manager are not available, staff may find it difficult to balance and maintain the monitoring of alerts and client data while also being involved in direct service. Be clear on staff roles and responsibilities and recruit dedicated staff to fill these roles to streamline workflow and promote sustainability. |
| Staff Turnover and Ongoing Training | The relinkage specialist, administrative coordinator, and data manager are important for program continuity. It is critical to hire dedicated staff for each of these roles who are solely responsible for their specific duties. It is also important to train other staff as part of succession planning should there be staff turnover. Replicating organizations are encouraged to ensure that the collaborative health system has existing staff in place to maintain the data exchange system. |
| Data Sharing | Gathering information about current clinic policies and lessons learned from other interventions can improve the data-sharing process. |
| Delayed Data Sharing | Ensure that data extraction and surveillance data matching are conducted in a timely manner. By improving the timeliness of data sharing, organizations can ensure that, for example, they have the most up-to-date client information, which can facilitate prompt relinkage efforts. |
Supplementary Resources
Publications
Resources
Trainings