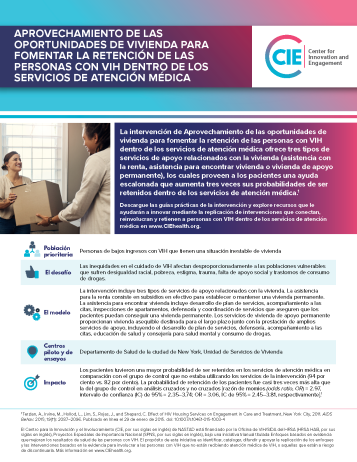 Summary
The Leveraging Housing Opportunities to Promote Retention in Care for People with HIV program in New York City offers three types of housing-related supportive services (rental assistance, housing placement assistance, or supportive permanent housing). The program provides tiered support to clients that results in a three-fold increase in the odds of being retained in HIV care.
Implementation Resources
Intervention Outcomes
Clients were more likely to be retained in care when compared to a control group not utilizing intervention services (94% vs. 82%).
Clients' odds of retention was nearly three times higher than the control in matched and unmatched analyses [odds ratio (OR)=2.97, 95% confidence interval (CI)= 2.35-3.74; OR=3.06, 95% CI=2.45-3.81, respectively]
Intervention Components
The program in NYC offers three types of housing-related supportive services:
Rental assistance consists of cash subsidies to establish or maintain permanent housing.
Housing placement assistance includes service plan development, escorts to appointments, apartment inspections, advocacy, and coordination of services to ensure that clients secure permanent housing. However, it does not provide ongoing rental assistance.
Supportive permanent housing provides affordable housing that is intended to be long-term while also providing comprehensive support services, including service plan development, advocacy, escorts to appointments, health education, and mental health and substance use counseling.
Cost Analysis
The intervention cost analysis is not currently available. However, you can use the CIE Cost Calculator to create an estimate of the cost of implementing the intervention at your organization.
Challenges and Solutions
| Challenge | Solution |
| --- | --- |
| Difficult to determine the components and dose of services that may have contributed to retention improvement | Identify thresholds or patterns of service utilization that best support improvement in client outcomes. |
| Program is susceptible to federal funding changes and shifting political climate | Work closely with other city, county, or state agencies to provide additional support in cases where federal funding may be at risk of loss. |
| Clients' service support needs evolve and require dynamic partnerships with a variety of organizations | Provide ongoing dialogue with clients, community leaders, and partner organizations to ensure priorities remain aligned. |
| Case managers and other staff experience high levels of burnout due to the dynamic nature of their supportive roles | Offer spaces to celebrate and show appreciation for clinical and non-clinical staff as a way of continuing buy-in, improving motivation, and encouraging those involved. |
Supplementary Resources
Publications
Resources
HOPWA Service Directive (PDF)
HOPWA Glossary (PDF)
Trainings