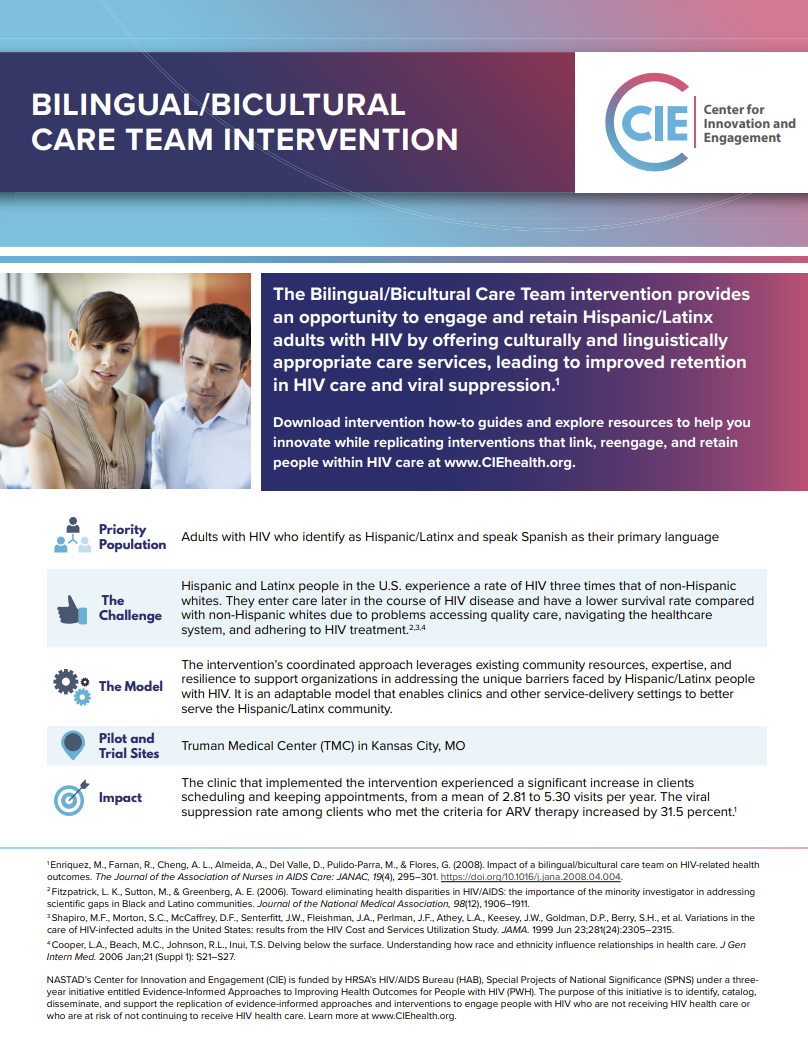 Summary
The Bilingual/Bicultural Care Team includes three Latinx providers: an HIV primary care provider, peer educator, and RWHAP case manager. This team provides comprehensive culturally and linguistically appropriate HIV primary care and services to Hispanic and Latino people with HIV who speak Spanish as their primary language.
Implementation Resources
Coming soon
Intervention Outcomes
Outcomes from the intervention conducted in Kansas City, MO include:
Client appointments increased from a mean of 2.81 visits per year to 5.30 visits per year.
Clients who met treatment guideline criteria for antiretroviral therapy experienced a 31.5% increase in viral suppression.
Intervention Components
Assess Staff Resources
Secure Stakeholder Buy-in
Engage and Work with Community/Service Partners
Recruit Bilingual and Bicultural Staff
Train Staff and Facilitate Knowledge Exchange
Engage and Retain Latinx people with HIV
Cost Analysis
Total Annual Costs: $330,621.90
Avg. Cost Per Client: $3,884.44
Avg. Personnel Cost Per Client: $2,200
Challenges and Solutions
| Challenge | Solution |
| --- | --- |
| Limited Provider Availability | Hire bilingual and bicultural providers who are available ≥ 3 days per week. |
| Meeting Client's Behavioral Health Care Needs | Budget to include a bilingual, bicultural mental health care provider on the team or partner with local providers. |
| Client Eligibility | Use copayment assistance programs, a sliding payment scale, or discounts to serve people who are ineligible for RWHAP services. |
| Contacting Clients | Develop a data sharing agreement with your local health department so you can cross-check their records for clients' contact information. |
| Timely Receipt of Lab Reports | An in-house lab and phlebotomist can increase processing time. |
Supplementary Resources
Example Cost Analysis Tool for Users of Bilingual/Bicultural Care Team Intervention (PPTX)
For intervention materials, contact Maithe Enriquez ([email protected])
University of Missouri, S327 Sinclair School of Nursing, Columbia, MO 65211
Publication