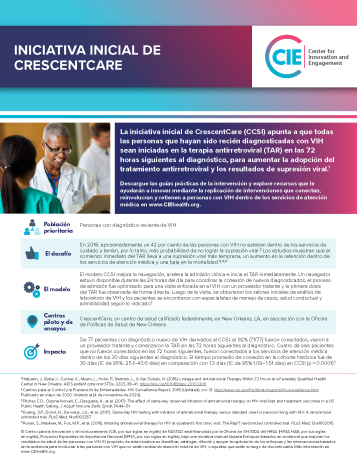 Summary
CrescentCare partnered with the New Orleans Office of Health Policy to implement the CrescentCare Start Initiative (CCSI), which aimed to start all people with HIV who have been newly diagnosed on antiretroviral therapy (ART) within 72 hours of diagnosis to increase treatment uptake and viral suppression outcomes. The intervention provided a 24-hour navigator to coordinate linkage services, and it streamlined the intake process for a focused HIV visit with a treatment provider.
Implementation Resources
Intervention Outcomes
92% of patients were linked, saw a treating provider, and started ART within 72 hours of diagnosis.
The mean time to linkage in the historical cohort was 30 days compared to 1.3 days in CCSI.
Intervention Components
Linkage to medical care by the Patient Navigator
Provider visit to perform intake
Administration and prescribing of ART medication
Lab visit
Linkage to benefits and social services
Patient navigator check-in
Cost Analysis
The CCSI cost analysis is not currently available. However, you can use the CIE Cost Calculator to create an estimate of the cost of implementing the intervention at your organization.
Challenges & Solutions
| Challenge | Solution |
| --- | --- |
| Service-Delivery Changes | Discuss the reasoning behind prescribing ART before intake and laboratory results with clinicians. Gather input as they adopt the new practice. |
| Limited Resources | Secure funding to support patient navigation, immediate patient access, and medication coverage for the first 30 days of medication. |
| Disruptions in ART Coverage | Offer flexible hours and insurance navigation services for clients. |
| Organizational Limitations | Ensure provider and leadership are invested in the care model. |
| COVID-19 | Maximize access to care and minimize unnecessary in-person visits by leveraging alternative tools such as telehealth. |
Supplementary Resources
Publications
Resources