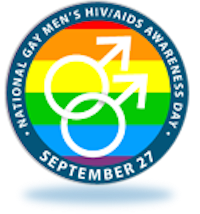 Of the more than half a million clients served by RWHAP, 48.8% are MSM.
MSM RWHAP clients receiving RWHAP medical care have a slightly higher viral suppression percentage (90.6% in 2021) than the national RWHAP average of 89.7%. By race/ethnicity, viral suppression among MSM was lowest among young Blacks/African Americans. (HRSA, Gay, Bisexual, and Other Men Who Have Sex with Men (MSM) Clients: HRSA's Ryan White HIV/AIDS Program, 2021, March 2023)
Since the beginning of the HIV/AIDS epidemic, the majority of HIV cases in the United States have been among gay and bisexual men (men who have sex with men, MSM). In 2019, 69% of HIV diagnoses were among MSM, with 37% of those cases being African American MSM, 32% Hispanic/Latino MSM, and 25% White MSM.
Best Practices
HRSA's Ryan White HIV/AIDS Program's Best Practices Compilation contains HIV care interventions with evidence of their efficacy in improving HIV care. As of September 2023, the following have a focus on MSM populations or include them within a broader array of targeted groups. 
Screening and Treating STIs
Addressing STIs: Ask. Test. Treat. Repeat. This project developed a collection of clinic-based interventions (e.g., specimen collection, sexual history assessments) as well as screening and patient survey tools for use by clinics. 
Behavioral Health
Multiple projects developed under the SPNS Black MSM Behavioral Health Initiative are included in the Best Practices collection. Building Brothers Up, a peer case management project, improved retention in care and, more notably, enhance viral suppression rates among the 40 Black MSM who took part in the 12-month evaluation. Project Strength Through Youth Livin' Empowered (STYLE) 2.0 used social marketing and health care navigators, with resulting improvements in care engagement and viral suppression. Project Vogue linked clients to behavioral health and other, non-clinical, support services, while ERASE used an intensive case management intervention.
Social Media
The weCare Social Media Intervention used a cyber health educator to promote care engagement with MSM, and transgender women. Missed appointments declined (from 68% to 53%) and viral suppression increased (from 61% to 89%). E-VOLUTION used a two-way text messaging intervention and realized significant improvement's in participant viral suppression. See additional SPNS Social Media Initiative Demonstration Site Resources, which utilize social and digital media methods to engage hard-to-reach youth and young adults in HIV care.
Quality Improvement
Increasing Viral Suppression for MSM of Color, a quality improvement project under the end+disparities ECHO Collaborative, saw notable improvements in participant viral suppression: "of the 16 individuals who were not virally suppressed at the start of the initiative, 14 reached viral suppression and two were lost to follow-up after 18 months." See more ECHO HIV Disparity Interventions.
Linkage to Care Support
Project CONNECT used linkage coordinators to effectively engage people in HIV medical care. This intervention is one of multiple Black MSM projects under HRSA's E2i, Evidence-Informed Interventions, more of which are being reviewed for possible inclusion in the Best Practices Compilation. 
Project nGage. This project's social network interventions (coordinated by social workers and participant support confidants) who conducted sessions involving motivational interviewing and other behavioral health techniques. Improvements were in terms of receipt of primary care and self-reported optimal adherence to ART regimens. 
Additional Tools Supporting MSM in HIV Care
HRSA's HIV/AIDS Bureau has a number of additional resources to enhance access to HIV care for MSM in HIV care: social media, outreach, health literacy, and more. 
Part of Collection
Browse for More
Topic Areas
Key Populations
,
Aging
,
Black/African American
,
Cultural Competency
,
Hispanic/Latino
,
Adolescents & Youth
,
MSM - Men who have Sex with Men
,
People with HIV & Community Involvement
,
Stigma/Legal
,
Ryan White HIV/AIDS Program & Parts
,
Part A - Hard Hit Urban Areas
,
Part A - Planning Councils
,
Part B - States/Territories
,
Part C - Community-Based Early Intervention
,
Part D - Women, Infants, Children, Youth
,
Part F - Dental Programs
,
Part F - HIV/AIDS Clinical Training
,
Part F - SPNS Models of Care