Ryan White and Gay Men's HIV/AIDS Awareness Day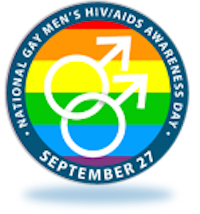 As it was in the earliest days of the HIV/AIDS epidemic, gay and bisexual men (men who have sex with men, MSM) comprise the majority of HIV/AIDS cases in the U.S., representing over half of those infected with HIV/AIDS. MSM represent nearly three-fourths of clients served by the Ryan White HIV/AIDS Program.
Seventy percent of new HIV infections in the U.S. in 2014 were among MSM. The impact is heaviest on African American MSM. Trends in U.S. HIV/AIDS cases show a continued disproportionate impact on MSM. 
Ryan White and MSM
According to the 2016 HRSA RSR client level data report:
64.1 % of RWHAP clients were gay, bisexual and other MSM
Among MSM RWHAP clients receiving medical care, 86.1% were virally suppressed, which is slightly higher than the national RWHAP average 
By race/ethnicity, viral suppression among MSM RWHAP clients was lowest among Blacks/African American MSM (69.6%).
Ryan White HIV/AIDS Program Client Fast Facts: Gay, Bisexual, and Other Men Who Have Sex with Men
HRSA TA/Training Targeting Black MSM
HRSA's HIV/AIDS Bureau has a number of initiatives underway to enhance access to HIV care for black gay/bisexual men, presented in the form of engagement in care best practices, health literacy and more.
They include the following:
Well Versed is an online Resource and Conversation Forum for health care providers and Black MSM. The Well Versed website presents a simple platform describing what to do before, during, and after a clinic visit
His Health provides a compendium of care models, training modules, and resources for enhanced linkage, retention, and engagement strategies targeting Black MSM. This site targets providers and offers continuing medical education (CME) and continuing nursing unit (CNU) credits for clinicians to increase their capacity to accelerate health care service delivery to Black MSM in culturally appropriate ways
In It Together, National Health Literacy Project for Black MSM, is designed to improve the capacity of health departments and community-based organizations to deliver health-literate HIV services, with a particular focus on health services provided to Black/African American MSM
Part of Collection