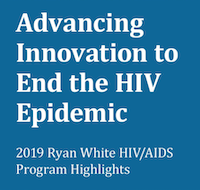 The 2019 biennial report on the work of HRSA's Ryan White HIV/AIDS Program has been released, highlighting five RWHAP recipients. The report, Advancing Innovation to End the HIV Epidemic: 2019 Ryan White HIV/AIDS Program Highlights, reviews activities underway in each jurisdiction. Each of those stories puts the Ryan White infrastructure and various technical assistance and training initiatives into a real-world context, one which is the foundation for future Ending the HIV Epidemic: A Plan for America activities.  
The five sites are as follows. Web links are to various HRSA, RWHAP recipient websites/social media channels, and TA/training activities under TargetHIV, AETC and other HRSA TA projects. 
"These are only a few select case studies from the hundreds of Ryan White HIV/AIDS Program recipients providing inspiration for advancing innovation to end the HIV epidemic in the United States." Laura Cheever and Heather Hauck, HRSA's HIV/AIDS Bureau 
Philadelphia: HCV, Care Re-Engagement, Data Integration
Philadelphia Department of Public Health (Part A) featuring their involvement in the Jurisdictional Approach to Curing Hepatitis C among HIV/HCV Coinfected People of Color Initiative , which includes training from the Mid-Atlantic AETC, work with their Data to Care team to re-engage people in HCV/HIV care, and integration of databases to monitor HCV care across CAREWare and other data systems.
District of Columbia: Ending the HIV Epidemic Plans
The District of Columbia Department of Health (Parts A and B) and their 90/90/90/50 Plan: Ending the HIV Epidemic in the District of Columbia by 2020, similar to that developed by many other cities and states. Featured are, for example, programs to get newly-diagnosed persons linked to care quickly (Rapid ART), an online portal for case manages to handle ADAP enrollments, expanded access to PrEP, and integrated care/prevention planning. 
West Virginia: Telehealth, Patient Case Model, Case Management
West Virginia University's Positive Health Clinic (Part C) serves a massive and largely rural multi-county area, reaching clients via Telehealth and use of a "patient case model in which every member of the care team shares his or her knowledge of a particular patient—from treatment and medical status to barriers that the patient may encounter in accessing care." Rates of client retention in care and viral suppression are above 90% and reflect the remarkable levels reached by the overall RWHAP (85.9% viral suppression in 2017). Reflecting the frequent cross-Part focus of many Ryan White programs, staffing includes contracts with several Part B case managers. 
Learn about billing of Telehealth in the Sustainability Resources for agencies to use in expanding their service delivery models.
Cleveland/Cuyahoga County: Youth and Social Media
MetroHealth, the public health care system of Cuyahoga County (Cleveland, Part A) was a participant in a recently-completed SPNS (Part F) initiative, Use of Social Media to Improve Engagement, Retention, and Health Outcomes along the HIV Care Continuum. Various online portals were developed to reach HIV-positive youth, whose viral suppression rates lag behind other groups.
Access SPNS Social Media Initiative Demonstration Site Resources
Southeast AETC: Practice Transformation
The Southeast AETC (Part F) work in Practice Transformation is featured. Practice transformation seeks to change clinical practices and build the capacity of agencies to take on HIV service work, including expanding HIV care in HRSA Health Centers. The Southeast AETC's work involves expanding the HIV workforce, addressing the opioid epidemic, and use of various online curricula.
See the AETC National Coordinating Resource Center for the National HIV Curriculum and HCV/HIV Curriculum
Browse for More
Topic Areas
Clinical Quality Management
,
CAREWare
,
Billing & Reimbursement
,
Social Media
,
Telehealth
,
HIV Care Continuum
,
Prevention
,
Key Populations
,
Adolescents & Youth
,
Medical & Support Services
,
Adherence
,
Case Management
,
Mental Health
,
Substance Use & Addiction
,
Ryan White HIV/AIDS Program & Parts
,
Part A - Hard Hit Urban Areas
,
Part A - Planning Councils
,
Part B - States/Territories
,
Part B - AIDS Drug Assistance Program (ADAP)
,
Part C - Community-Based Early Intervention
,
Part D - Women, Infants, Children, Youth
,
Part F - Dental Programs
,
Part F - HIV/AIDS Clinical Training
,
Part F - SPNS Models of Care