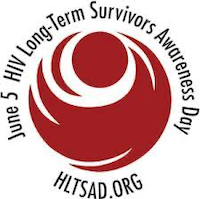 June 5, 1981. Many people who work in the HIV field know its significance: the day when the first AIDS cases were officially reported. Some among us know the date with the immediacy of living with HIV. (Read I Am a Long-term Survivor of HIV, by HRSA's Antigone Dempsey.)
We commemorate those who are living with HIV, and the many who did not survive, on HIV Long-Term Survivors Awareness Day. Looking back on the decades, with so much grief and loss and progress over 40 years, the theme for 2021 is apt: AIDS at 40: Envisioning a Future We Never Imagined.
The Impact of People with HIV
The 1980s were an era of HIV care that was largely happening in hospitals and buddy programs at volunteer-driven groups, some of which managed to grow into what were called AIDS Service Organizations. The work of people with HIV and the compassion of friends was put into legislation that became the Ryan White CARE Act in 1990. Over the next 30 years, the now-named HRSA Ryan White HIV/AIDS Program (RWHAP) continued to be driven by a focus on consumer involvement and leadership: in planning and working in HIV care programs as peer educators, outreach workers, and more.
See also Living History, with a timeline, voices and videos on the RWHAP
New Initiatives Supporting Consumer Involvement
As new generations engage in HIV care work, HRSA has funded new initiatives to provide training to people with HIV. Two new project just getting started including:
Established Projects Supporting People with HIV
Existing and earlier projects are summarized in People with HIV & Community Involvement. Highlights:
Browse for More
Topic Areas
Clinical Quality Management
,
Ending the HIV Epidemic Initiative
,
Health Coverage
,
Enrollment Resources for Consumers
,
Key Populations
,
People with HIV & Community Involvement
,
Community Advisory Boards
,
Leadership
,
Peer Programs
,
Planning
,
Ryan White HIV/AIDS Program & Parts
,
Part A - Hard Hit Urban Areas
,
Part A - Planning Councils
,
Part B - States/Territories
,
Part B - AIDS Drug Assistance Program (ADAP)
,
Part C - Community-Based Early Intervention
,
Part D - Women, Infants, Children, Youth
,
Part F - Dental Programs
,
Part F - HIV/AIDS Clinical Training
,
Part F - SPNS Models of Care